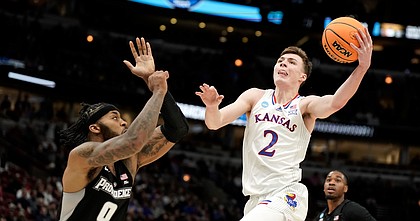 On the final day to declare for the 2022 NBA draft, Kansas junior Christian Braun did exactly that, announcing his decision to enter the draft process on Twitter late Sunday morning.
According to a Kansas Athletics news release, Braun will retain his draft eligibility throughout the process and, therefore, will be eligible to return to KU for his senior season provided he withdraws his name from the draft pool by June 1.
Kansas coach Bill Self is both hoping for and banking on that not being the case.
"We all believe Christian is a first-round talent," Self said in the release. "We think he has a shot to go high in the draft and we are very hopeful that he does. If he doesn't get the feed-back, he wants to keep his amateur eligibility available to him and keep his options open to return to school. I honestly be-lieve if Christian performs like he is capable of performing, he's a guy who is talented enough that the feedback he'll re-ceive (will say) that he can be a high draft pick and then it will be Christian's and his family's decision to do whatever they want to do after that."
Braun becomes the second member of KU's 2022 national championship team to officially declare for this summer's draft. He joins senior big man David McCormack in announcing his intentions.
Self said at the team's postseason banquet that senior guard Ochai Agbaji — a projected first-round pick — also will be de-claring for the draft and Seven1 agency announced earlier this week that redshirt sophomore Jalen Wilson had signed with them to represent him during the pre-draft process. Neither Wilson nor Agbaji have made formal announcements them-selves, but sources close to the program say both are expected to do so.
As for Braun, he leaves KU having lived out a dream, both of playing at the highest level and winning a national champion-ship.
"Just a kid from Kansas," the Burlington native wrote in his Twitter message announcing his intentions. "That's where I started this journey. Now, three years later, I'm a national champion. None of that would be possible, though without the best teammates, coaches and fans in the world."
Known for his passionate play and unyielding fire and energy, Braun finished the 2021-22 season as a second-team all-Big 12 selection after averaging 14.3 points and 6.5 rebounds per game. He finished sixth in the Big 12 in scoring, second in field goal percentage (49.7%), sixth in rebounds (6.5 per game), 10th in free throw percentage (73.9%) and 14th in assists (2.7 per game).
He also became the 65th player in KU history — and 20th un-der Self — to eclipse the 1,000-point scoring mark. He current-ly ranks 63rd all-time with 1,018 points.
Other accolades that came during his three seasons at KU in-clude two first team academic-all-Big 12 honors, a spot on the 2020 Big 12 all-freshman team, a spot on the 2022 Midwest Regional's all-tournament team and a spot on the ESPN Events Invitational all-tourney team last November.
"To say I love Kansas would be an understatement," Braun added in his announcement. This place is be-yond special. No matter where life or basketball takes me, I will be a Jayhawk forever and represent this program to the best of my abilities. … Thank you for your support every time we stepped on the court representing this amazing basketball program. Forever a Jayhawk."
——— 
Check out what Sunday's announcement means for Christian Braun and his future in the latest Tale of the Tait blog...