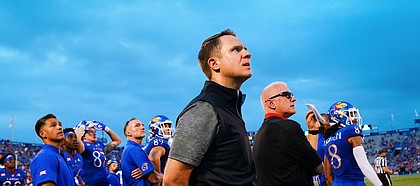 The Big 12 Conference on Thursday announced that it has secured the services of powerhouse search firm TurnkeyZRG to help find the conference's next commissioner.
Turnkey, which has been a leader in the industry for years, recently assisted the University of Kansas in its search for both a new athletic director and head football coach.
With college athletics veteran Bob Bowlsby announcing earlier this month that he plans to step down as Big 12 commissioner later this year, the conference is a new leader capable of bringing the Big 12 into a new era in terms of both membership and leadership.
"The Big 12 is pleased to be working with TurnkeyZRG," Lawrence Schovanec, President of Texas Tech University and Big 12 Board Chairman, said in a news release. "They understand how to run a comprehensive, inclusive search process, and how to maintain confidentiality throughout such a critical search."
In the season release, Turnkey CEO, Len Perna said the goal of this particular search was to identify "an innovative leader for the Big 12."
Asked recently about Bowlsby's departure, second-year KU Athletic Director Travis Goff offered his thoughts on what the Big 12 might be searching for in its next leader.
"That individual needs to be all things to all people," Goff told the Journal-World. "I think that's the hard part about those roles."
In the past three years alone, the ACC, Big Ten and Pac-12 all hired new commissioners. Even SEC Commissioner Greg Sankey, who is by far the longest tenured power-conference commissioner, has only been in his role since 2015.
The Pac-12 hired George Kliavkoff from the business and entertainment world (MGM Resorts International) last May.
Prior to that, the ACC plucked former Northwestern AD Jim Phillips — Goff's mentor —to lead its conference in December of 2020.
And Big Ten Commissioner Kevin Warren came from the professional ranks, where he previously served as the Chief Operating Officer for the Minnesota Vikings.
Goff said seeing those three conferences make hires from different realms showed the scope of what's possible and he believes there's value and potential in going a variety of different directions with the Big 12's hire.
The challenges facing the new commissioner, whoever it ends up being, are immense. Not only will he or she have to navigate the departure of Oklahoma and Texas to the SEC — along with the addition of BYU, Central Florida, Cincinnati and Houston at the same time — but the new boss also will have to be ready and able to renegotiate the conference's media rights deal starting in 2024.
That's to say nothing of the real-time issues affecting college athletics in the areas of name, image and likeness, the transfer portal, potential postseason expansion and more.
With many of those initiatives still in the early stages of existence, Goff said they can prove difficult to manage for even the most seasoned college athletics administrators.
"I think that's why there's not an obvious, fall-into-place, lock candidate (to replace Bowlsby) out there," Goff said. "Because I think it's really hard. College athletics is changing so fast. Even super-experienced, best-of-the-best athletic directors can't project out six, nine, 12 months down the road."
As for his thoughts on the departing Bowlsby during the short time the two worked together, Goff said he appreciated how "incredibly welcoming" Bowlsby was to him after he was hired by KU.
"He's always been available, he's always been supportive, he's always been mindful of KU in the Big 12 in the sense of our value," Goff added. "So, I've never felt like I'm having to pull on somebody to say, 'Hey, KU matters.' That's never been the case. He's been exceptional in all those ways."
Goff said he thought it was terrific that Bowlsby was able to see the Kansas men's basketball team win another national title for the Big 12 Conference on his way out the door.
"Back to back years. That's pretty cool," Goff said, referencing Baylor's NCAA title in 2021.
Bowlsby is expected to remain with the Big 12 Conference through the hiring of the new commissioner. According to Thursday's release, neither TurnkeyZRG nor the Big 12 Conference will have any further public comment on the search process until the next commissioner is announced.