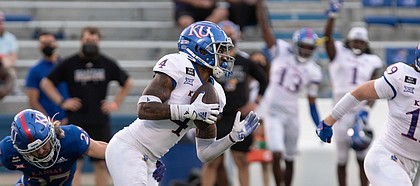 Free safety Johnquai Lewis became the most recent Kansas football player to decide to leave the university on Monday morning when he wrote on his Twitter account that he has entered the transfer portal.
Lewis, who will be a redshirt sophomore in the fall, played in one game for the Jayhawks last season and two in 2020, his first. He noted in a highlight reel that he included with his announcement that he had three interceptions, the most of any defensive back, during the Jayhawks' spring practice session.
A three-star recruit out of Champagnat Catholic School in suburban Miami, he had scholarship offers from Michigan, Louisville, Nebraska, Pittsburgh and Indiana, among others, according to 247Sports.
Lewis is the eighth player to decide to leave Kansas since the spring game was held on April 9, though none of them were expected to play a significant role next season. Coach Lance Leipold said after the spring game that he and his assistants would meet with players to offer evaluations and provide feedback over the following weeks.
Players have until May 1 to enter the transfer portal in order to be eligible to play next season.
Among the others who will leave the Jayhawks are cornerback Duece Mayberry, who played in all 12 games last season and started four, and wide receiver Tristan Golightly, who played in 10 games and started one. Both will be juniors in the fall.
Running back Gayflor Flomo, who sat out of spring practice with an unspecified injury and will be a fifth-year senior in the fall, shared his intention to transfer on Friday. So, too, did wide receiver Kyler Pearson, who played in 11 games over two seasons and will be a redshirt sophomore.
Tight end Mason Brotherton and offensive linemen Corey Robinson II and Larson Workman, all of whom redshirted as freshmen last season, will also transfer.