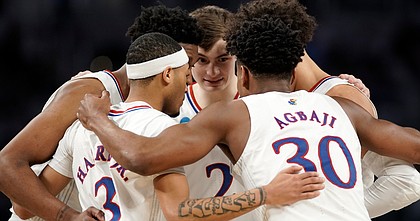 For years, decades even, Kansas basketball fans have celebrated the national title run by Danny and the Miracles and the national-title saving shot known as Mario's Miracle.
Both feats, in 1988 and 2008, respectively, identified a single player who played the biggest role in KU winning it all.
With Manning's squad, the national player of the year was Mr. Everything for those Jayhawks, leading the team in most major statistical categories and putting them on his back in their run through the 1988 NCAA Tournament.
With Chalmers' team, there was plenty of talent around him, and KU coach Bill Self has said on many occasions that it was sophomore forward Darrell Arthur, and not Chalmers, who was the Jayhawks best player during the 2008 title game. Yet, when the game, the season and the title was on the line, it was Chalmers who the Jayhawks turned to. His 3-pointer in the waning seconds of regulation forced overtime with Memphis and essentially delivered the title back to Lawrence.
Both players will tell you that they never could have done it alone. Their love for their teammates was real and ran deep, and those teams came together the way teams have to come together to be able to cut down the nets in their respective years.
Even still, those individual players have always been associated with those runs and those championships.
This year, there was no single shot that won the title nor just one player who carried Kansas. Instead, all seven of KU's core contributors took their turns.
Sure, Ochai Agbaji was the most consistent from start to finish. And, yeah, David McCormack and Remy Martin were red-hot in the NCAA Tournament. And then there was Christian Braun's fire, Jalen Wilson's grit, Mitch Lightfoot's leadership and reliability and Dajuan Harris Jr.'s steady hand.
Calling this group any one of those guys' team, however, would not have been wholly accurate. That's why Self refused to do it.
"I think all seven of these guys would be totally content after being around them all along that this is The 2022 Miracle," Self said during the post-celebration press conference in New Orleans. "I think they'll enjoy it more not having a name attached to it because that's how we played all year long."
Here's a look back at just how balanced and together this team was during its run to the 2022 national title.

• Seven different Jayhawks led this team in scoring in a single game, with Agbaji topping out as KU's leading scorer 22 times. In the NCAA Tournament alone, four different players led KU in scoring, with Martin taking the cake three times and McCormack and Wilson tying for a team-high 15 points in the win over UNC.
• Five different Jayhawks led this team in rebounding in a single game, with McCormack leading the way as KU's top rebounder 15 times. Wilson was right behind him with 14 games as KU's top board-getter and Braun was right there, too, with 13 games as the team leader in rebounds.
• Five different Jayhawks led this team in assists in a single game, with Harris leading the way as KU's top assist man a whopping 26 times.
• Eleven, yes ELEVEN!, different Jayhawks led this team in steals in a single game, with Harris leading the way as KU's top defensive menace 21 times.
• And nine different Jayhawks led this team in blocks in a single game, with McCormack and Lightfoot each leading the way as KU's top rim protector 12 different times.
While that covers the entirety of the season, let's zero in a little more on the Jayhawks' NCAA Tournament run. After all, that's where the big trophy was won and, more to the point, that's where everyone was healthy and clicking.
The regular season was not an entirely level playing field when you consider injuries, suspensions and what that did to this team's — and each player's — overall rhythm.
In the NCAA Tournament, Martin led Kansas with 84 points. He was followed closely by Agbaji, with 82, and McCormack, who scored 79. That's a difference of a couple of shots or a rebound here and there.
Beyond those three, Wilson finished close by with 72 total points and Braun chipped in with 67.
All of them were critical in KU's run, and for there only to be a 17-point difference from first place to fifth over a six-game span shows you how balanced this team really was.
The rebounding numbers weren't quite as bunched up, but Wilson led with 57, Braun added 44 and McCormack, who played the two biggest games of his life at the Final Four, finished with 38 boards in six games, with exactly half of them (19) coming against Villanova and North Carolina.
They say the most talented or the highest ranked team doesn't always win the NCAA Tournament. And that has proven to be true time and time again, with Kansas falling on the wrong side of that reality on more than a couple of occasions.
But almost always, it's the best team that wins it all, simply because it takes a tight team to successfully navigate winning six games in a three-week span against intense competition and with the stakes as high as they can possibly be.
These Jayhawks were a true team in every sense of the word, and that's why they'll be remembered as such.
"I was super blessed to be a part of this group," Lightfoot said in New Orleans. "Just getting to see these guys work day in and day out means the world to me. I was glad we were able to get one (a national title)."
Still basking in the glow of getting a second title, Self said on multiple occasions that "good parenting" deserved some of the credit for the makeup of this selfless bunch of Jayhawks.
"They care for each other. They truly do," he said. "It's the closest-knit group. We've talked about that. We've had some great teams, but I don't think we've had a team closer than this team."