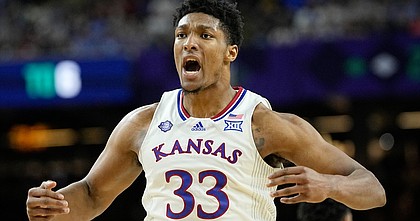 While his immediate future is up in the air, Kansas forward David McCormack is looking at his decision to turn pro or return to KU for one more season as "a bonus."
Brought about by the extra year of eligibility given to all college athletes who played during the 2019-20 school year that was heavily impacted by the COVID-19 pandemic, McCormack's potential return is something he never thought he would have the option to consider.
Now that he does, he views it as a safety net of sorts.
"It's something I can say I have in my back pocket," he said Thursday after his team's postseason banquet. "A lot of people don't have the fortune to do that. I think I can just take it for what it's worth."
It remains to be seen what that is, but there is plenty of momentum around McCormack being done with college basketball. In New Orleans, after he capped his career with 40 points and 19 rebounds in the two biggest games of the season, chatter around the media room was that McCormack may have just made himself some money.
He has not appeared on any mock drafts during the past couple of seasons, but putting up that kind of performance on college basketball's biggest stage certainly caught some attention and could make McCormack a candidate to become a second-round pick or to secure a free agent tryout with an NBA team this summer.
It's important to remember two things when examining McCormack's decision-making process.
First, the 6-foot-10, 250-pound forward from Norfolk, Virginia, absolutely would have tested his NBA draft stock last offseason had it not been for foot surgery that kept him off his feet and unable to fully workout for most of the summer.
With that in mind, there's no reason to think that McCormack will not at least test the waters this offseason, seeking feedback and guidance on whether making the jump now or returning to KU would be the best move for his career.
Second, all of the players McCormack came to Kansas with are now done with college as well, so the natural progression may be for him to move on, as well.
He said Thursday that he had not thought too much about it yet, with the euphoria of winning a national title still dominating his thoughts more than 10 days later. He also said he was not leaning either way at this point.
"I've got to hear what the feedback and stuff says first before I can lean in any direction," he told reporters at the banquet. "It just takes a lot of time and a lot of thought. I think right now I'm just kind of looking for feedback as far as what's going on and how teams may feel about me before I make any type of decision. And that's kind of the only thought I've given into it."
After looking and feeling as good as he had all season long at the end, McCormack also said his lingering foot issue would not keep him from being able to workout for whoever wants him to.
"Feeling great," he said. "Considering I haven't really done much. I've just been celebrating. So, it hasn't been giving me any problems. Me and Ochai were joking after we won the (UNC) game, 'We're feeling so good we could play another half.' So I'm hoping I'll still have that same kind of feel."
McCormack has until April 24 to declare his intentions to enter the draft. If he does, he could retain his college eligibility by working with an NCAA-certified agent during the pre-draft process.
Doing so would allow him to remove his name from the draft pool provided he stays within the rules and makes that decision by June 1.
Kansas coach Bill Self said senior All-American Ochai Agbaji did not have a decision to make. "It's time for him to go," he added.
But the timeline above and those key dates apply to McCormack and KU underclassmen Christian Braun and Jalen Wilson, who also are likely to explore their options this offseason.