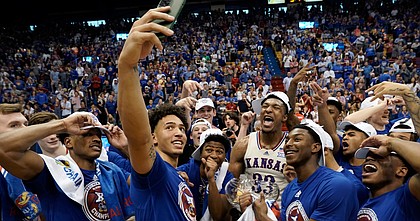 College basketball's 2022 national champions got together one last time on Thursday night inside the very building where they'll soon be raising another banner.
It was team banquet time for the Kansas Jayhawks at Allen Fieldhouse, and this team had more to celebrate than most.
From highlights of their recent run to the national title to the bonds and memories they made together — some for four or five years, others for just one — the 2021-22 Jayhawks, who finished the season at 34-6, flashed moments of both pure joy and genuine emotion in front of hundreds of fans and family members.
"I haven't come down yet," Self told the crowd at the outset of an hour-long address. "And I don't know that I want to."
In addition to celebrating some of this season's best moments, Self also collected the NABC National Championship trophy — the one that looks like a crystal basketball — and handed out the Danny Manning Mr. Jayhawk award, given annually to the player who most embodies what it means to be a Kansas basketball player.
This year, the honor went to Ochai Agbaji, Mitch Lightfoot and David McCormack.
"I was going to give it to seniors," Self said after the banquet. "Those guys have all given their heart and soul to this place for anywhere from four to six years. I personally thought it was a no-brainer. Mitch, Dave and Ochai have represented us in every good way possible. That was easy."
While that trio features two players who certainly have played their final games as Jayhawks in Agbaji and Lightfoot — of Agbaji, Self told the crowd "Don't hold your breath on him coming back another year. It's time for him to go." — the other has a super-senior season available to him should he want to use it.
McCormack, along with underclassmen Christian Braun and Jalen Wilson, all have what Self described as tough decisions to make about their futures and whether to return to KU for another season or make the jump to the professional ranks.
"They'll be making their decisions I'm sure within the next week," Self said. "When they do you guys will know. I've visited with all of them. I have an opinion and think my opinion aligns with theirs, but that's for them to tell you when the time is right. I don't know exactly what will happen with all of them. I think they will approach this very maturely, in a way 'Och' and Jalen approached it last year.
Self added: "There's nothing wrong with them testing. I told the guys right after the (national championship) game, 'Whatever you guys do, you deserve to make that decision. You have our support all the way.'"
The rest of the night, which followed a lengthy highlight video that chronicled their run to the title, was spent with Self honoring each player individually and the seniors speaking to the crowd, as well.
He praised walk-ons Dillon Wilhite and Charlie McCarthy for their work with the red team during practice, which, Self said, was led in scoring by Zach Clemence and Cam Martin.
He also noted that redshirt freshman Kyle Cuffe Jr. took the most shots on that squad.
He called Clemence a future pro and said he loved what he got, in limited time, from fellow-freshman KJ Adams, telling Adams: "Don't ever forget you were on the court for the last play when we won a national championship."
He ribbed Wilson for missing every layup he shot in the first half against North Carolina and then praised him for making all of them in the second half.
He called Christian Braun "so sweet and innocent" and joked about the "word" that Braun liked to yell toward the crowd after big plays.
He discussed the injury saga that senior transfer Remy Martin endured and how the two took some time to get on the same page.
"When we figured each other out, God he was good," Self said of Martin. "We would not be hanging another banner without that kid from Arizona State, Remy Martin."
Martin then took the microphone and reminded everyone that coming to Kansas was the best decision he ever made, both because of the banner they brought back to the Fieldhouse and also because of the bond he created with his teammates.
KU senior Mitch Lightfoot summed it all up best, repeating a familiar refrain that countless Kansas players have both felt and said on their way out the door.
"You come to Kansas for the tradition, and it's unbelievable that I get to leave being a tiny part of it," Lightfoot said.
Before he spoke, Self heard KU Athletic Director call him the greatest coach in KU history and the best coach in the country. And he also thanked KU Chancellor Doug Girod for his unending support in recent years.
"This hasn't been the easiest time to be a Coach Self supporter publicly," Self noted. "And what he (Girod) has done to show support to myself and our staff is something that won't ever be forgotten."
After thanking dozens of other contributors to this special season, from facilities workers and support staff to his assistant coaches and the players' parents, Self got a little choked up when discussing what this group meant to him.
"They say that coaches can impact players, but they don't talk enough about how players can impact coaches," he said, pausing to gather himself. "What these guys did for me and my staff and our families, probably wasn't thought out, but it was just a natural reaction, saying 'Hey, we've got to pick up the slack. We've got to prop them up.' And I'll always be closest to this team because that's exactly what they did. They propped us up in a way that allowed us to survive and then allowed us to thrive. I'll never ever ever forget that.
"I don't think our fan base or coaching staff could have asked for anything more than what these men have given us."