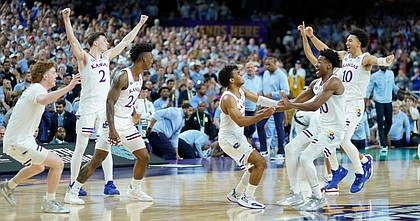 New Orleans — Heads down, but far from out, the top-seeded Kansas men's basketball team had plenty of ammunition to believe a comeback was possible when it went to the Superdome locker room down by 15 points to North Carolina in Monday night's national title game.
There was the Kansas State game back in January. There was the Miami win in the Elite Eight in Chicago. And, most importantly, there was still 20 minutes remaining.
Sure, it might not have looked good. After storming out to a 7-0 lead for the second consecutive game, on college basketball's biggest stage, the Jayhawks were outscored 40-18 the rest of the half, bullied by North Carolina big man Armando Bacot and struggling to find any kind of flow or rhythm on either end.
But then the halftime buzzer sounded and KU caught a break. A chance to regroup. A chance to self-correct. A chance to have a chance.
Boy did they take it.
Photo Gallery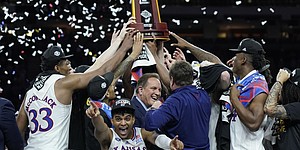 Kansas basketball v. North Carolina (NCAA Championship Game)
View a gallery of images from the 2022 National Championship game between the Kansas Jayhawks and North Carolina Tar Heels at Caesars Superdome in New Orleans.
The Jayhawks dropped a 31-10 run on the eighth-seeded Tar Heels to open the second half and went on to outscore UNC 47-29 in the final 20 minutes en route to a thrilling 72-69 victory at Caesars Superdome that delivered the program its sixth national title and first in 14 seasons.
"There wasn't much inspiration," Kansas coach Bill Self said of his halftime talk. "I did tell them before the half was over, I said, 'Which would be harder, being down nine with two minutes left or being down 15 with 20?' And they all said being down nine with two minutes left. So we can do this."
These Jayhawks, who have believed all season that being the last team standing really was possible, knew they could still reach their goal for a couple of reasons.
First, the 2008 squad was the one that pulled off that improbable comeback, from nine down with two minutes to play to beat Memphis in overtime for the title 14 years earlier. So right there, with a few of the guys from that team in the building on Monday night, there was evidence that crazier things had happened.
Second, they believed in each other, believed in their path and believed that cutting down the nets an hour or so later was their destiny.
And then they went out and made it happen, shots falling, stops fueling, scissors snipping.
Seniors Ochai Agbaji and Mitch Lightfoot said Self put the comeback on the shoulders of his players during that halftime break.
"Coach had a great message for us," Lightfoot said. "He challenged us to be better and to have more pride. We did that."
The veteran Kansas roster also challenged one another, but in a way that was more Tony Robbins than Tony Soprano. Senior forward David McCormack (15 points, 10 rebounds) played the role of Robbins, the well-known optimistic life coach.
"I was in the locker room just telling the guys, just believe in yourself, have fun with it; it's our last game regardless," McCormack said Monday night. "Do what you need to do because that's how we got here in the first place. Don't doubt yourself."
Christian Braun (12 points, 12 rebounds) was in the crosshairs of McCormack's message and because he was still frustrated by the way the first half played out, the junior guard needed some time to process McCormack's words of wisdom.
Related document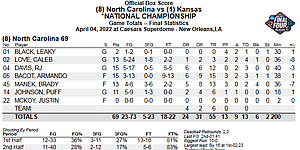 Box score: Kansas 72, North Carolina 69 (NCAA title) ( .PDF )
"He was looking at me and I was like, 'Why are you smiling, dude? We're down 15,'" Braun said after the victory. "He was telling me, like, 'Keep your head up, keep going, we'll be all right. We've been here before.' I was like, 'Man, I don't know if I've ever been here before. Down 15 in a national championship game? I've definitely never been there.'"
And they weren't for much longer.
Just as they did in the Elite Eight win over Miami that sent them to the Final Four, the Jayhawks got a stop on the first possession of the second half. That fueled the ferocious run that turned a 15-point deficit into a six-point lead, putting all the momentum and mustard on the Jayhawks' bench.
"I don't know that I've ever seen a team flip the script like we have in the NCAA Tournament," Self said after the win. "To win when your team had to fight and come back the way they did and show that much grit makes this one off the charts."
The comeback, which was reminiscent of how they came back from 17 down in the second half at K-State to win in the final minute, was the largest in NCAA Tournament history. And it started on the defensive end, where Kansas (34-6) held UNC to 27.5% shooting for the half and 31.5% for the game.
"I'm so proud of these guys," Lightfoot said. "We got it done on the defensive end. We took it in four-minute segments. We won each one. And it got us out of here with a win."
Added Agbaji of the match that lit the fuse: "It was Dajuan. Just his defensive pressure rubbed off on everyone else and that's where we got that momentum from on the defensive end. Everything else fell in place on offense."
Harris, who shot just 1-of-5 from the floor with four turnovers, said his added intensity on defense was simply a case of him finding a way to rise to the moment.
"I just didn't want to lose," he said. "I just wanted to give it my all for them. That's all it was."
Added KU senior Remy Martin, who finished with 14 points, draining three huge 3-pointers in the decisive second half: "Our defense was going to be our offense.
Had it not been for North Carolina's 28-8 edge in second-chance points — the Tar Heels won the rebounding battle 55-35 — and 18-8 edge in made free throws — Agbaji himself missed five — the Jayhawks might have run away with this one.
Instead, it came down to the final few minutes, and that's when McCormack was his absolute best.
Saddled with foul trouble throughout the game, the KU big man was effective and efficient on offense in the second half and enough of a factor on the defensive end to keep Bacot from getting whatever he wanted.

McCormack recorded nine points and seven rebounds in the second half, none bigger than the back-to-back buckets he scored late that turned a one-point KU deficit into a three-point Kansas lead.
True to form, the Jayhawks had to survive a bit of a scare to win. Leading by three with 4.6 seconds to play and possession of the ball, Harris stepped out of bounds after receiving an inbounds pass along the sideline. That gave the ball back to UNC, but the Tar Heels' last-ditch effort to tie the game fell short when Caleb Love's 3-pointer from the top of the key misfired.
That triggered the buzzer and the buzzer served as the starting gun for a handful of celebratory scenes that will be remembered by Kansas fans for decades.
Self hugging his mother, Margaret, with each of them basking in the joy his late father, Bill Self Sr., no doubt would have been feeling in that moment.
Agbaji sobbing in the arms of his mom and dad, who repeatedly told his son 'You're a champion,' as Jayhawk fans roared around them.
Braun yelling "I told you," at no one in particular and everyone at once, with the same venom with which he played during the second half that turned the tide from UNC as the aggressors to Kansas.
Remy Martin, yes that Remy Martin, bouncing around the floor with pure joy on his face and a trip up the ladder to trim off a piece of the net in his future.
Euphoric fans at both the Superdome and Allen Fieldhouse, as well as on Mass Street back in Lawrence, boiling over with excitement.
All of it leading to a trophy presentation on Monday and a celebration in Lawrence that will span decades.
"That was so much fun," Agbaji said after the victory and before he and his teammates headed to Bourbon Street for some more celebration at The Beach. "Obviously, the first half wasn't that fun, but we were still having fun in the locker room going into the second half because we knew we were going to make a run. We knew they didn't get too far away. All we had to do is come out here and execute. It kind of just took us back to when we were at K-State. The message was obviously different. Coach challenged us and he was amped up in there. But it was a matter of us playing our game and executing in the second half and taking away what they were getting in the first half."
That was the formula for this team all season, so it was only fitting that they went to the well one more time on the final Monday night of what will go down as one of the best seasons in Kansas basketball history.
Toughness. Togetherness. Tenacity. Triumph. All of those were a part of the Kansas basketball story this season. All of those led to Monday night in New Orleans, where 69,423 fans of blue blood basketball watched KU's band of brothers battle with everything they had through an unprecedented comeback and into the history books.
For Self, Monday's win delivered his second national title, making him the first coach in Kansas history to win multiple NCAA championships and tying him for seventh on the all-time list.
Someday, that will probably mean quite a bit to him. But on this day, it was the smiles on his players' faces, the celebratory hugs under crimson and blue confetti and the feeling of knowing that they all did this together, through all kinds of ups and downs, that meant the most.

"I didn't do it," Self said after Monday's victory. "The kids did it. It's special. I envisioned this — being on a podium — but I didn't envision being down 15 at halftime and how we did it. It would be great to win regardless, but to win in the fashion in which we did is more special because the kids had to show what you've been trying to instill in them since they stepped foot on campus — the confidence, the toughness, mental toughness, grit. That's what got it done."
And there will be a new banner at Allen Fieldhouse in the near future to remind everyone of that for years to come.