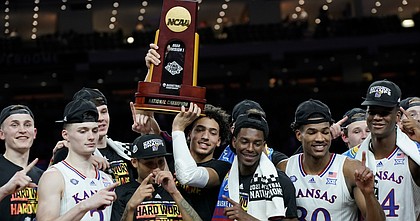 NEW ORLEANS — Thirty-four years to the day after winning the 1988 title, and 14 years after hanging another banner in 2008, the Kansas men's basketball team added to its haul of championships on Monday night with a thrilling 72-69 victory over North Carolina at Caesars Superdome.
In fitting fashion, this one, like so many other KU wins this season, came down to the Jayhawks refusing to quit and fighting to the end.
The win — — KU's sixth national title all-time — featured the Jayhawks coming back from 15 down at halftime with a sensational second half and capped off a 34-6 season that instantly vaulted these Jayhawks into future conversations about the greatest teams and greatest runs ever to come through KU.
It was the largest second-half comeback in NCAA title game history. It made Kansas coach Bill Self the first KU coach to win multiple national titles. And it came with Self paying homage to his first one in the process.
Related document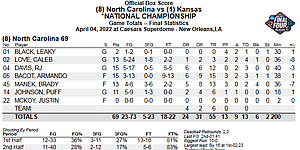 Box score: Kansas 72, North Carolina 69 (NCAA title) ( .PDF )
With the north net in his pocket and headed for an Allen Fieldhouse trophy case near you, Self walked from one end of the floor to the other to watch his players cut down the net on the south end. As he did, he was asked how his two titles compared, with the reality of the second one still freshly sinking in.
"They're both unbelievable," Self said. "I mean, we came from nine down in two minutes in the first one (to beat Memphis in 2008) and we came from 15 down in 20 minutes in this one. I don't love getting behind like that, but this was special. I mean, this is special."
It also was one that Self had to sweat out to the very end.
Behind intense defense, unrelenting tempo and stellar plays from tournament MVP Ochai Agbaji (12 points in 37 minutes), Jalen Wilson (15 points in 34 minutes), Remy Martin (14 points in 21 minutes, including 4-of-6 from 3-point range) and David McCormack, who finished with 15 points and 10 rebounds — "Everyone played good," Self said afterwards — the Jayhawks erased UNC's 15-point halftime lead completely by the 10:53 mark of the second half.
Kansas then went up by as many as six points before holding on in back-and-forth fashion at the end.
As the final seconds ticked down and KU built a three-point on back-to-back buckets by McCormack that erased a one-point deficit with 1:42 to play, the Jayhawks led by three with 4.6 seconds to play and had possession.
"When we had to have a basket, we went to big Dave," Self said during the on-court celebration.
Later, Self noted that he handed one of the nets to McCormack, who helped carry Kansas and in New Orleans and landed on the all-tournament team with Agbaji.
With the championship so close they could taste it, the buzz building in the bleachers and the Superdome ready to explode, Dajuan Harris Jr. stepped out of bounds on the Jayhawks' final inbounds pass to give the ball back to UNC (29-10), down by three with 4.3 seconds to play.
Photo Gallery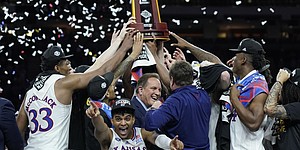 Kansas basketball v. North Carolina (NCAA Championship Game)
View a gallery of images from the 2022 National Championship game between the Kansas Jayhawks and North Carolina Tar Heels at Caesars Superdome in New Orleans.
Agbaji said "kind of that eerie feeling" swept over the team, but the Jayhawks dug in, elected not to foul and watched as Carolina's attempt to tie it misfired, making these Jayhawks the national champions and pushing the party into high gear.
As the final horn sounded after a last-second attempt to tie the game by UNC's Caleb Love misfired, the Kansas bench exploded onto the Superdome floor and crimson and blue confetti filled the arena.
Braun, who finished with 12 points and 12 rebounds while playing all 40 minutes while sparking the second-half comeback with ferocious play in transition and in the post, raced to the sideline to yell toward anyone who would listen, "I told you. I told you. We're here."
There might've been a few expletives mixed in there, but no one seemed to care.
A few minutes later, after the trophy stage was set up and the Jayhawks started to make their climb to the top of the college basketball world, Dajuan Harris Jr., walked toward his family and, while wearing his brand new, black national champions hat, popped his jersey and said three times, "Yeah. Yeah. Yeah."
Earlier, with the sideline starting to feel it, freshman guard Bobby Pettiford flashed a sly smile to the crowd and starting wagging his fingers. The gesture was an indication of what was to come, and, yes, Pettiford and his teammates soon will be getting a national championship ring.
Before those arrive, there will be a parade in Lawrence, a celebration that lasts a lifetime and a completely new chapter written into the KU history books.
Oh, and there's a new banner coming, too. It will have the words "National Champions" on it, and the year 2022.
It took less than two minutes for one team to show the other that it wanted this one more. At least early on.
That came after a missed 3-pointer by Carolina that wound up bouncing on the ground near the 3-point line. Out of nowhere, and between two Tar Heels, McCormack dove to the floor and wrestled the ball away to start a fastbreak for Kansas.
Jalen Wilson's two free throws that followed pushed the Jayhawks out to a 7-0 lead for the second consecutive game in New Orleans.
The KU surge subsided as quickly as it came as UNC big man Armando Bacot started to control things on both ends of the floor.
On defense, he made it difficult for McCormack to score over him, forcing bad misses on fadeaways from the rim. On offense, he started to get on the offensive glass, with the most notable moment coming on an and-one put-back that gave the Tar Heels their first lead (12-11) with 13:30 to play in the first half.
From there, with UNC settling in, the two teams traded baskets and were tied at 22 with 6:04 to play in the half.
That's when disaster struck. UNC hit Kansas with a 16-0 run that spanned 3:52 and the Jayhawks started to unravel on offense.
Missed layups, forced 3-pointers and one-and-done possessions allowed UNC to slowly and methodically build its lead to 38-22 late in the first half.
A lot of the damage came at the free throw line and on second-chance points. UNC went 13-of-16 at the line in the first half and outscored Kansas 18-2 in second chance opportunities.
As the Jayhawks walked off the court, gassed and reeling, the North Carolina players celebrated and flashed a little swagger, feeling themselves after the 40-18 run that followed KU's strong start.
It turned out to be one of the last times the Tar Heels had that look and moxie the rest of the night.
"We got after them pretty good there in the second half," Self said. "It was great to win, regardless, but to win it with toughness was great. We were so mentally tough."
And no one will ever forget it. Just ask the players from the 1952, 1988 and 2008 national championship teams.