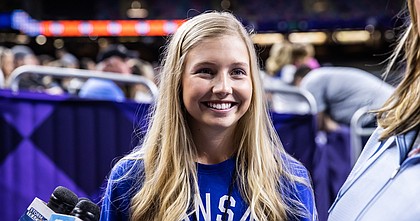 New Orleans — Hanna Hawks sang at her high school graduation. She has sung at her church.
Come Saturday evening, she'll be performing on a much bigger stage.
"Nothing compares to the Superdome," Hawks said.
A sophomore on Kansas' women's golf team, Hawks will represent the university by singing the national anthem before the Final Four.
One athlete from each of the four participating schools was chosen following a brief audition process. Villanova swimmer Charlie Hinckley, North Carolina football player Kaimon Rucker and Duke soccer player Delany Graham will join Hawks for the performance.
Women's golf coach Lindsay Kuhle let Hawks know about the opportunity earlier in the week. Hawks filmed herself singing the national anthem at the practice facility, learned she had been chosen Tuesday night and flew to New Orleans late Thursday.
Hawks, from Wellington, sang in the choir and performed in the theatre program at Trinity Academy in Wichita. She won the Class 4A girls golf championship in 2018 and has a 76.3-stroke scoring average in 10 events this season.
She and her fellow performers sang together for the first time Friday.
"Never in a million years would I have dreamt that a situation like this would have come about," Hawks said. "Super excited about it."
Here's a look at our coverage from New Orleans so far:
• Game Day Breakdown: No. 1 seed Kansas basketball vs. No 2 seed Villanova - 2022 Final Four
• Kansas point guards Dajuan Harris, Remy Martin cut from same win-at-all-costs cloth
• Kansas, Villanova don't care if they're playing in the Final Four shadow of Duke and North Carolina
• Kansas' confidence, swagger during Final Four run drawn from experience
• Kansas will be tested by Villanova's strategy of posting up its guards
• KU guard Ochai Agbaji is in position to add name next to Danny Manning's on exclusive list
• Hi Mom: KU coach Bill Self's mom has been back in the bleachers for KU's run to the Final Four
• Villanova's Caleb Daniels completes 'marathon' from New Orleans to Final Four
• Bill Self, Jay Wright agree – 2018 matchup has no bearing on this year's game
• Self finds it 'pretty special' to have Kansas City-area kids Ochai Agbaji and Christian Braun as key part of KU's run
• Bill Self hopes Jayhawks play for themselves and each other and 'just enjoy it'
• Photo gallery from Day 1 of KU-Villanova
• Duke coach Mike Krzyzewski reached out to KU coach Bill Self after passing of Self's father
• Bill Self breaks down Villanova guard Collin Gillespie
• Villanova, Jay Wright give initial thoughts on Kansas
• A quick capsule glance at Villanova
• Kansas enjoying 'great experience' in its first day at the Final Four
• Jayhawks arrive in New Orleans ready to soak up 'college basketball's best'