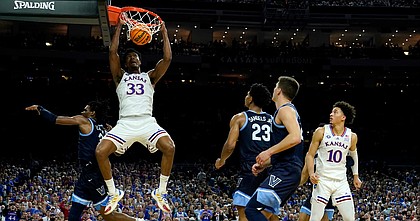 New Orleans — In the days leading up to Saturday's 81-65 Kansas victory over Villanova at the Final Four, Wildcats coach Jay Wright was asked a lot about that 2018 win over the Jayhawks, which featured Villanova draining an NCAA-record 18 3-pointers.
Wright recalled looking down at Kansas coach Bill Self during that one and thinking "I've been there."
Little did Wright know, he would be there again, this time at the hands of top-seeded Kansas just a couple of nights later.
Photo Gallery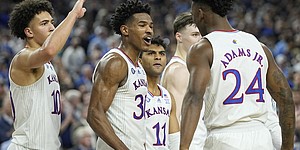 Kansas men's basketball vs. Villanova (Final Four)
View a gallery of images from Saturday's game between the Jayhawks and Wildcats in the Final Four in New Orleans.
In a game that played out like the complete opposite of their meeting at the 2018 Final Four, it was the Jayhawks (33-6) who started out on fire and never looked back, running out to leads of 16-5, 22-11 and 38-19 proved to be too big for Wright's Wildcats (30-8) to overcome.
"It was kind of a reversal of '18 in that we really couldn't do much wrong there early and we caught a few breaks and built a lead," KU coach Bill Self said after pushing the Jayhawks into the national title game for the third time during his 19 seasons at Kansas.
Self wasn't the only one who felt that reverse déjà vu feeling on Saturday night.
Former Villanova guard, Jalen Brunson, who scored 18 points in that 2018 victory over Kansas in San Antonio, tweeted his thoughts midway through KU's defining run.
"This is legit revenge for 2018," he wrote.
While that idea might have played a small role in Saturday's Kansas victory — along with the desire to make up for missing out on a run in 2020 because of the pandemic and getting boat-raced in the second round a season ago — this one was all about these Jayhawks, their current run and how Ochai Agbaji and David McCormack were determined to make sure it continued.
"I watched (the 2018 game) on TV," Agbaji said after scoring 21 points on six 3-pointers on Saturday. "Obviously, it was unbelievable shooting by Villanova that year. This year it was a little bit of revenge, but it wasn't. Just seeing those expectations from the year before, when they made it to the Final Four, that's how it is here. We come to Kansas for games like this and games like Monday."
Related document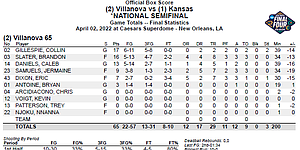 For the third time under Self and the 10th time in school history, the Jayhawks will now play for a national title at 8:20 p.m. on Monday night (TBS) against No. 8 seed North Carolina, an 81-77 winner over Duke in Saturday's second semifinal.
Alternating turns putting Villanova in deep trouble, Agbaji and McCormack combined to score 46 points on 16-of-20 shooting in Saturday's victory.
To put that number in perspective, the two Kansas seniors combined for more against Villanova in this one than the entire Houston team did in the Cougars' 50-44 Elite Eight loss to Villanova last weekend.
"I think we came out ready to play," Self said after the victory.
Talk about your all-time understatements.
Kansas could not have asked Santa Claus to deliver a better start. The Jayhawks got an easy 3-pointer from Agbaji on their first possession and then pounded it into McCormack for a pair of uncontested buckets in the paint.
Following another Villanova turnover — the Wildcats had four give-aways in the game's first 4:32 — Agbaji drilled another 3 to give Kansas a 10-0 lead.
On the defensive end, Villanova opened the game playing uphill. Dajuan Harris Jr. frustrated Collin Gillespie into a pair of turnovers, including one in which he stepped out of bounds in front of the Kansas bench.
The Wildcats shot just 1-for-6 in the game's opening minutes and watched as Kansas got just about every loose ball and break.
A dunk attempt by McCormack missed or else the onslaught might have been worse. But the damage was done. The tone was set and the Wildcats, who never led, never crawled closer than six (64-58 with 6:10 to play) the rest of the way.
After the victory, Agbaji, who made his first six 3-point attempts in this one, said his hot start was simply a case of believing that this stage was for him.
"The start he got us off on, I think, just gave everyone else confidence," Self said of Agbaji's big night.
Added Agbaji: "I was just like, 'If you find me, I'm going to knock it down.' One of those nights. This is what I play for. This is what I work for, just performing in the moment."
In all, Kansas hit 13 3-pointers (in 24 attempts) and shot 53.7% for the game after reaching as high as 68% midway through the first half.
After the loss, Wright said Villanova's entire game plan was to not let Agbaji get going.
"But they moved the ball so well, he moved so well without it, you've got to give them a lot of credit," he said. "That was not the way we planned it."
While Agbaji's silky smooth stroke from behind the 3-point line created problems for the Wildcats on the perimeter, it proved doubly deadly because it gave McCormack space to dominate inside.
Photo Gallery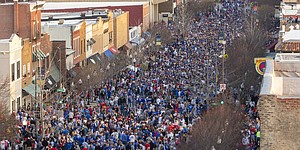 Kansas basketball fans celebrate Final Four win over Villanova on Mass Street
Kansas basketball fans celebrate Final Four win over Villanova on Mass Street
"I know it (looked) like he's getting it with a guy behind him," Wright said of McCormack's post positioning. But it's because they move the ball so well and he seals really well. Sometimes we did a good job and he (still) hit shots. He was outstanding."
Asked when he felt like Saturday could be a big night, McCormack smiled and said, "from the very jump."
"Once the first (shot) fell and the second fell, I knew I could dominate the game inside," he added.
The Wildcats caught a break when McCormack picked up his second foul 6:02 to play in the first half. Self yanked him with Kansas lead 36-18 and kept him out for the remainder of the half.
That included a 10-0 Villanova run that turned a 38-19 Kansas lead into a nine-point edge. But Kansas got a big bucket from Mitch Lightfoot in the final minute of the first half to go into the half leading 40-29.
Back on the floor for the start of the second half, McCormack scored two quick buckets and dished his lone assist to Dajuan Harris Jr., who drilled a 3-pointer to put Kansas back up by 16.
After nearly all of McCormack's baskets inside, the 6-foot-10 senior from Norfolk, Virginia, pounded his chest and roared while looking toward the sideline to fire up his teammates and the Kansas crowd.
Self said seeing McCormack deliver a game of 25 points and nine rebounds on the biggest stage in college basketball was a sweet sight for a player who has battled through so much throughout his Kansas career.
"There was never a question who our guy was," Self said of McCormack's status as the Jayhawks' primary post option. "I think he knew that, too, no matter how frustrated at times I could get. But he's our guy. I've said all along he's the one guy on our team that can get 15 (points) and 10 (rebounds) just by being a presence (and) tonight he got 25 and nine. He was fabulous."
The icing on the cake came with 1:10 to play when McCormack caught a slip pass in the paint from Jalen Wilson (11 points and 12 rebounds) and hammered home an uncontested two-handed dunk to start the party.
After pounding his chest a little more, McCormack raised the roof by pushing both of his hands into the air above his head.
He said the move came from his years playing with former KU big man Udoka Azubuike.
"That was his go-to (move)," McCormack said with a smile. We always do that in (Allen) Fieldhouse and Jayhawks travel so I figured I might as well just keep that raising-the-roof energy going."
"I like it," added Agbaji. "It just brings energy to everyone."
It also brought the Jayhawks one win from a national championship. That reality was not lost on the Jayhawks during the latter stages of Saturday's win or in the postgame celebration that was pretty subdued on the court.
With Wilson shooting free throws in the final minute, KU junior Christian Braun walked up to Agbaji near mid-court, slapped hands with him and matter-of-factly said, "One more."
"That's everyone's attitude," Agbaji said. "Even after this game. Even after last weekend (and) the weekend before that."
Added Braun: "We come to Kansas for big games, but you don't come to Kansas to play in the Elite Eight. Then, we win the Final Four game, and we're saying we don't come to Kansas to win in the Final Four. We came to win the national championship. Everybody has that mindset. That's why everybody is saying one more."