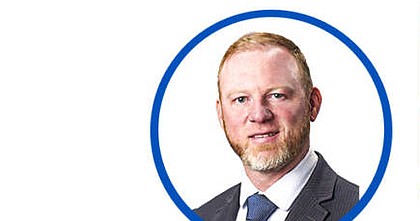 Kansas Team Health is turning to a member of the United States Olympic Training Center to replace retiring head team physician Larry Magee at the end of the year.
KU on Friday announced the hiring of Dr. Jarrod Harrall as Kansas Team Health's new head primary care team physician. Harrall will start on Dec. 1. He will take over for Magee, who spent more than 30 years in the role.
"Words cannot express our appreciation for Dr. Magee's dedication and service to KU student-athletes over the past three decades," KU Athletic Director Travis Goff said in a news release announcing Harrall's hiring. "His impact has shaped the lives of thousands of student-athletes, both during and after their time in Lawrence."
Goff said Magee was "instrumental" in helping KU navigate the challenges brought about by COVID-19 during the past 18 months.
In Harrall, a board-certified family and sports medicine physician who received his medical degree from the Oklahoma State University College of Osteopathic Medicine in Tulsa, Okla., the Jayhawks are gaining someone with experience in the NFL, MLB, U.S. Paralympic Committee and International Sporting Federations. His work with the U.S. Olympic team in Tokyo this summer marked the third time he was selected to cover the Olympic Games.

Friday's release said Harrall was chosen from a national search of replacements for Magee.
"Dr. Harrall brings a tremendous level of experience working with world-class athletes in collegiate programs and national governing bodies," Goff said in the release. "Those experiences will profoundly benefit our student-athletes in their quest to perform at their highest level."
Goff said Harrall's experience and approach "shined through" during the search, leading him and others who oversee the Kansas Team Health initiative to believe he was the right man for the job.
"With Dr. Harrall's uncompromising focus on the care and treatment of the student-athlete, as well as his clear vision for the future of Division 1 medicine, we trust this team will continue to deliver the highest quality care — both on and off the field," said Russ Johnson, president and CEO of LMH Health.
Added University of Kansas Health System Chief Medical Officer Steven Stites: "The collaboration between KU Athletics, LMH Health and The University of Kansas Health System to put the health and safety of student-athletes at the forefront is core to Kansas Team Health, and we look forward to Dr. Harall's leadership. We believe his insights and experience will benefit the program and the students."
In addition to his training at Oklahoma State, Harrall, 42, completed sports medicine fellowship training at Virginia College of Osteopathic Medicine at Virginia Tech. According to the release, a large emphasis of his practice during the past 10 years has been dedicated to the care of elite-level athletes.
In 2020, he was named Jack C. Hughston National Sports Physician of the Year, making him the only non-orthopedic surgeon to ever win the award.
"I'm incredibly humbled to have the opportunity to join Kansas Team Health," Harrall said in the release. "I look forward to collaborating with such a great group of healthcare professionals and a model that will continue to optimize the health and performance for the student-athletes at the University of Kansas."
Harrall and his wife, Kylie, have a 4-year-old son, Paxton.