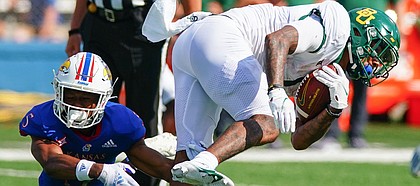 For the second week in a row, Lance Leipold's Kansas football team found itself trailing in a one-score game early in the third quarter. And for the second week in a row, any chance at scoring an upset victory quickly got away from the Jayhawks.
KU's first Big 12 encounter on Leipold's watch turned into a rout in the second half Saturday, as Baylor left David Booth Kansas Memorial Stadium with a 45-7 victory.
"There's something there," Leipold shared regarding his postgame message to the team, "and we've got to find a way to build upon that and overcome the things that we're not doing well in the third and fourth quarter."
Issues on both sides of the ball for KU led to the lopsided margin in front of an announced crowd of 23,218, as the Bears outgained the Jayhawks 576-166 in total yardage.
Photo Gallery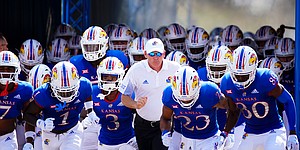 Kansas football v. Baylor
See a photo gallery from the Jayhawks' home game against the Bears on Saturday at Memorial Stadium.
With the exception of a forced fumble by true freshman safety O.J. Burroughs in the third quarter, which fellow safety Kenny Logan Jr. recovered, the Jayhawks had little to feel good about in the second half, when a 14-7 game turned into a runaway win for the visiting Bears (3-0 overall, 1-0 Big 12).
Leipold thought there were a few problems defensively for his team.
"I don't know our total missed tackles," the coach began, before pointing to the defense's inability to hit the Bears near the line of scrimmage. "It seemed like a lot of contact's taking place five, seven yards downfield."
Leipold continued: "Missed tackles, leverage issues, not playing aggressively. I just still think we're so tentative when we blitz. I don't know if it's a confidence issue, if it's an experience issue, if it's a strength issue or where we're at. That needs to continue to be evaluated."
Whatever momentum the Jayhawks took into the locker room at intermission, when they trailed by seven, dissipated mere minutes into the third quarter.
The KU offense was back to its three-and-out ways — the Jayhawks had six on their 12 possessions — to open the second half. And it only took one offensive snap for the Bears to get back in the end zone. A quick pass from BU QB Gerry Bohannon (19-for-23 passing, 269 yards, two touchdowns) to receiver RJ Sneed turned into a 69-yard touchdown and a one-play drive, as Sneed (six catches, 128 yards, TD) shed KU safety Ricky Thomas and took off. The Jayhawks were in a 21-7 hole just more than two minutes into the second half.
The Bears scored on four of their next five possessions to close out the blowout.
The offense only came to life for KU briefly, in the latter stages of the second quarter. After back to back three-and-outs to open the game and a mostly uneventful five-play third possession, the Jayhawks already trailed by 14 before quarterback Jason Bean (8-for-17 passing, 57 yards, one touchdown) and his teammates developed some rhythm for a change.
Leipold said the offense suffered "multiple breakdowns" over the course of the day, when KU averaged only 3.3 yards per play and had eight first downs.
"The inability again to establish a running game (33 carries, 109 yards) consistently," Leipold said of one problem. "We were poor in blitz pickups early, especially the first three quarters. You don't get a chance to get a rhythm going. And it just snowballs on us."
Related document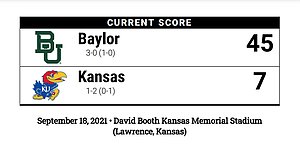 Box score: Baylor 45, KU 7 ( .PDF )
The fourth possession looked ill-fated, too, as it began with two straight runs for no gain. But Bean's fifth pass attempt of the afternoon, a 19-yard connection with sophomore receiver Luke Grimm near the right sideline on third-and-10, proved to be a positive spark.
A reverse for sophomore receiver Trevor Wilson kept the drive trending the right direction and gave KU 14 yards.
And although a holding flag brought back a second third-down conversion for the Jayhawks, Bean found Kwamie Lassiter II on third-and-7 the very next snap.
That made it possible for Bean to hit Wilson in the end zone on a quick, 5-yard TD pass with 58 seconds left in the second quarter. The Jayhawks had what looked like a manageable 14-7 deficit heading into halftime after the KU defense came through with its first three-and-out of the afternoon.
The offense failed to build off of its TD drive, though.
"I think we came out with a lack of focus," Wilson said of KU opening the third quarter with consecutive three-and-outs. "That's something we can look at for the future, to get better at."
The Bears secured their first two-score lead of the Big 12 opener three plays into the second quarter, as they finished off their third possession with a 2-yard TD carry from tight end Gavin Yates, who lined up as a blocking back.
BU only had to go 39 yards for a TD on the drive after Trestan Ebner, who also gashed the Jayhawks as a running back (12 carries, 72 yards), returned a Reis Vernon punt 50 yards.
The Jayhawks actually had negative yardage in total offense after one quarter (minus-8), the result of not only a rough couple of opening possessions, but also a high snap from center Mike Novitsky on the second play of the second series. Bean couldn't get both hands on the off-target shotgun snap and had to chase it down in the backfield to prevent a turnover. The play ended as a 23-yard loss.
Baylor converted a fourth down on both of its opening two possessions, and the Bears seemed well on their way to a two-touchdown lead in the first quarter. However, the KU defense delayed the visitors' ability to pull away by creating a turnover. After Bohannon threw to Sneed for a short gain, redshirt freshman cornerback Ra'Mello Dotson recovered a fumble forced by Logan, putting an end to the drive.
The Bears encountered limited resistance on the opening drive of the game after KU defensive lineman Caleb Sampson blew up a Bohannon carry for a loss. BU and head coach Dave Aranda didn't hesitate to go for it on fourth-and-3 from the Bears' 46-yard line on the game's opening series. After Ebner easily picked it up with an 11-yard run, the Bears went up 7-0 four plays later.
Following what clearly was a disappointing result for Leipold and the Jayhawks, the team's head coach said he told the players after the game: "Good or bad, win or lose, we have to own what's on the film. We have to build on what's positive and then when we see something there (a mistake or problem) we can't be defensive or blaming in any other way. We have to be coachable and get back to work on Monday. I told them I need to do a better job for them, and we all do."
He added: "So if we all take ownership of it I think we'll continue to move in a direction we want to be."
KU (1-2 overall, 0-1 Big 12) travels to play at Duke next week.
SCORING BY QUARTERS
FIRST QUARTER
10:29 — Ben Sims 14 pass from Gerry Bohannon. Isaiah Hankins kick. Nine-play drive for 75 yards, in 4:31. (BU 7, KU 0.)
SECOND QUARTER
13:42 — Gavin Yates 2 run. Hankins kick. Four-play drive for 39 yards, in 1:36. (BU 14, KU 0.)
0:58 — Trevor Wilson 5 pass from Jason Bean. Jacob Borcila kick. Eleven-play drive for 76 yards, in 5:23. (BU 14, KU 7.)
THIRD QUARTER
12:44 — RJ Sneed 69 pass from Bohannon. Hankins kick. One-play drive for 69 yards, in 0:16. (BU 21, KU 14.)
9:09 — Abram Smith 4 run. Hankins kick. Eight-play drive for 60 yards, in 3:13. (BU 28, KU 7.)
FOURTH QUARTER
13:38 — Bohannon 9 run. Hankins kick. Six-play drive for 57 yards, in 2:22. (BU 35, KU 7.)
7:10 — Taye McWilliams 20 run. Hankins kick. Nine-play drive for 81 yards, in 4:58. (BU 42, KU 7.)
3:34 — Hankins 48 field goal. Four-play drive for 8 yards, in 1:30. (BU 45, KU 7.)