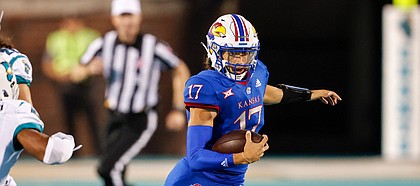 Conway, S.C. — Quarterback Jason Bean flashed again for the Kansas football team Friday night at Brooks Stadium, but his scrambling ability and speed in the open field weren't nearly enough for the Jayhawks to keep up with No. 17 Coastal Carolina.
The first Power Five team ever to play at CCU, KU dropped its road opener, 49-22, in front of 17,697 fans — the largest crowd ever at the 20,000-seat venue.
The game, head coach Lance Leipold's first defeat at KU, appeared far from over in the third quarter, with KU down six, but Coastal's spread option attack got on track on CCU's second series of the second half. Reese White (102 rushing yards) took an option pitch 19 yards for a TD to finish off a 75-yard scoring drive and put the Jayhawks in a 35-22 hole.
The visiting Jayhawks (1-1) looked poised for an answer, but a possession that included a 39-yard bomb from Bean to Trevor Wilson on 3rd and long culminated with no points. CCU (2-0) blocked a 56-yard field goal try by Jacob Borcila, but an offside penalty negated it.
Related document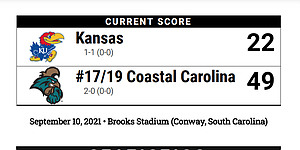 Box score: No. 17 CCU 49, KU 22 ( .PDF )
That made it an enticing 4th-and-1 for the KU offense. But Velton Gardner (31 yards, eight carries) dropped a quick swing pass from Bean, and the Jayhawks gave the ball to CCU via a turnover on downs.
Coastal, en route to improving to 3-0 versus KU over the past three seasons, made sure not to waste that gift, and quarterback Grayson McCall (17-for-21 passing, 245 yards, two TDs) led the offense to a 12-play TD drive that concluded in the opening minute of the fourth quarter, all but ending KU's upset bid and making it a 42-22 game.
After the loss, Leipold said the dropped pass on 4th down likely was the turning point in the midst of a tight game.
"That's a tough swing," he said. "You've got a chance for it to be a 1st down. I wouldn't say they were on their heels (defensively), but at least (offensively) we were having success."
Coastal racked up 460 yards of offense, averaged 7.5 yards per play and converted eight of their nine 3rd downs.
"When your'e that experienced and you're clicking," Leipold said of CCU, "there's just so many things they can dial up off the run game and then complimenting it with the play-action off of it. Then they go in at halftime and add a few more wrinkles. It makes it tough."
The KU defense gave the team a boost to open the second half, with a three-and-out made possible by super-senior defensive end Kyron Johnson dissecting an option play with precision and wrapping up McCall for a loss.
The offense didn't let the team down either. It only took three snaps for the Jayhawks to make it a one-score game again. An 18-yard run from Gardner on second down was just the appetizer. On the next play, Bean sprinted out of the backfield and down the left sideline 46 yards for his second rushing TD of the nonconference primetime show. Borcila's extra point cut the CCU lead to 28-22 less than four minutes into the third quarter.
Bean said the team showed some fight in the third, as the Jayhawks tried to avoid flying back to Kansas late Friday night with a loss.
"We stayed in it. We made the plays when we needed to, and I think there were a couple of plays we wish we had back," Bean said.
Just before halftime, the Chants had an opportunity to add to their lead, but they hurt themselves with a holding penalty. And when KU's defense secured a three-and-out as a result, Leipold called a timeout with 38 seconds left so the Jayhawks would have a little bit of time on their final series before intermission. But after a quick pass to Luke Grimm for 8 yards, the Jayhawks couldn't get deep enough into CCU territory to try a long field goal and Bean was under too much pressure on 4th-and-2 to muster a hail Mary.
Bean — who rushed for 102 yards and threw for 189, going 12-for-23 through the air — made sure late in the second quarter the Jayhawks didn't head to the locker room at halftime on the wrong end of a blowout. The junior QB's first highlight run of the night went 34 yards for a touchdown, setting up a 28-15 score at intermission.
The Chanticleers led by as many as 19 in the first half, securing that cushion by capitalizing on an aggressive fourth-down try by Leipold and the Jayhawks. After a review negated what was initially ruled a third-down conversion by Bean on a run. 
On fourth-and-inches, Coastal stopped true freshman running back Devin Neal (11 carries, 40 yards) before he could pick up a 1st down. Less than two minutes later, the Chants had traveled the 35 yards they needed for a 28-9 lead, capped by a 2-yard run by White.
The CCU offense spent most of the first half eating up yardage — except for its third possession, when senior defensive end Malcolm Lee forced a fumble and Johnson recovered it for KU's first takeaway of the season.
The Jayhawks trailed 14-10 early in the second quarter before disaster struck on special teams. Alex Spillum not only blocked Reis Vernon's punt on a play that began on KU's own 19-yard line, Spillum also secured the live ball in the end zone as the Chants went up 21-9.
Although Leipold said he didn't see live what led to the blocked punt, he said the buildup before the play didn't help.
"We were trying to milk some more clock — that'll be on me. Then we go on the field, huddle, and then they lined up in something we had to check out of," Leipold said. "Then we're pressed for time and everything and we get the delay, and then we come back (for the snap) and we're really on our heels."
Despite coming in as heavy underdogs against the Sun Belt Conference's nationally recognized program, the Jayhawks struck first on the road. After receiving the opening kickoff, KU went up 3-0 with a 46-yard Borcila field goal. 
And when Coastal responded with a quick TD drive to take its first lead, the Jayhawks proved they didn't travel to South Carolina to get steamrolled.
With a 35-yard connection from Bean to Grimm on 3rd-and-long from near midfield and an unsportsmanlike penalty on CCU on an earlier 3rd down keying the drive, the Jayhawks went back up, 9-7, on Neal's first career touchdown run. 
An early harbinger of special teams issues to come, CCU blocked Borcila's ensuing extra point, giving the Chants an added jolt entering their second offensive series, which also covered 75 yards and ended with a TD.
"Our margin for error's very small right now," Leipold said immediately following the loss. "I think that's pretty evident. I thought we played hard. I thought we played hard for 60 minutes. We had some moments we were knocking on the door, but just couldn't quite get over the hump and some of those things."
The Jayhawks will return to Lawrence next week for their first Saturday game of the year — and their Big 12 opener — against Baylor, on Sept. 18.
SCORING BY QUARTERS
FIRST QUARTER
10:07 — Jacob Borcila 46 field goal. Eight-play drive for 36 yards, in 4:45. (KU 3, CCU 0.)
8:13 — Jaivon Hellish 33 pass from Grayson McCall. Massimo Biscardi kick. Five-play drive for 75 yards, in 1:54. (CCU 7, KU 3.)
1:40 — Devin Neal 2 run. Borcila kick blocked. Eleven-play drive for 66 yards, in 6:25. (KU 9, CCU 7.)
SECOND QUARTER
11:02 — McCall 2 run. Biscardi kick. Twelve-play drive for 75 yards, in 3:58. (CCU 14, KU 9.)
8:23 — Alex Spillum recovered block punt. Biscardi kick. (CCU 21, KU 9.)
2:36 — Reese White 2 run. Biscardi kick. Four-play drive for 35 yards, in 1:48. (CCU 28, KU 9.)
1:36 — Jason Bean 34 run. Bean pass failed. (CCU 28, KU 15.)
THIRD QUARTER
11:36 — Bean 46 run. Borcila kick. Three-play drive for 65 yards, in 1:16. (CCU 28, KU 22.)
8:37 — White 19 run. Biscardi kick. Seven-play drive for 75 yards, in 2:59. (CCU 35, KU 22.)
FOURTH QUARTER
14:11 — White 3 run. Biscardi kick. Twelve-play drive for 72 yards, in 5:13. (CCU 42, KU 22.)
4:49 — Kameron Brown 11 pass from McCall. Biscardi kick. Ten-play drive for 83 yards, in 6:32. (CCU 49, KU 22.)