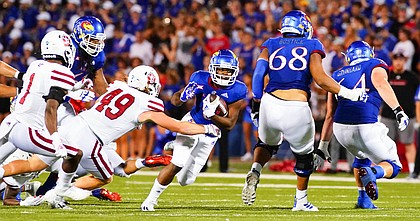 Midseason form was never the expectation, so it makes sense that it didn't come.
The Kansas football team had its moments during Friday's season-opening 17-14 come-from-behind win over South Dakota, but it was also very clear that this was not only the first game of the season but also the first game of a new era.
Believe it or not, that's OK.
The fans showed up. There was legitimate buzz around the stadium before and during the game. And the 1-0 Jayhawks competed hard from start to finish.
It wasn't always pretty. And there are more questions today than there were heading into Friday night. But questions lead to answers. And if there's one thing first-year KU coach Lance Leipold and his staff pride themselves on, it's putting in the work.
So that's what they'll do. Starting today.
Whether you were one of those fans who believed this group could be a four- or five-win team as soon as this year or you're in the skeptic's camp and were expecting more of the same, you now know what this team looks like.
It's a work in progress. It's going to be that for most of the season. The sooner you embrace that, the better chance you'll have at finding a way to enjoy this season, win, lose or draw.
Photo Gallery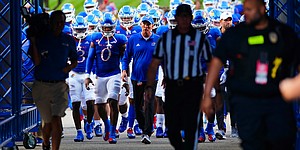 KU football v. South Dakota
View a photo gallery from the Jayhawks' 17-14 win over the Coyotes Friday night.
Friday night taught us enough — at least for now — to know a few answers that the coaching staff might not have to keep searching for in the weeks to come.
Most of them came on defense.
The KU defensive line looked solid, and the Jayhawks got big plays from several players up front. And that was even with starting nose tackle Sam Burt getting seriously injured early in the game.
No one stood out more than senior defensive end Malcolm Lee, who looked both quick and powerful all night and had a stat line to back it up. Edge rusher Kyron Johnson, Buffalo transfers Ronald McGee and Eddie Wilson and senior tackle Caleb Sampson were disruptive and physical while flying around all night.
KU's young secondary also stood up pretty well. It wasn't challenged a ton, but when it was, guys like OJ Burroughs, Jeremy Webb, Ra'Mello Dotson and Kenny Logan all were in the right spots to make key plays.
Related document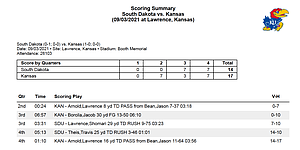 KU-South Dakota box score ( .PDF )
The question marks came on offense. KU struggled to cross midfield and pick up first downs throughout the first half, and most of their issues could be traced back to the play of the new-look O-line. That group got better as the game went on, but the push up front was tough to come by, which made KU's rushing attack a bit stagnant. It's a smart group that should not be judged entirely on their first game ever playing together.
The long-awaited answer to KU's starting quarterback question was revealed Friday afternoon, and sophomore Jason Bean got the nod and looked capable at worst and solid at best.
Very few of the offense's issues early were on Bean, and he showed repeatedly what a different dimension his speed can bring to this offense. It's speed at that position that KU has not had in a long, long time.
Beyond that, Bean looked comfortable out there. He clearly has good command of this offense and showed nothing but poise whether running or throwing.
The coaching staff did a good job with the quarterback battle, giving it time to fully play out before making a decision. Had they picked a starter a few weeks ago, it likely would have been a different QB. Bean was the right choice and he showed that in the opener.
The stakes are high for this Kansas football team and fans are often impatient. But the journey is officially under way now, and it appears to be one worth following.
KU will need to get better — and fast — to be competitive with any of the teams left on its schedule. But that's the plan the coaching staff has had all along, so sit back and enjoy the ride.