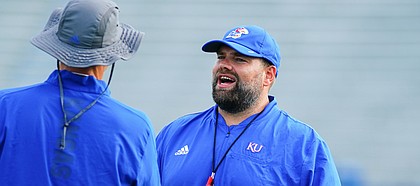 This is the ninth year in a row that head coach Lance Leipold will enter a college football season accompanied by both defensive coordinator Brian Borland and offensive coordinator Andy Kotelnicki. But Leipold's right-hand men never have launched into a campaign quite like this.
The 2021 season is their first working with Leipold at the Power Five level, and they're doing so for a University of Kansas program notorious for its struggles over the past decade-plus. But the most significant challenge for the former Wisconsin-Whitewater and Buffalo coaches has been preparing the Jayhawks for the fall without the benefit of a complete offseason.
Two days ahead of their first game together at KU, Kotelnicki told reporters Wednesday he feels good about the preparation he and other offensive assistants directed over the past several months — after KU hired Leipold and the regime transition got started following the Jayhawks' spring practice schedule.
"But you're talking about an entire semester worth of work and activity you could have with the team that you don't have. So obviously there's going to be some things we don't get as many reps on," Kotelnicki said of the less than ideal circumstances the staff has navigated.
Even so, Kotelnicki said the players on offense responded well through the summer and preseason practices, absorbing the rules and responsibilities of a new system during the installation process.
Typically at this time of the year, Leipold's coordinators aren't cramming installs they would do in the spring into their preseason practice schedule.
Said Borland: "Obviously it's been a lot of preparation in a hurry, so there's always a little bit of angst about that."
Nevertheless, they've known since they joined Leipold in Lawrence this past May what was in store with their timeline. Borland said he and the defensive coaches made sure they did everything they could to prepare their personnel.
"If you've been in the same system with a lot of the same guys year after year, there are things we would all know," Borland said, referencing the continuity that existed for Leipold's programs at Whitewater and UB.
"Through time, guys understand quicker, more fully, those kinds of things," Borland said. "So right now we're trying to get our basics in and make sure we're putting the guys in situations where they can be successful. And try to keep them out of situations where we feel like maybe we're not quite ready for everything just yet."
Along those lines, Kotelnicki said he knew going into August practices — the new staff's first with the players — he wouldn't be able to introduce the entire offensive playbook before the season began.
"You can kind of pick and choose what you decide to install with the guys," KU's O.C. said. "Fundamentally, you've got to boil it down to here's what we need to win games."
Kotelnicki said he tried to identify plays or packages that could wait until a bye week and edited down the available plays KU could use entering the season by determining which ones they "won't need the first three or four games."
The O.C., who has worked with Leipold since 2013, said he based his installation plan off of what the staff learned about KU's offensive personnel during the summer, leading up to camp. And then he wanted to be able to adjust as necessary.
"Any installation menu is a living document," Kotelnicki said. "It will flux throughout camp based off of what you saw."
In terms of what he wanted to have in place offensively for Friday's opener versus South Dakota (7 p.m., ESPN+), Kotelnicki thinks the Jayhawks are on schedule and "right where we need to be."
"Probably like a lot of offensive coordinators, probably you always sit there and say to yourself, boy, you want to do more," he said. "I think through the years I probably learned to be a little bit more disciplined about making sure you put in the right amount."
Kotelnicki wants KU's offense to be "consistently good" rather than "occasionally great."
Borland, meanwhile, feels similarly upbeat about where the defense is at entering the 12-game schedule. The defensive coordinator said the players on that side of the ball embraced the challenge of picking up the new defensive scheme.
"Never had to prompt our guys with anything about effort, hustle, desire to learn, desire to grab a hold of things," Borland said. "They have not been resistant at all in that area. So I'm really encouraged by that, because I know it's just a matter of time before everything comes together."
Borland, Leipold's D.C. for the past 14 years, doesn't ever head into a season with zero worries. Right now, the man in charge of KU's defense is eager to find out if the Jayhawks can master in Week 1 what they spent all summer going over.
"I'm just more concerned that we go out there and execute the things that we want with the kind of physicality and effort that we need," Borland said.