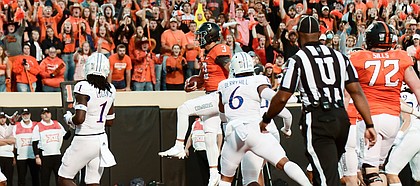 Stillwater, Okla. — An ill-fated first half of offense for the Kansas football team Saturday night at Oklahoma State swiftly put an end to the Jayhawks' chances of contending with the Cowboys.
No. 15 OSU didn't need two takeaways to run away from the Jayhawks, but those mistakes sure didn't help KU at Boone Pickens Stadium, where the Cowboys won a 55-3 drubbing.
"That's a really good, physical, fast football team," KU head coach Lance Leipold said after his team's seventh consecutive defeat. "And we didn't come close to matching them."
KU starting quarterback Jason Bean was either on the run or getting steamrolled by an OSU defender throughout the first half. The junior — and the entire KU offense — struggled so much that Bean's night only lasted for two quarters, and he finished with 10 passing yards, 24 rushing yards and two interceptions.
Senior backup QB Miles Kendrick led the lone scoring drive for the Jayhawks (1-7 overall, 0-5 Big 12) in the third quarter, as Leipold decided to sit Bean after a scoreless first half.
OSU head coach Mike Gundy felt so comfortable in the blowout that he sat starting quarterback Spencer Sanders (12-for-19 passing, 157 passing yards, 53 rushing yards, three total touchdowns) before the first half even concluded.
Oklahoma State (7-1, 4-1) shut KU out — in first downs — 21-0 during the woeful first half for the Jayhawks' offense. KU averaged only 1.9 yards per play on its 26 offensive snaps. Though the offense took the field for nine possessions before halftime, KU's ugly first half included six punts, two Bean interceptions and a turnover on downs.
After KU's offense finished with just 143 total yards, compared to OSU's 535, Leipold said the Cowboys' defense was one of the best in the country, and that showed on Saturday night.
"Didn't get off to a very good start and let them just get on a roll," Leipold said. "Credit to them. In so many ways that to me was an impressive football team."
Already in a 31-point crater late in the second quarter, KU elected to go for it on fourth-and-inches inside its own 35 on its eighth possession.
Bean rolled out, looking for a rare pass completion, but, as he so often did during a rough night against the Cowboys, Bean faced pressure, and threw an incompletion.
KU's starting QB went 3-for-10 as a passer, acquiring just 10 passing yards and throwing two interceptions in the process.
Asked whether OSU rattled Bean in a way that he hadn't been previously this year, Leipold said "it appeared that way a little bit."
"He rushed a couple throws, intercepted, all those things," Leipold said, adding that OSU's physicality up front led to those mistakes and problems. "Besides being big there's a lot of quickness there, and we didn't react very well to it."
After the loss, Leipold said he just wanted to have Bean watch in the second half, and he wasn't reevaluating the team's QB situation heading into next week.
Related document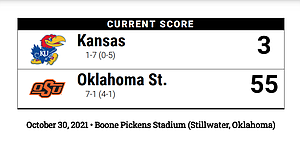 It wasn't until KU's 14th offensive snap of the night that Bean made his first pass completion, a 1-yard gain for receiver Trevor Wilson.
While KU's offense struggled, the Jayhawks' counterparts spent much of the first half padding the lead. The Cowboys scored three touchdowns in the second quarter en route to their 38-0 halftime lead.
The Jayhawks' problematic first quarter of offense aided OSU's easy victory. KU had four possessions in the game's opening 15 minutes, and two of those concluded with Bean throwing an interception.
When Kolby Harvell-Peel secured OSU's second pick of the first quarter, the Cowboys got to take over in the red zone. Sanders and the OSU offense needed only four plays to extend the lead to 17-0.
Bean's first interception, on his second throw of the night, came with the QB under pressure. Bean tried to hit receiver Lawrence Arnold, but the QB's hurried attempt was off target. After the pass deflected off of Arnold's hands, Jason Taylor picked it off.
KU's defense at least was able to hold the Cowboys to a three-play series and a 49-yard field goal by Tanner Brown, which made it 10-0 with less than four minutes left in the first quarter.
Mike Novitsky, KU's starting center and the only offensive player who spoke with the media after the game, said the offense started slow and never found its groove.
"We were having three plays and we'd have to come off," Novitsky said. "We could never really sustain a drive. So I just thought that kind of hurt our momentum, and we just need to start faster."
There were many things KU's offense could have done better to combat OSU's powerful defensive front, Novitsky said.
"We've just got to execute better, be more confident when we're out there," Novitsky said. "And we have the ability to do that."
The first of the Cowboys' many trips across the goal line during their homecoming rout of KU came on their second possession, which covered 68 yards in eight plays.
OSU's opening drive began with the Cowboys firing deep, and Brennan Presley drawing a pass interference call against KU safety Ricky Thomas.
But even though OSU picked up three more first downs on the next four snaps and looked well on its way to a quick TD drive, the Jayhawks kept the home team off the scoreboard.
Gundy and the Cowboys elected to go for it on fourth-and-1 at KU's 16-yard line. However, junior safety Kenny Logan Jr. dissected a Jaylen Warren run to the left perfectly and stuffed the running back for no gain.
KU's offense couldn't turn the defensive momentum into an early score, or even a first down. The Jayhawks went three-and-out for the second time in the game's opening seven minutes.
Discussing the inconsistencies that have plagued not just the offense, but the team as a whole, Leipold said: "Absolutely, it's frustrating. It's frustrating for them. It's frustrating for coaches, but ultimately it's my responsibility to get this team to play more consistently and I haven't done that. We're going to continue to work at it."
KU is back in Lawrence next week for this year's Sunflower Showdown versus rival Kansas State (5-3, 2-3).
SCORING BY QUARTERS 
FIRST QUARTER
5:49 — Spencer Sanders 4 run. Tanner Brown kick. Eight-play drive for 68 yards, in 2:30. (OSU 7, KU 0.)
3:37 — Brown 49 field goal. Four-play drive for 5 yards, in 2:05. (OSU 10, KU 0.)
0:27 — Brennan Presley 4 pass from Sanders. Brown kick. Four-play drive for 19 yards, in 1:30. (OSU 17, KU 0.)
SECOND QUARTER
11:42 — Tay Martin 36 pass from Sanders. Brown kick. Four-play drive for 70 yards, in 1:53. (OSU 24, KU 0.)
5:58 — Presley 14 run. Brown kick. Six-play drive for 67 yards, in 2:00. (OSU 31, KU 0.)
2:23 — Dominic Richardson 5 run. Brown kick. Five-play drive for 34 yards, in 1:13. (OSU 38, KU 0.)
THIRD QUARTER
11:15 — Bryson Green 12 pass from Shane Illingworth. Brown kick. Nine-play drive for 75 yards, in 3:45. (OSU 45, KU 0.)
3:50 — Jacob Borcila 45 field goal. Twelve-play drive for 48 yards, in 7:25. (OSU 45, KU 3.)
FOURTH QUARTER
14:28 — John Paul Richardson 2 pass from Illingworth. Brown kick. Ten-play drive for 82 yards, in 4:16. (OSU 52, KU 3.)
10:54 — Alex Hale 26 field goal. Four-play drive for 4 yards, in 1:11. (OSU 55, KU 3.)