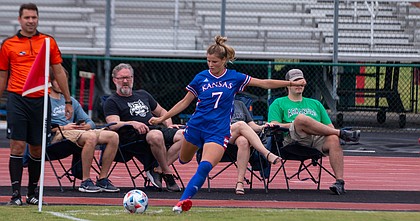 The Kansas soccer team's bid for the final spot in the Big 12 tournament came up short in Thursday's season finale.
Needing a win to get into the postseason, the Jayhawks fell to No. 20 Texas, 2-0 at Rock Chalk Park.
The Kansas loss was the seventh setback in the last nine games and dropped KU's record to 7-11-1 overall and 2-7 in Big 12 play. The Jayhawks finished the season on a three-game losing streak.
After a scoreless first half on Thursday, the Longhorns (10-3-5, 6-0-3) struck early in the second half. UT's first goal, by Trinity Byars, came at the 47:51 mark. The visitors then took a 2-0 lead seven minutes later with a goal by Lexi Missimo at the 55:02 mark.
The Jayhawks were out-shot 18-9 for the match. That included a 10-4 UT edge in the first half, which seemed to set the stage for the Longhorns to break through early in the second half.
Just seven Texas shots were on goal in this one — compared to four by Kansas — but the Longhorns' attack also produced 11 corner kicks. Kansas manufactured just three.
One of the nine KU shots on goal was a close-call free kick try by sophomore defender Moira Kelley in the 77th minute, but the Texas goalkeeper was able to deflect the deep shot over the crossbar. The save kept Kansas from building any late momentum and UT cruised home to victory.
Thursday's finale drew a crowd of 514 fans, many of whom were there to support and honor the seven Kansas seniors who were playing their last game for the Jayhawks.
Sam Barnett, Italia Bradley, Rylan Childers, Emilie Gavillet, Kaela Hansen, Kailey Lane and Grace Wiltgen joined senior manager Hank Kline as the honorees in the night's senior ceremony prior to kickoff.
Thursday's loss dropped Kansas to 8-18-3 all-time in the series with Texas.