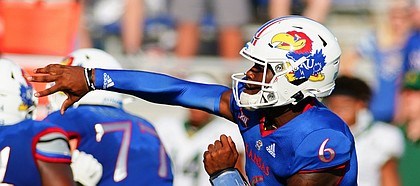 Don't expect to see much of reserve quarterback Jalon Daniels the rest of this Kansas football season. Head coach Lance Leipold revealed Tuesday the staff plans for Daniels to use 2021 as a redshirt year.
That wasn't the plan for Daniels going into the season, as the sophomore and returning starting QB for the Jayhawks spent most of the preseason in a depth chart battle with Jason Bean and Miles Kendrick. However, Leipold explained during his weekly press conference, after Bean secured the starting job and it became apparent redshirting was a viable option for Daniels, the coaches met a few weeks back with the young QB and decided to have Daniels preserve a year of eligibility.
"It's a balancing act," Leipold said of taking the redshirt approach with Daniels, "because whether it be through performance or through injury, things could always change."
If some unforeseen circumstances forced KU to turn to Daniels as an emergency QB during the final six games of the season, as Leipold alluded to, the 6-foot, 215-pound sophomore could play in up to two more games this year and still keep his redshirt intact. NCAA rules allow players who are redshirting to participate in a maximum of four games during that season. Daniels subbed in late in two of KU's losses earlier this season, at Coastal Carolina and at home versus Baylor, but didn't appear in any of the other four games for KU (1-5 overall, 0-3 Big 12).
In 2020, as a true freshman, Daniels started six games and played in seven. Leipold noted the young QB, who turned 18 during his first college season, also played behind "an offensive line that was kind of being mixed and matched on a weekly basis."
"He got thrown to the fire," Leipold said of the challenging circumstances Daniels faced a year ago.
As a true freshman, Daniels went 76-for-152 through the air, for 718 yards, with one touchdown pass and four interceptions.
In some mop-up duty late during blowout losses to Coastal and BU this year, Daniels was 3-for-6, for 49 yards. He didn't throw a TD or a pick.
When the coaches discussed redshirting with Daniels, Leipold said the second-year QB agreed it would be a good move for him and has since "embraced that opportunity."
Leipold said both Daniels and Kendrick, who led KU to two TD drives in the final minutes of a lopsided loss to Texas Tech this past weekend, took the right approach to the QB competition over the past few months. The coach said he appreciates and admires "the attitude that both of those guys have had through this whole situation."
Kendrick went 4-for-7 passing for 55 yards in the final minutes of KU's loss to Tech, and the senior QB threw two touchdowns during his late-game cameo.
"Again, Miles has continued to work hard and show flashes," Leipold said, praising Kendrick for being "highly competitive" when he got to sub in and giving the Jayhawks "at least something to feel decent about on a rather bad day."
KU will play host to No. 3 Oklahoma (7-0, 4-0) on Saturday at David Booth Kansas Memorial Stadium (11 a.m., ESPN).