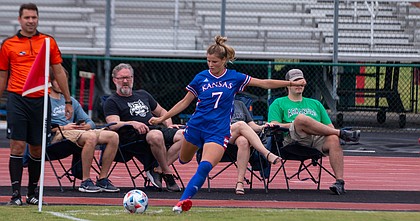 The Kansas women's soccer team received two of the four weekly awards handed out by the Big 12 Conference this week, the Big 12 announced Tuesday.
Sophomore Brie Severns was named the Big 12 Offensive Player of the Week and freshman midfielder Raena Childers earned Big 12 Freshman of the Week honors.
Severns capped off a career week by scoring the game-winning goal in double-overtime to beat No. 9 West Virginia on Sunday.
Earlier in the week, Severns scored the game-winning goal that beat No. 23 Baylor, which gave Kansas its first Big 12 victory of the season.
Severns also picked up an assist on the Jayhawks' first goal of the win over West Virginia and drew a foul in the box to set up a penalty kick for a teammate for KU's first goal against the Bears. Her three points in the WVU game (2 for the goal and 1 for the assist) marked her career-high in a single game.
Childers tallied an assist on Severns' game-winner against WVU and also scored the Jayhawks' first goal in the 2-1 win over the Mountaineers.
TCU senior Brandi Peterson was named Big 12 Defensive Player of the Week and Kansas State sophomore Alaina Werremeyer earned the conference's Goalkeeper of the Week award.
KU (7-8-1 overall and 2-4 in Big 12 play) will look to extend its winning streak to three games at 7 p.m. Thursday at Oklahoma.