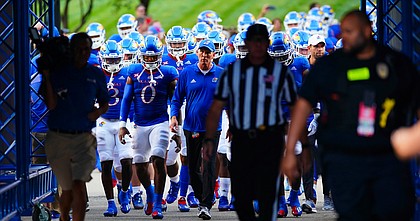 The Kansas football team's current four-game losing streak isn't the first such skid head coach Lance Leipold has encountered while trying to rebuild an FBS program. And some of the philosophies Leipold and his longtime coordinators leaned on at Buffalo a few years ago, they expect, will work for the Jayhawks, too.
Looking back at what he learned while rebooting the UB program, Leipold used three words to sum up the approach his staff used previously with the Bulls and is now implementing with the Jayhawks: "Stay the course."
Leipold and his righthand men, defensive coordinator Brian Borland and offensive coordinator Andy Kotelnicki, had to follow that directive early on during their time at UB, which included two four-game losing streaks in 2016, Leipold's second year in charge with the Bulls.
Displeasure can exist, Leipold acknowledged, during the most difficult stretches of a losing season.
"I know our locker room, our players, our coaches, our fan base, it's disappointing," KU's head coach said of the Jayhawks' recent woes. "It can be frustrating. We didn't come here to let anyone down."
Believing in the plan, Leipold added, is a crucial component of making it through to a more successful future.
"Just like we tell our players: trust the process," he said. "You hear that a lot in football today. You go back to your values and what you're going to be, because if you start panicking — you can't coach angry."
Another important piece of weathering the tough times, Leipold added, is making sure no one in the program ever normalizes or accepts losing. That's a subject he said coaches have brought up in recent weeks and is important to remember.
"You never want to get used to accepting defeat," Leipold said. "It does kind of eat at you. From a head coach's perspective, you've got to own what's out there and work to get it better."
As the Jayhawks (1-4 overall, 0-2 Big 12) come off their bye week and prepare to face Texas Tech (4-2, 1-2) on Saturday for homecoming (3 p.m., ESPN+), Borland said he finds himself revisiting some of the lessons he picked up during the rebuild at Buffalo.
"One of them is just to try to have some patience and recognize that it is a work in progress and it's not something that's going to get solved tomorrow necessarily," said Borland, who has been Leipold's defensive coordinator since the two began working together at Wisconsin-Whitewater in 2007. "I'm not discouraged with our players at all. I'm discouraged with the results."
KU's defense has struggled throughout the team's losing streak in recent weeks. But Borland said he sees his players remaining determined to "show up and work hard," and called them "coachable."
Borland said he hasn't seen them give up nor fall into a rut where they're down on themselves.
"They're still striving to improve and they want to. That's all we can really ask," Borland said. "You've just got to trust the process that if we're consistent over time with the message and how we do things, then eventually the corner's going to get turned. We're just in the middle of it right now. You've got to see it as a process."
That's a notion that carries over to what all of the coaches are trying to achieve at KU. Kotelnicki, who has worked as Leipold's O.C. since 2013, said he reminds the players of that, as well.
"You could win by 100, you could lose by 100. What you do on Sunday and Monday, Tuesday, Wednesday, Thursday and Friday doesn't change," Kotelnicki said he tells the Jayhawks' offensive players every week. "The process, you can't negotiate it, you can't change it."
The only thing that's different when a team is winning, Kotelnicki said, is that coaches and players tend to smile a bit more. He said the Jayhawks would be doing the same things each week regardless of the outcome of the most recent game.
The big picture approach never got modified when they were at Buffalo, Kotelnicki said, and "daily improvement" always was one of the primary goals through the good times and bad.
"You've got to be disciplined and you've got to probably grit your teeth a little bit more when you've had a loss or two," the O.C. said. "But what you do doesn't change."
Prior to this season, Leipold, Borland and Kotelnicki last went through a four-game losing streak in 2017, which was their third year at UB. Buffalo concluded that season on a three-game winning streak. The Bulls then went 10-4 in 2018, 8-5 in 2019 and 6-1 in 2020. UB never lost more than two games in a row during the staff's final three seasons in the MAC.
Still not even six months into his massive reclamation project at KU, Leipold, while on the topic of directing a team through a losing streak, referenced the abbreviated offseason he and his staff took on when he decided to leave Buffalo to coach the Jayhawks.
Most of the time in college football, coaching changes happen in December or January, giving a new head coach and his staff roughly eight to nine months together, depending on the circumstances, before the first game comes around. KU, following the ousters of former head coach Les Miles and former Athletic Director Jeff Long, didn't hire Leipold until the last day of April, on the eve of the Jayhawks' spring game — the finale of the 15-practice spring slate.
In May, some new head football coaches have been with a program for five months. Leipold said he didn't even meet with a player on the KU roster until May 3 of this year. Five months later, the Jayhawks were already five games into their 2021 season.
"That's not an excuse," Leipold said of the timeline. "It's just a fact for all of us. I have to keep that in perspective, too."
Now 147-43 as a head football coach, Leipold said he's still new enough to the KU job that sometimes he will look at a certain player on the roster and, because he wasn't around when the vast majority of the players first stepped foot on campus, forget that Player A hasn't been with the program as long as Player B.
"I can't look at Steven McBride and look at Kwamie Lassiter and think they've been here through the same stuff," Leipold said, using sophomore McBride and super-senior Lassiter as an example. "Sometimes when you take over a team you kind of look at everybody being here longer than they really have."
Occasionally, KU's head coach said, he has to stop himself and make a mental note of where a player should be, development wise. Once the coach recalibrates, Leipold said his mind usually goes back to the longterm approach he and the rest of KU's coaches are taking.
"We just have to keep pounding away at this thing," he said.