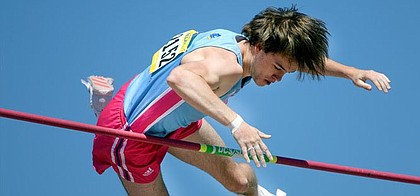 Because of "ongoing challenges created by the COVID-19 pandemic," Kansas Athletics Inc., announced Tuesday that the 2022 Kansas Relays have been postponed.
According to the news release announcing the postponement, the plan is for the Relays to return April 13-15 of 2023, when KU will celebrate the 100th anniversary of the first running of the storied track and field event.
"We are incredibly proud of the history of the Kansas Relays as well as the significance of the event for our university, the sport of track and field, Lawrence and the state of Kansas," KU Athletic Director Travis Goff said in announcing the news. "The Kansas Relays is a signature event with a rich history and we are committed to making the 2023 version the best yet."
KU has hosted the Kansas Relays every year since 1923 with the exception of a three-year absence from 1943-45 because of World War II, stadium renovations forcing a postponement in 1998 and 1999 and 2020, 2021 and 2022 because of COVID-19.
KU track coach Stanley Redwine said the decision to postpone the 2022 event was "disappointing and difficult," but he added that he was already looking forward to the Relays' return in 2023.
"It will be a special year for the Relays as we honor the cen-tennial anniversary and welcome back great high school, col-legiate and professional athletes," Redwine said.