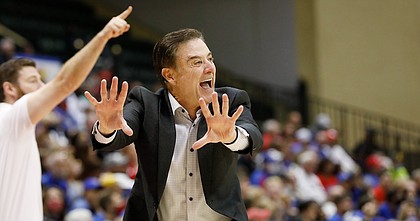 Kissimmee, Fla. — After combining to coach more than 2,000 college basketball games and racking up more than 1,500 victories, Kansas coach Bill Self and Iona coach Rick Pitino finally faced one another on Sunday at HP Field House.
The first ever meeting between the two Hall of Fame coaches went to Self's Jayhawks, who entered as a double-digit favorite and won 96-83. But the experience of coaching against each other for the first time was one that neither coach will soon forget.
"I've always admired him," Pitino said of Self after Sunday's game. "I've always thought he's one of the best coaches in the game. What I admire most is, whether it's his fast break, his offensive sets, his rebounding… he doesn't have a weakness as a coach."
All of those elements played key roles in Sunday's Kansas victory. But so, too, Self said, was the fact that his roster features several highly ranked and highly sought-after prospects, many of whom Pitino's programs have not always had the luxury of recruiting.
Photo Gallery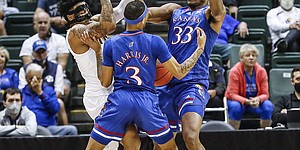 KU vs. Iona - ESPN Events Invitational
KU basketball vs. Iona at the ESPN Events Invitational
"When you really look at coaches, there are a lot of things that make them so effective or so special," Self said after the victory. "But the way that his teams always competed on a very high level, and (did) it without five-star recruits, means that they develop and they get the most out of their guys."
Iona did its best to compete with fourth-ranked Kansas on Sunday. But holes of 10 points early and 20-plus points midway through the game proved to be far too big for the Gaels to overcome. Still, there were stretches of the game, when Iona made Kansas sweat and frustrated the Jayhawks with their willingness to grind out every possession and not stop until the final horn.
"We gave everything we had," Pitino said. "They were just much better than us."
After spending 24 seasons coaching at Kentucky and Louisville, Pitino's return to the college sideline at Iona takes him back to his roots at Boston University and Providence. His goal now is to build the Iona program into stalwarts the way he did with all four of those programs from the past.
"Now that I've faced Kansas, I'm glad we didn't play them all those years," said Pitino, who had coached against KU when Roy Williams was still coaching in Lawrence. "We'd like to get to the point where we have the same type of talent Kansas has. They're tough to play against."
Ochai jumps center
Although there was nothing new about KU's starting lineup on Sunday, Self did employ a new wrinkle to open the game.
Instead of having 6-foot-10 forward David McCormack handle the game's opening jump ball, Self asked 6-5 guard Ochai Agbaji to do it. Agbaji won the tip — coincidentally into the hands of McCormack — and Self said to expect more of that in the future.
"I don't see why it wouldn't be," he said when asked if the move was permanent. "I'll be real honest with you. I think right now Ochai is a much better, much quicker jumper. I'd like to see David jump center, but I think Ochai's probably better at it."
KJ gets a crack
After playing sparingly in the first two games of the tournament (3:54 vs. North Texas and 1:19 vs. Dayton), Kansas freshman KJ Adams played 10 minutes — all in the second half — in KU's victory over Iona.
Most of that time was spent with the 6-7, 220-pound Adams playing the 5 with four guards around him.
Related document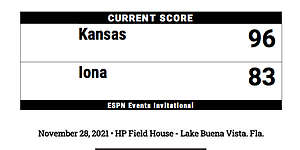 Box score: KU 96, Iona 83 ( .PDF )
"I was just trying to play our best big," Self said when asked about Adams' minutes after the victory. "Let's just call it like it is."
Self inserted Adams into the lineup when Iona went small and had Tyson Jolly (6-4, 205 pounds) at the 5. But when Pitino put his true big men back into the game, Self elected to see what Adams could do because he liked his effort and ability to give the Kansas defense the opportunity to switch at all five spots as needed.
"There was no strategy in it," Self said of a predetermined plan. "KJ Adams was our best big in the second half, as far as playing the way we need to play to give us the best chance. I thought he did well."
Hanni's hustle
Kansas play-by-play announcer Brian Hanni worked overtime this week to lend his voice to the Kansas basketball program in Orlando and the KU football program back home in Lawrence.
On Friday evening, Hanni was at HP Field House in Kissimmee, Fla., putting the finishing touches on his call of KU's loss to Dayton at the ESPN Events Invitational.
By Saturday, Hanni was back in Lawrence, setting up shop at Memorial Stadium to call the final KU football game of the 2021 season.
After snagging a few hours of sleep, the voice of the Jayhawks caught a 6 a.m. flight out of Kansas City and was back in Florida by 10 a.m. for the KU-Iona call.
The fun didn't end there. Hanni was schedule to fly back to Topeka with the team after Sunday's game and still had to get his car from KCI.
Football season is over, though, and KU's next basketball game is not until Friday. So he'll have a little time to rest and recover.

Tourney results
Dayton topped Belmont in Sunday's title game, giving the Flyers a 3-0 record and some hardware to take home.
Belmont, which beat Iona in the other semifinal on Friday, fell just short, losing 63-61 to Anthony Grant's team.
No. 10 Alabama rolled by Miami, Fla., for fifth in the last game of the event on Sunday evening to salvage a 2-1 record.

And, in the seventh-place game, North Texas (KU's first-round opponent) knocked off Drake, 57-54, making Drake the only team to leave Orlando without a win.
Braun landed as the lone Jayhawk on the all-tournament team. He was joined by tourney MVP Malachi Smith and Daron Holmes II of Dayton, Nick MUszynski of Belmont and Iona guard Tyson Jolly.
This and that…
KU now leads the all-time series with Iona, 4-1… The win moved the Jayhawks to 104-15 following a loss in the Bill Self era… Kansas is now 5-1 all-time in the ESPN Events Invitational and 5-1 or better to start a season for the 17th time under Self… Sunday's 46-point first half marked a season high for KU… The Jayhawks never trailed in Sunday's victory and have now played at least 11 players in all six games this season.