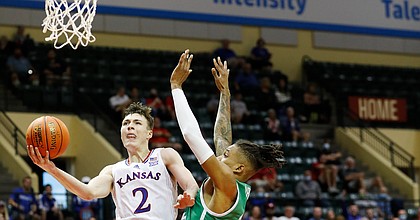 No. 4 Kansas Jayhawks (4-0) vs. Dayton Flyers (2-3)
Time: 12:30 p.m., Friday, Nov. 26, 2021
Location: HP Field House, ESPN Wide World of Sports, Kissimmee, Fla.
TV: ESPN/ESPN2 | Radio: IMG Jayhawk Radio Network
Keys for Kansas
1. Trim the rotation?
There were times on Thursday when the Jayhawks looked like an absolute juggernaut and the No. 4-ranked team in the country.
And there were other times when they looked like a run-of-the-mill team that might finish in the middle of the pack in its conference. That was particularly true of KU's defense, which offered little resistance to the North Texas guards on drives to the basket.
While fixing that will require a certain amount of pride to kick in, trimming the rotation also could help.
Kansas coach Bill Self played 10 players 10 minutes or more in the win over North Texas — and another who played eight minutes — and the guess here is that Friday's clash will Dayton will not feature that many guys getting that many minutes.
What that means and who that will impact remains to be seen. But Self seems ready to put a premium on defensive performance, meaning those who don't deliver on that end won't be out there quite as long until they do.
2. Finish at the rim
Dayton coach Anthony Grant said after Thursday's 76-60 victory over Miami, Fla., that a strong defensive presence on the interior was a huge key to Dayton's attack.
Dayton's 2-point percentage defense and block percentage both rank better than the national average in those categories, according to KenPom.com.
Not only does protecting the rim keep points off the board, but it also creates opportunities for the Flyers' athletes to run, which takes some of the pressure off of DU's halfcourt offense.
Dayton's length in the halfcourt, both at the rim and in the mid-range and on the perimeter, caused fits for Miami, which featured players stepping into seemingly open shots only to see a Dayton defender close out and get a hand on the ball before the shot went up.
Asked about the Flyers' length on Thursday, Self said the Jayhawks would talk plenty about it in the hours leading up to tipoff.
"Obviously it makes the court look smaller; it makes the court look more crowded," Self said. "They're starting like four guys in that 6-5 to 6-10 range, something like that. So that's something that we're going to have to deal with."
Crisp ball movement to get the Flyers off balance, pump fakes to get by the closing defenders and strong takes to the rim by players bracing for contact are a few of the ways the Jayhawks can negate the Flyers' length.
3. Be prepared for pressure
Self said Thursday that Grant's team presses more than it typically has in the past. But the full-court look by the Flyers is only half of the equation.
Dayton's half-court defense was also suffocating at times against Miami on Thursday. The Hurricanes routinely struggled to turn the corner on drives to the rim and fell victim to a handful of shot clock violations.
Self was not impressed by KU's ball movement in its Round 1 win over North Texas. And it will have to be much sharper against Dayton if the Jayhawks want to find any kind of success on offense.
One thing that will help thwart Dayton's ability to set up its pressure defense is getting out and running in transition. Kansas has shown a willingness to do that throughout the season so far, and the offense had an extra gear on Thursday, with sophomore Jalen Wilson back from suspension and ready to push the ball whenever possible.
"We're going to have to attack pressure," Self said after Thursday's win. "And then, even if we beat the pressure, we've got to score with a shorter clock (on Friday) because they'll make us use time beating the pressure."
Marquee Matchup
KU's 3-point D vs. Dayton's 3-point shooting
The Flyers knocked in 11 of 19 3-point shots in their win over Miamin on Thursday, hitting 58% from 3-point range in the 16-point win.
If that number had dropped to even just 40%, that game could have been a one- or two-possession contest.
Instead, the Flyers cashed a high percentage of their open looks, some of which came in the halfcourt and others in transition.
Five different Dayton players hit 3-pointers in that one, with 6-foot-6 junior guard Elijah Weaver hitting four of five and 6-foot-9 freshman forward Mustapha Amzil knocking in three of seven.
Dayton entered the game shooting just 23% from 3-point range, so it remains to be seen whether this team is what it was through the first four games of the season or what it was in Thursday's convincing wins over the 'Canes.
KU held North Texas to just four makes in 27 attempts from 3-point range on Thursday. But much like the Dayton-Miami game, if the Mean Green had hit even just three or four more from the outside, that game could have been a lot closer than it was most of the way.
For the season, KU is holding opponents to 28% shooting from 3-point range while hitting nearly 40% of their own 3-point attempts.
Jayhawk Pulse
With No. 10 Alabama falling to Iona in Game 3 of Thursday's action, it's down to Kansas and a trio of mid-majors for the ESPN Events Invitational title.
KU will play Dayton in a game that Las Vegas sees as 15-point edge for KU. And Iona will take on Belmont in the other semifinal.
With that being the case, the Jayhawks move forward as the heavy favorite to win the tournament, and anything less will likely be viewed as a major disappointment. But that's the farthest thing from Self's mind at this point, and his players don't seem to be thinking that way either.
The goal for Kansas remains the same as it was when they arrived — play things one possession at a time, execute at a high level, defend and find a way to get better each day.
After opening the season with a 10-point win over Illinois Chicago, the Flyers dropped three straight home games to UMass Lowell, Lipscomb and Austin Peay before Thursday's win over Miami.
The Flyers start three freshmen and are a much different team that the one that KU faced in the finals of the Maui Invitational in 2019, which was led by future NBA lottery pick Obi Toppin.
But the core values of the Dayton program remain intact and Grant and company will have this team ready to compete with intensity and great effort from start to finish. The Jayhawks will have to be ready to match that in order to prevent it from canceling out some of KU's basketball-specific advantages.
Probable Starters
No. 4 Kansas
G – Dajuan Harris, 6-1, 180, Soph.
G – Remy Martin, 6-0, 195, Sr.
G – Ochai Agbaji, 6-5, 210, Sr.
G – Christian Braun, 6-6, 205, Jr.
F – David McCormack, 6-10, 265, Sr.
Dayton
G – Malachi Smith, 6-0, 170, Fr.
G – R.J. Blakney, 6-6, 200, RS-Fr.
G – Elijah Weaver, 6-6, 205, Jr.
F – Toumani Camara, 6-8, 220, Soph.
F – Daron Holmes II, 6-10, 220, Fr.