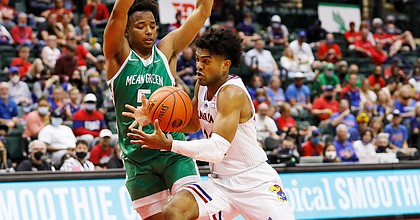 Kissimmee, Fla. — Kansas guard Remy Martin's play perfectly embodied the Jayhawks' day during a 71-59 win over North Texas at HP Field House.
"I thought (he) was pretty good offensively," Kansas coach Bill Self said of his transfer guard after the victory in the opening round of the ESPN Events Invitational. "He showed flashes of being good defensively, and he showed flashes and not being that, too."
So, it was for fourth-ranked Kansas (4-0), which raced out to a double-digit lead in the game's first seven minutes and then delivered a mixed bag of results from there.
Photo Gallery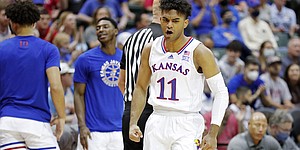 Kansas 71, North Texas 59 - ESPN Events Invitational
Kansas 71, North Texas 59 - ESPN Events Invitational
Martin, who tallied 15 points, eight rebounds and four assists in just under 30 minutes, was a big part of both. And he also provided his signature fire and tenacity from the opening tip.
The reason for that was simple.
"These events are important," Martin said after the victory. "You want to go home with a championship, and that extra motivation helps me and I want to help the team win. I'm the energy guy, and I just want to pass it down to them."
Early on, that fire came in the form of Martin celebrating his teammates' makes after he set them up with assists. He threw lasers all over the floor — in traffic, after back-cuts and to the rim — and had a season-high four assists, with three of them coming in the first half. The most notable was a corner-to-corner dime to KU senior Ochai Agbaji along the baseline that led to one of two Agbaji 3-pointers.
Related document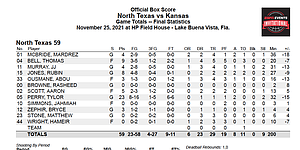 Box score: KU 71, North Texas 59 ( .PDF )
Agbaji's other 3-pointer on Thursday gave KU a 3-0 lead and pushed him past the 1,000-point mark for his career. Kansas never trailed after taking the 3-0 lead 2:32 into the action.
Agbaji's 18 points — on 6-of-12 shooting in 33 minutes — made him the Jayhawks' top scorer for the fourth consecutive game. But he received a little more help in this one, both from Martin and junior guard Christian Braun, who scored 16 points on just eight shots.
Seven of Braun's points came in the opening minutes of the second half, when Braun helped KU reclaim a double-digit lead after letting it slip to six late in the first half.
North Texas (2-2) enjoyed runs of 6-0 and 8-0 in the final minutes of each half, turning what easily could've been a 20-point Kansas win into a 12-point edge.
"We didn't do a very good job of finishing out the first half," Braun said. "We've got to finish halves better."
As a team, the Jayhawks shot 51% from the floor and 43% from 3-point range, and Self said that contribute to their poor defensive performance.
"When we start making baskets and trading shots, we don't guard near as hard," he said. "That's the thing that's most disappointing to me."
Although the statistics show a solid defensive effort by the Jayhawks, no one in the Kansas locker room was not buying into the numbers after the victory.
Sure, UNT shot just 39.7% from the floor and 14.8% (4-of-27) from 3-point range. But the game would have been even tighter if just a few of those 23 misses from behind the arc would have gone down. And Self was far more concerned about the way his team defended than the results the KU defense produced.
Again, Martin was the perfect example of that.
"Maybe guard the ball better," said Self when asked what more he'd like to see from Martin on the defensive end. "Maybe his man (doesn't) shoot a layup. Maybe play up underneath a guy."
North Texas guard Tylor Perry, who scored a game-high 23 points was the beneficiary of a lot of KU's defensive lapses, as he continually got the ball to the rim for buckets in tight. Perry played point guard on the U17 MOKAN AAU team that Agbaji was on in high school, and those two, along with MOKAN alums Dajuan Harris Jr. and Braun, engaged in some lighthearted trash talk throughout Thursday's game.
Martin, who said his ailing back was "fine," said he understands exactly what Self is looking for and he is trying to find ways to deliver.
"I played OK today," he said. "I've got to be better on the defensive end, but I'm happy we got the win."
So, how can he be better?
"Just staying solid," he said. "Sometimes I get out of position off the ball and sometimes when I'm guarding the ball, I gamble. I've got the ability to be a good defender."
Braun believes this Kansas team does, as well.
"We're obviously far from where we need to be defensively," Braun said.
In addition to KU's defensive woes, starting big man David McCormack struggled again on the offensive end, finishing 1-of-6 from the floor and playing just 13 minutes. McCormack is now shooting 43% this season.
Thursday's game also marked the return of sophomore guard Jalen Wilson, who came off the bench to score seven points and grab five rebounds in 18 minutes.
"That'll probably be the least he plays all year," Self said. "We're better on offense when he's in the game."
Wilson showcased his speed in the open floor and his tenacity in attacking the rim in the halfcourt. Wilson dished four assists and turned it over just one time, and his poise surprised some of his teammates.
"We were all excited for him," Braun said of Wilson, who returned from a four-game suspension following a DUI arrest in October. "I know he was charged up, and he played great when he first got in. He showed you a glimpse of what he can do. We know he can do better. We all can do better."
Added Self: "Jalen Wilson will figure out a way to make us better, and I thought he was pretty good today. I thought he played within himself pretty good."
Next up, Kansas will face Dayton at noon on Friday in the semifinals. The Flyers knocked off Miami, Fla., 76-60 in Thursday's first game. The matchup is a rematch of the 2019 Maui Invitational title game and should be in play to provide the best atmosphere of the entire event.
"Dayton may be the only team that has ever challenged us for the most fans," Self said of that 2019 matchup in Maui, won by Kansas in overtime. "And I think, at this one, they have more than us. It'll probably be a great atmosphere."