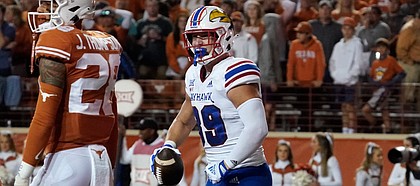 The Kansas football running back room isn't the only one where available bodies are dwindling late in the season. When asked during his Monday press conference which tight ends might actually be in uniform and able to contribute in the team's upcoming season finale versus West Virginia, KU head coach Lance Leipold had to think for a second.
At this point, walk-on Jared Casey might end up getting his first career start. Leipold said Trevor Kardell, who started in place of the injured Mason Fairchild at TCU this past weekend, wasn't able to participate in Monday's practice.
Grouping Kardell with starting running back Devin Neal, Leipold used the words "questionable to doubtful" to describe Kardell's status for the Jayhawks' Saturday home game against WVU (6 p.m., FOX Sports 1).
The head coach said the staff probably won't know about Kardell's availability until later in the week. If Kardell and Fairchild (Leipold labeled him Saturday as "doubtful") are out for the season finale, that leaves redshirt junior Mac Copeland and redshirt senior Ben Miles to back up Casey. The Jayhawks already had lost reserves Will Huggins and Spencer Roe to season-ending injuries before Fairchild and Kardell got hurt.
On the season, Fairchild, a 6-foot-5, 250-pound junior from Andale, is KU's leading tight end, with 13 catches for 128 yards and one touchdown. Kardell has five catches for 86 yards.
Casey, the walk-on redshirt freshman folk hero from KU's win at Texas on Nov. 13, isn't far behind them in production. The 6-foot, 245-pound reserve from Plainville caught four passes for 34 yards and a touchdown in the Jayhawks' 31-28 loss at TCU.
No update on Clark
A fixture in KU's starting lineup for four years now, super-senior offensive lineman Malik Clark's status for the WVU game remains up in the air, as well, Leipold said.
Clark, KU's starting left guard in the first 10 games, wore a walking boot on his left foot and watched the TCU game from the sideline.
With 40 career starts, Clark has a 15-game lead in that category over the player with the second-most starts on the roster, super-senior receiver Kwamie Lassiter II (25).
Redshirt senior Joey Gilbertson made his first career start in Clark's place at TCU.