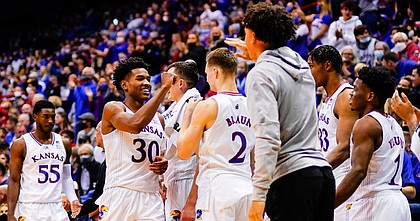 After arriving on 999 points for his career during Thursday's 88-59 rout of Stony Brook at Allen Fieldhouse, Kansas guard Ochai Agbaji was given one more chance by Bill Self to get to 1,000.
"When they told me that, I put him back in and I told him to shoot it and he didn't shoot it," Self said after the victory. "I told him, 'You're only going to get one more chance.' I was hoping he could get it at home — not that it's a huge deal — but he'll have to wait until Orlando to do that."
That, too, was Agbaji's mindset following his third consecutive 20-point game to open the season.
"I unfortunately didn't get it, but 1,000 in Florida," Agbaji said after pouring in 25 points for the third-ranked Jayhawks, who improved to 3-0.
Related document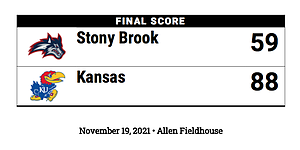 Even with a ho-hum first half in which he shot 40% from the floor and 29% from 3-point range, Agbaji found a way to show that he once again was the best player in the game.

All the proof that was needed to back that claim came during the first four minutes of Thursday's second half.
With KU leading just 40-34 against a hot-shooting, hard-charging Stony Brook squad, Agbaji went bonkers, scoring 10 consecutive KU points to push the Jayhawks to a double-digit lead. The only thing that ended his run was his decision to drop off a pass to big man David McCormack for a bucket during the run that blew the game open.
Six points came from behind the 3-point line. Two more came on a dunk. And the other two came on a hard drive to the rim.
"He looks like a pro out there to me," Self said. "He looks really good."
Agbaji's 79 points through three games rank second in all of Division I basketball, behind Illinois State junior Antonio Reeves, who has scored 80 points in three games.
Photo Gallery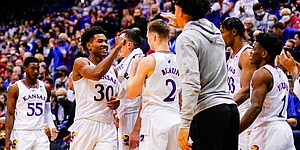 Kansas basketball v. Stony Brook
View a gallery of images from Thursday night's game between the Jayhawks and Seawolves at Allen Fieldhouse.
Agbaji's three consecutive 20-point outings to open the season make him the first Kansas player in the Bill Self era to achieve that feat, and, whether it's from his silky smooth stroke from the outside or his newfound ability to drive and finish, his teammates continue to marvel at the numbers he is putting up.
"It's crazy," freshman forward Zach Clemence (11 points and six rebounds in 12 minutes Thursday) said of Agbaji's performance. "That's a freak athlete. That's a great player right there. And he's going to keep getting better, too."
Perhaps the most impressive part about Agbaji's night was the efficiency with which he played. Always moving, always passing, always looking to make the right play, Agbaji is effortlessly taking what's there and doing it at a high level. Although he said it was still premature to put Agbaji in the same conversation with Devonte' Graham and Frank Mason III, who both averaged at or around 20 points per game during their senior seasons, Self noted that Agbaji's ability to rack up big numbers without trying to force the action was a great sign that his current pace may be sustainable.
"I don't think he's hunting shots," Self said. "I hope he can average 19 a game like Devonte' or 20 a game like Frank. I think we're a long ways away from that level, over the course of the season. But he's an efficient player. He gets 25 and didn't shoot it well."
Agbaji's big highlight in this one came midway through the second half, after he caught the ball on the break just above the 3-point line and drove hard to the rim.
After faking a pass to the wing, the KU senior Euro-stepped back to the bucket, took the contact and still managed to flip the ball into the basket as the foul was called.
After standing in the lane smiling while watching the KU bench and the Allen Fieldhouse bleachers erupt after the finish, Agbaji said thoughts of, 'You guys saw the same thing I saw' and 'How did that go in?' filled his mind.
"It was fun," he said.
A largely scattered start by both teams saw the Jayhawks make just one of their first seven shot attempts on Thursday night. Agbaji and David McCormack combined to misfire on their first five tries, with McCormack even missing a dunk.
Stony Brook (0-2) wasn't much better — hitting just two of its first eight shots — but both makes were 3-pointers after a defensive breakdown by Kansas and that staked the Seawolves to an early 6-2 lead.
Self said he was disappointed with how many easy 3-point shots the Stony Brook guards "walked into" in the first half. But he and point guard Dajuan Harris Jr., said the Jayhawks (3-0) did a much better job of defending in the second half.
"Coach just wanted us to heat them up," Harris said.

Self's other main frustration in Thursday's game came at the end of the first half, when the Jayhawks led by eight, tried to play two-shots-for-one in the final minute but turned it over and went into the locker room leading by just six, 38-32.
"Those are the types of things that'll cost you games," Self said. "And we've got to tighten that up."
Thanks to Agbaji's outburst, along with 10 3-pointers from the Jayhawks as a whole, Kansas outscored Stony Brook 50-27 in the second half to cruise to victory.
Starting guard Remy Martin played just 18 minutes on Thursday and did not score. Self said Martin wrenched his back during Thursday's game, aggravating a minor injury he suffered earlier in the week in practice.
With a full week off before their Thanksgiving Day match up with North Texas at the ESPN Events Invitational in Orlando next Thursday, Self said he was not worried about Martin's injury.
"He'll be fine," the KU coach said.
In addition to Martin expected to return to full strength next week, the Jayhawks also are planning to welcome suspended sophomore Jalen Wilson back to the lineup for the opening game in Orlando.