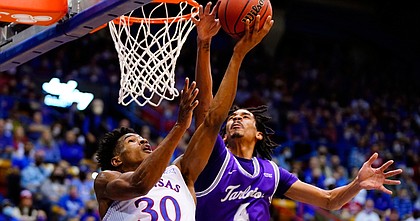 The final score showed an easy, double-digit Kansas victory.
But most on the Kansas bench will tell you that Friday's 88-62 win over Tarleton State at Allen Fieldhouse was anything but easy.
"Coach told us it was going to be a dogfight," junior guard Christian Braun said after the victory. "They were going to pressure us a lot, and that was a good challenge for us because it was something we hadn't seen before."
The smaller starting lineup employed by Self's longtime friend and current TSU coach Billy Gillispie caused matchup problems and defensive issues for the third-ranked Jayhawks throughout the night. But after settling in and feeling out the speed and style of the game, the Jayhawks (2-0) found a way to contain most of what the Texans (0-2) did. That was particularly true in the second half, where KU outscored Gillispie's club 49-31.
"I told Billy before the game, 'You're going to play five guards just to mess us up right off the bat,'" Self said after the win. "They played tiny the whole time. I actually thought we played pretty well. They play so hard; they play underneath you and play a different style."
Photo Gallery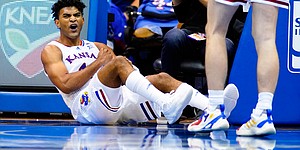 Kansas basketball v. Tarleton State
View a gallery of images from Friday night's game between the Jayhawks and Tarleton State at Allen Fieldhouse.
Early on, the Jayhawks tried to capitalize on their size advantage. But the TSU defense simply refused to let KU big man David McCormack get comfortable. That was on the offensive end. On defense, McCormack and KU's other bigs found themselves chasing smaller, quicker players all night. That limited McCormack, Mitch Lightfoot and KJ Adams to just 10 points in a combined 38 minutes.
Despite their struggles to score, that same trio delivered 13 rebounds and five blocks. McCormack's five blocks tied for the team-high with Braun, who hypothesized that most of his rejections probably came as the result of his own bad defense.
"I told the guys I was a rim protector in high school at Blue Valley Northwest," said Braun, who added 15 points, eight rebounds and five assists to his final line. "I don't think we played that great defensively, but still got a good win over a solid team. But we can be better."
A big reason the Jayhawks were able to play from in front was the second stellar game in a row from senior guard Ochai Agbaji.
He followed up his 29-point outburst in Tuesday's win over Michigan State in New York with 25 points on 11-of-16 shooting against TSU, drawing more praise from his teammates and head coach. Agbaji's 54 points are the most by any player in the first two games of the season in the Self era, passing Frank Mason III's 51 points against Indiana and Duke to open the 2016-17 season.

Related document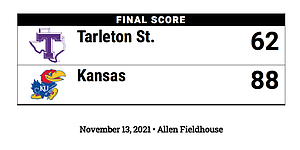 "Ochai was great," Self said. "He was the best player in the game again. He was great. Efficient."
While roughly half of Agbaji's points came from 3-pointers and lob dunks, he also added a post-up game to his repertoire on Friday. Self said after the win that he wants to use Agbaji, Braun and Jalen Wilson in the post more this season because of their strength and athleticism.
"Most coaches are going to say don't let him catch," Self explained. "So if you don't let him catch, you're going to front him. And he's so athletic that he can go get a 50-50 ball and come away with two points."
Agbaji did that on at least three occasions Friday night, which, his teammates said, further demonstrated where his mindset is entering the season.
"I would say he's just trusting his work," Braun said of Agbaji. "He worked really hard this offseason and he's in the gym a lot. He's as confident as he's ever been, and it's good to see. If he's doing that all year, our ceiling gets even higher."
If there was one play that was indicative of the kind of night it was for both teams, that came midway through the second half when KU senior Jalen Coleman-Lands ran down a long pass in transition and saved it by diving out of bounds.
After crashing into the table behind the baseline, Coleman-Lands was helped to his feet and quickly got back into the play. From there, he caught a pass in the corner, pump faked and then drained a jumper to put Kansas up 56-41 with a little more than 12 minutes to play.
That was one of four makes for Coleman-Lands.
Self said the senior transfer had to hustle after the ball because he stopped running in transition in the first place. Braun said he was thankful, for his teammate's sake, that Coleman-Lands hit the shot.
"I thought coach was going to lose his mind if he missed, so it's a good thing he made it," Braun said. "But that's kind of what he does. He's a great shooter. And that's what he's going to bring to our team all year."
Added Self: "If he can make three out of five that's going to bode well for our team. Tonight, he obviously made them all."
After playing his first game as a Jayhawk inside an "electric" Allen Fieldhouse, Coleman-Lands said he was willing to do whatever would help the team.
"I mean, that's kind of my role — make shots, play defense and be the best teammate for my team," he said.
Friday's victory, which featured 10 players topping 6 minutes of playing time and walk-on Chris Teahan draining a 3-pointer in mop-up time, moved Kansas to 2-0.
After playing two games in four days, the Jayhawks will get a chance to catch their breath before their next game. KU will play host to Stony Brook at 7 p.m. Thursday.