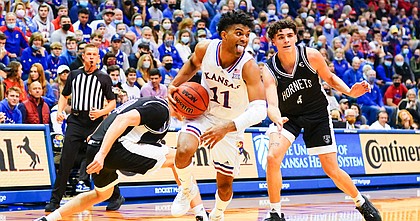 Wednesday night was a night of so many firsts for the third-ranked Kansas men's basketball team in its lone exhibition game of the season, an 86-60 victory over Emporia State.
But none of them quite popped like seeing transfer guard Remy Martin in action — off the bench, no less.
The former Arizona State Sun Devil, who beat Kansas twice in his ASU career, finished his unofficial KU debut with 15 points, four assists and one turnover in 18 minutes.
More important than any of those numbers, though, was the fact that he delivered in exactly the way Kansas coach Bill Self said this team needed him the most. With energy.
Rather than starting, the preseason Big 12 player of the year came off of the bench to do his damage.
Photo Gallery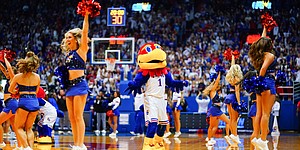 Kansas basketball v. Emporia State
View a gallery from Wednesday night's exhibition game between the Jayhawks and Hornets at Allen Fieldhouse.
"You know, I think I haven't been doing my part of the deal," Martin said after Wednesday's victory. "I think that I can do a lot better. Coach requires me to bring a lot more to the court, and he challenges me every day and I just have to respond."
For the most part, that was exactly what he did in this one. While Self still lamented Martin's turned-down approach on the defensive end, the KU coach said he was pleased with the way Martin injected life into the game and the Kansas lineup, particularly on offense.
"He's got a great personality," Self said. "I wish he would try a little harder defensively. It frustrates me sometimes because he's as quick as a cat and doesn't play to his quickness defensively. But as far as getting downhill and he's a shot maker; I thought he did some good things."
Related document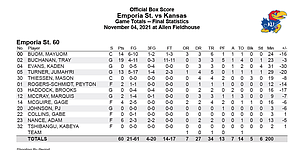 KU 86, Emporia State 60 ( .PDF )
Coming off the bench 6:16 into the game, Martin got cookin' quickly.
His first shot came 73 seconds after he checked in, and he drained it.
Less than two minutes into his first stint as a Jayhawk, Martin already had two buckets and had flashed the kind of fiery emotion and personality that Self has said would be one of his biggest contributions on a couple of occasions.
The first came after a drive to the rim that put KU up 19-13. After catching the ball on the perimeter, Martin faked the extra pass to the corner and then darted into the lane for an uncontested layup.
Emporia State quickly called timeout and Martin hustled back to the KU bench with a scowl on his face and skip in his step.
Later, after his first 3-point make of the night, he again flashed his passion and emotion, yelling to the crowd and hopping in a circle as he got back on defense.
The crowd, of course, ate up all of it.
At one point, after he crossed into double digits with a hard drive to the rim, the students in the north bleachers began chanting, "Rem-my, Rem-my, Rem-my."
"I tell people all the time I don't know why I do certain things that I do," Martin said. "But I know that it's for the love of the game. I really enjoy playing this game, I like to entertain the fans and it's just who I am."
By halftime, after six more makes on a variety of shots, Martin had recorded 13 points in just 9:32 on the court.
In the second half, Martin looked even more comfortable with his new team.
After battling McCormack for an uncontested defensive rebound — and losing — Martin caught the quick outlet pass from McCormack and could be seen laughing as he pushed the ball up the floor at breakneck pace.
On that same possession, Martin flashed a smile and an eyebrow raise in mid-air on his way to a bucket that put the Jayhawks up 63-33 with 14:52 to play.
"Remy's like that," McCormack said. "We expect him to have some personality, but he just really laid it all out there. I can't wait to see what it's going to be like in real high-intensity games."
Even the things that did not go well for Martin found a way to inject energy and life into the building. Midway through the second half after flying up the floor in transition, Martin feathered a soft lob somewhere around the rim from the right side of the lane. Its intended receiver was Agbaji, who did his acrobatic best to catch and finish the lob. It missed, but both Jayhawks — roommates, no less — came down with a did-we-really-almost-just-do-that look in their eyes and smile on their face.
It looked as if they had talked about that very moment a time or two in their McCarthy Hall dorm room.
"We definitely make sure that we're on the same page," Martin said. "
Martin was not all about Martin in this one. And KU's victory was not all about him either. Late in the first half, while waiting to check back in, he both encouraged his teammates on the floor to keep pushing and yelled directions to them on the defensive end, staying engaged from the bench throughout.
Agbaji led all scorers with 17 points on 6-of-12 shooting (5-of-7 from 3-point range) and McCormack added 16 points and eight rebounds.
Junior Christian Braun also cracked double digits with 10 points in 24 minutes, and 12 of the 14 Jayhawks who played got into the scoring column.
The Jayhawks out-rebounded the Hornets 45-34, outscored them in bench points 37-14 and in fastbreak points 15-0.
Beyond that, just about every Jayhawk who played showed the ability to both comprehend and execute this team's favored approach.
"We want to play fast," Self said. "There's no question. We want to create havoc off of our defense."
As Martin checked out for the final time to join the rest of KU's starters on the bench, the KU crowd began chanting "We want more! We want more!"
The way McCormack sees it, more is definitely coming.
"It's only going to be up from here," he said of his new teammate's performance. "This is only the beginning for him."
Next up, KU opens the regular season on Tuesday against Michigan State at the Champions Classic in New York City.