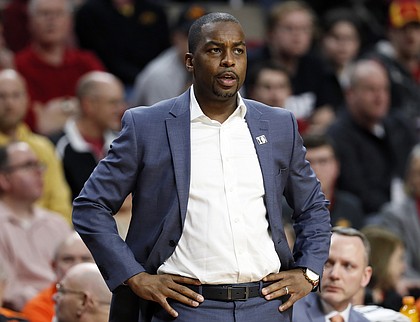 The NCAA on Wednesday upheld a one-year postseason ban and other penalties against the Oklahoma State men's basketball program.
Last year, an NCAA infractions committee panel hit the Cowboys with numerous penalties related to findings that former assistant coach Lamont Evans accepted up to $22,000 in bribes intended to help steer athletes to certain financial advisers.
Oklahoma State was eligible for the postseason last year while appealing the penalties, and the Cowboys went 21-9 and reached the second round of the NCAA Tournament with eventual No. 1 overall pick Cade Cunningham leading the way.
In its appeal, Oklahoma State argued that the infractions panel erroneously classified Oklahoma State's case at the same level as Evans' case, stating that the coach's personal conduct did not provide competitive advantages or benefits to the school.
The infractions panel responded by saying holding the school responsible at the same level was consistent with past decisions, and said a member school is responsible for its staff members.
The NCAA said Wednesday it had "confirmed the level of the violation that occurred." Oklahoma State also will have scholarship reductions and recruiting restrictions.
OSU officials responded to the ruling with frustration.
"We are profoundly disappointed for our student-athletes, none of whom were here at the time of this case," said OSU athletic director Chad Weiberg. "This is an unprecedented decision by the NCAA. There are other strikingly similar cases that did not include postseason bans and had only minor penalties. We had a rogue employee carrying out actions that benefited him alone and he went to great lengths to assure his actions were undetectable. He was terminated when we learned of his actions. We cooperated with the NCAA, expedited the process and received no credit for it. What message is the NCAA sending here? This is further evidence that the NCAA system is broken."
Added OSU coach Mike Boynton: "I recently noted that the time taken for a decision on our appeal was unfathomable. So, too, was the outcome, not to mention incredibly unjust and unfair. I invite members of the NCAA enforcement staff, it's Committee on Infractions, and appeals panel involved in our case to meet with my team, to look each of them in their eyes and explain why illicit conduct committed by a rogue assistant coach five years ago should serve as a basis for denying them the opportunity to experience postseason tournament play. This is the greatest disappointment in my career as a head coach."
Former University of Kansas guard Bryce Thompson, who hails from Tulsa, Okla., is a current member of the OSU team. Thompson, a sophomore, transferred to Oklahoma State following the 2020-21 season.
According to Big 12 Conference Commissioner Bob Bowlsby, the NCAA's ruling also means the Cowboys will be ineligible to compete in next year's Big 12 tournament in Kansas City, Mo.
"Today's announcement concludes a difficult process for Oklahoma State University," Bowlsby said in a statement. "I believe OSU leadership was highly cooperative and made a compelling case for relief. In the end, the Infractions Appeals Process yielded a set of penalties to which we will carefully comply."
Unlike the current NCAA infractions case against the Kansas men's basketball program that remains ongoing, OSU's case was ruled on by the NCAA's regular infractions committee.
KU's case is being reviewed by the newly formed Independent Accountability Resolutions Process, which has no known timeline for a resolution. All rulings handed down by the IARP are final and not subject to appeals.