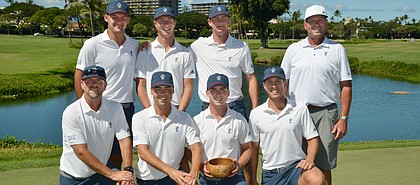 As if playing golf in Maui wasn't reward enough, the Kansas men's golf team made the long trip even more worth its while last week by winning a fourth consecutive stroke play tournament.
This one the Jayhawks dominated.
Kansas finished the Ka'anapali Classic at Ka'anapali Golf Course in Lahaina, Hawaii, with a team score of 52 under par and won the event by 20 strokes over second-place Colorado.
The Jayhawks' 54-hole total team score of 800 was by far the class of the 14-team field. It also marked KU's lowest three-round team score since the 1986-87 season. The 20-stroke margin of victory was the fifth largest in program history, and their four stroke-play titles this fall ties this year's team for the most by a KU team in a single season. The all-time mark is well within reach, with Jamie Bermel's Jayhawks still having five regular season tournaments on the spring schedule.
"Wow, what a way to end the fall," Bermel said following the event. "It was just a great team effort. … I'm really happy for the guys and the program. I think the guys are really starting to believe in themselves and continue to get better every day. We still have some work to do, but we are definitely headed in the right direction."
Ranked No. 10 in the latest Bushnell/Golfweek Coaches Poll,, the Jayhawks were led by senior Callum Bruce, who recorded a fourth-place finish at 13-under par. Senior Harry Hillier and sophomore Davis Cooper tied for 5th at 120-under and sophomore Luke Kluver picked up his fourth top-10 finish of the season by finishing alone in ninth at -11.
Senior Ben Sigel finished 25th at -3 and sophomore Hank Lierz finished 30th.
Kluver played all 15 rounds of the fall at even par or better, and Sigel's outing featured a new career-low of 64 during the Saturday round.
Done for the fall, the Jayhawks will resume their 2021-22 season on Feb. 21 at The Prestige in California.