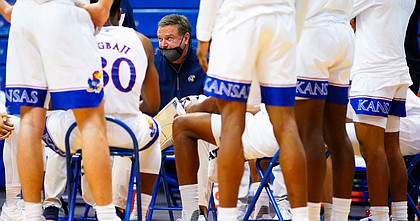 While Tyty Washington's commitment to Kentucky on Wednesday night no doubt dealt a blow to the KU fan base, the talented point guard's decision does not spell doom for the Jayhawks.
Far from it.
What it comes down to now is proven talent versus development projects, and the Jayhawks are likely to land on the side of the experienced.
Don't get me wrong, Washington would have fit nicely into the KU roster — or most any other roster in the country for that matter — because his blend of vision and scoring ability would provide any team with a plethora of options.
But even as hot as he has been in recent months, there's no guarantee that his game will translate to the college level in an instant-impact sort of way.
It may. But we've seen plenty of times, both at KU and elsewhere, when that has not been the case with high school players.
Even some top-tier talents — former five-star prospect Bryce Thompson is the most recent who comes to mind — have struggled to make the jump and been different players in Year 1 or 2 of college than they were at the prep level.
In the past, that was the price of doing business and those players, whether they overachieved, underachieved or were what their coaches expected, were given time to get acclimated and find their footing.
Today, with the transfer game ruling the scene, neither the programs nor the players seem to have the desire to sit around and wait for things to materialize. Sometimes that produces a win-win scenario that works out for both sides. Other times, you watch once-highly-hyped players quietly fade.
"It's just a little bit different way of doing business, which I think fans and coaches and players across America will need to get used to," KU coach Bill Self recently told the Journal-World. "Because there could be many years, maybe not where you bring in seven newcomers, but there'll be a lot of five- or six-newcomer years in the near future."
The smart money is on Washington delivering and living up to the hype. But the fact that he's not doing it at Kansas is not devastating for Self and company.
KU remains in the mix for several quality guard options who are still looking for a place to play next season. And Self, like coaches across the country, continues to tinker with his recruiting plans as he navigates the new era of college basketball, one headlined by the transfer portal and immediate eligibility.
What the Jayhawks lost out on in watching Washington commit somewhere else, they may gain in the way of experience via an older player who already has proven himself at the college level.
"You want to be in a hurry and get your work done," Self told the Journal-World. "But you don't even know who could potentially be available to you next month. It's just a different deal."
That has proven true over and over since the 2020-21 season ended in early April, with talented players and big names electing to look to play elsewhere next season.
Georgia point guard Sahvir Wheeler and Arizona State guard Remy Martin are two of the most recent examples of that, and there are reports tying Kansas to both players.
Wheeler, who led the SEC in assists last season (193 total and 7.4 per game), named KU in his final four, and his decision date could be next.
Martin was heavily recruited by KU out of high school, and his status as a two-time all-Pac-12 performer qualifies as something that would pique any program's interest.
Even if neither of those players pick KU, there are, and will still be, other options out there. They might not have the star power or big time buzz as players like Martin and Wheeler, or a player like Washington, but that does not automatically mean that the Jayhawks would be any worse off.
No one knew Martin would be available even at this time last week. And several other big-name talents have popped into the portal during recent weeks. It's certainly possible that more could follow.
With the NBA's pre-draft combine not taking place until the final week of June, there are other proven and talented players currently exploring their NBA draft stock who still could elect to come back to school.
Some of those players — perhaps several — could pull their names from the draft pool in late June and decide to return to school, perhaps with the goal being to find a high-profile program like Kansas to help them elevate their draft stock.
The point is, you just never know what could happen. And Self's talk about being patient and keeping the options open doesn't seem like a bad strategy in this new era.
Even if the Jayhawks don't land another player — an unlikely outcome — the roster in its current form is still viewed as a top-10 team by most college basketball analysts.
Self agrees.
"I like I like where we're at," he said. "I do."