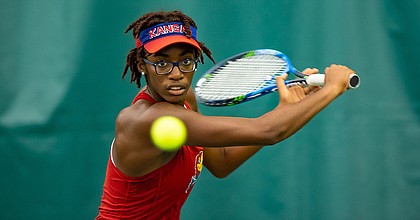 Kansas juniors Malkia Ngounoue and Tiffany Lagarde recently earned all-Big 12 Conference honors for their play during the 2021 season.
Ngounoue was one of eight players named to the all-Big 12 first team for singles players.
She recorded nine singles victories out of both the No. 1 and No. 2 positions for the Jayhawks this season. That included a crucial victory in No. 1 singles action in the play-in game of the Big 12 tournament that helped propel Kansas to a 4-3 team victory over rival Kansas State.
This marks the second consecutive season that Ngounoue earned all-Big 12 nod. The junior from Washington D.C., was named to the all-Big 12 second team for doubles players in 2019.
"Malkia being named first team all-Conference is really impressive and just speaks to the respect she has amongst the other coaches in our conference," KU coach Todd Chapman said in a news release announcing the awards. "Malkia continues to come into her own, and the most exciting part is she still isn't close to reaching her ceiling in both singles and doubles."
Lagarde, a junior transfer from Quebec, Canada, earned recognition in the all-Big 12 No. 5 singles position. The former UC-Santa Barbara standout recorded six singles victories during the season, with four of them coming in Big 12 play.
"Tiffany worked hard to overcome adversity this year and a slow start to her spring season," Chapman said in the release. "She was playing her best tennis of the season during conference play."
The all-Big 12 honors were voted on by the conference's head coaches, who were not allowed to vote for themselves or their players.