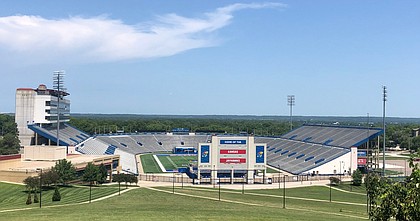 The minute she heard that the University of Kansas was looking for a new athletic director, Patti Phillips, the CEO of the Kansas City-based organization Women Leaders in College Sports, felt her adrenaline surge.
Every open AD job at a Power 5 university is a new opportunity for Phillips, and the hundreds of women she represents and promotes, to increase their presence in an industry long dominated by their male counterparts.
But this job in particular had extra meaning for Phillips because of the school's close proximity to her office and the fact that she owns a master's degree from KU in athletic administration and sport psychology and once worked as a color analyst for the KU women's basketball program.
"The adrenaline was doubled," Phillips told the Journal-World during a phone interview Wednesday morning. "I immediately got on the horn and started calling all sorts of people and checking interest."
That approach is old hat by now. But Phillips views the role of getting women administrators on the radar of universities large and small as a key part of her job.
"We are that organization," Phillips said. "That's a huge part of what we do."
That effort consists of sending emails, making phone calls, pushing resumes and promoting the dozens of women she believes are ready to take on the responsibilities bestowed upon a Power 5 AD today. But it's often a process that is done in vain.
Although she did not name names, Phillips said she was confident that there were at least a few female candidates involved with KU's current AD search at some point in the process.
Whether they advanced deep into the process is unknown even to Phillips. But she believes the fact that they were in the mix is a small step in the right direction, even if it does not deliver the desired results.
On Tuesday, Matt Fortuna of The Athletic reported sources telling him that Tulane AD Troy Dannen and Northwestern deputy AD Travis Goff were "the favorites to land the job."
"There's a cultural stiff-arm that is happening from all directions," Phillips said. "And we're doing what we can to chip away at that and raise awareness about that. We need presidents and chancellors that are willing to make courageous decisions, but right decisions, to make sure they're hiring leaders that are reflecting their student body population."
To get to that point, Phillips believes that university leaders across the country need to embrace a whole new way of thinking. Or at least be open to it.
"What you're talking about is big money and football," she said of the key components of a Power 5 athletic department. "And there's just this weird saying that a woman can never lead an athletic department. And it's so outdated because most of the male ADs have never played football. It's not about playing the game. Athletic directors are not asked to call plays from the press box."
There are currently five women leading Power 5 athletic departments and a sixth who holds the title of interim AD.
Phillips said that number is "way too low," but she also understands why that is the case. In a word, biases.

"There is still a cultural and societal bias," Phillips said. "They're unconscious biases on many fronts, and these things are slow to change. But that's what we're trying to do here. We have to change attitudes."
And not just the attitudes of those doing the hiring, although that is the most critical place to start. It's also the attitudes of other men in athletic administration, of the media and of a handful of aspiring female ADs themselves.
Phillips acknowledged that the thinking has evolved some in recent years, particularly with the way search firms have more readily brought women into the candidate pools from the beginning. And she's encouraged by that. But she also said that until the deck stops being stacked against women at the outset of a search, making major strides could be slow going.
As an example, Phillips listed a couple of the most common requirements she hears from chancellors and search firms when she discusses the candidacy of any woman she promotes for an open AD position.
"I get calls all the time, 'We're looking for a sitting Power 5 AD for this job,'" Phillips recalled. "Well, there's only five (women in that role) and they all have great jobs and they're not leaving. So they're limiting their pool right there."
Phillips, a Baker University graduate, said she was thankful for the relationships she has developed with search firms, athletic directors, chancellors and university presidents during her 11 years with WLCS. And she noted that she has great relationships with many of the men who wind up getting hired for athletic director jobs around the country.
But she also knows that there remains a long way to go before turning to women to fill these open AD positions is the automatic response by those calling the shots at Power 5 universities.
"Leaders need to lean in to making more diverse and inclusive hires," Phillips said. "Of course we want the numbers to double in the next five years. We want the numbers to double this year. But our focus is on controlling what we can control to create change.
"I'm hoping that, it's 2021 now, and some of these attitudes are going to change."