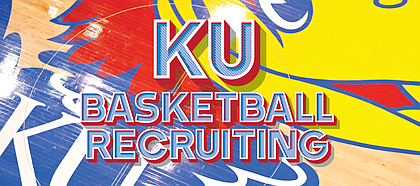 Although he was known most for his ability as a shooter, former Kansas guard Jeff Boschee picked up an assist for the program this week, when he helped the Jayhawks land a commitment from Missouri Southern big man Cam Martin.
Martin, a 6-foot-9, 240-pound forward from Yukon, Okla., was a three-time All-American for Boschee at Division II Missouri Southern in Joplin, Mo.
After another solid season in 2020-21, when he led the team in scoring (25 points per game) and rebounding (9.1) and shot 58% from the floor and 45% from 3-point range on 110 attempts, the versatile forward started to receive offers from high-major Division I programs.
Martin told the Journal-World on Wednesday that he thought he was headed to Texas but then UT coach Shaka Smart left for Marquette. The other programs on his list of finalists, which he made just six days ago, were Georgetown, UNLV, Creighton, Colorado State and Stetson.
Not long after he narrowed his list to a final six, Martin received a call from KU coach Bill Self that changed everything.
The call might not have ever come had it not been for Boschee's decision to send Martin's highlight film to the Kansas basketball offices.
"He had been getting some high-major/Big 12 offers," Boschee told the Journal-World in a phone interview from Cabo San Lucas, Mexico. "So I just told them that I wanted to make sure I sent his tape to them, too, in case they were interested."
Martin and Self talked on Monday. They met again via Zoom on Tuesday. And the whole thing was done shortly thereafter.
"After talking to Coach Self, I said, I'm not going to waste any more coaches' time,' and I told him that I was ready to commit to Kansas," Martin told the Journal-World. "It was a feeling that I can't even describe. It was amazing."
Boschee said Self raved about Martin's skills when the two coaches talked on the phone. Boschee also noted that the more film Self watched the more impressed he became, noting that it usually goes the other direction when watching recruiting tapes.
Boschee describes Martin as a versatile big man who has "unbelievable touch around the basket" and the ability to shoot the ball from the 3-point line with consistency.
He made six 3-pointers in a game for the Lions this season and also has a nine-make game on his resume. Although the speed of the game and the adjustment to guarding elite guards in ball screen defense is something that will take some getting used to, Boschee said Martin was ready to make the leap in every other way.
He said his star forward routinely scored on the block against double and triple teams and noted that he's not likely to see that kind of attention while on the floor with the Jayhawks, which should help free him up to be a solid scorer.
"He's not going to wow anybody in the weight room," Boschee said. "But he's country strong. He's not going to get pushed around on the block."
Boschee said Martin was "very coachable," and Martin himself said his only concern at Kansas will be to help the team win in whatever way he can.
The former Jacksonville State player, who transferred to Missouri Southern after his freshman season, will be on scholarship and will play the 2021-22 season as a graduate transfer.
"He's got a ton of potential," Boschee said. "And he definitely didn't need to stick around our place any longer. I'm really happy for him. The only thing I told him was that I wanted a spot in the stands to watch him on Senior Night."
Although he always had hopes of playing at college basketball's highest level, there was a time when Martin nearly quit basketball altogether.
"I just wasn't having fun playing basketball anymore," he said.
That all changed when he met Boschee and made it to Missouri Southern, which sits three hours northeast of his hometown.
His bond with Boschee, and the ability to play the game the way he liked to play it — shooting 3s, playing fast, within a team structure — helped him fall in love with the game all over again.
That led to consistent production, a long list of accolades and, ultimately, to Kansas, where Martin will report sometime in early June.
"I never thought it would be Kansas," Martin said. "But I always thought I was good enough to go play wherever I wanted. Coach Boschee really helped me believe that, too. I look at him as more than just a coach. He's family for life."
Asked what the moment was like when he told his current coach that he was headed north to play for his alma mater, Martin called the phone call with Boschee "awesome."
"I knew he was in Cabo, but I called him right after I told Coach Self and my parents," Martin said. "He told me, 'Don't get cocky, but be confident and go do what you do.'"