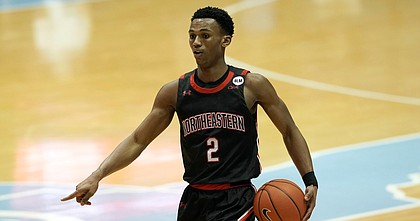 As is the case every offseason, the Kansas men's basketball roster figures to get a facelift in the coming months.
Decisions are made, players come and go, and the 2021-22 team, which still should have a ton of familiar faces, suddenly looks different than the roster that had its season end in the second round of the NCAA Tournament on Monday night in Indianapolis.
It's still too early to predict what that means about who stays, who leaves and what areas the Kansas coaching staff will emphasize. But a few clues are starting to surface, and KU coach Bill Self has made it crystal clear that adding scoring and athleticism will be two key components in KU's future plans.
To that end, Stadium's Jeff Goodman reported on Wednesday that Northeastern sophomore Tyson Walker, a 6-foot point guard from Christ The King in New York, has narrowed his list of finalists to six and that a decision would come this weekend.
Walker, who averaged 18.8 points and 4.8 assists per game this season in the Colonial Athletic Association, is down to a final six of Kansas, Maryland, Michigan State, Texas, Vanderbilt and Miami (Fla.).
If the NCAA's one-time transfer exemption passes — as is expected — players like Walker would be eligible to play at their new school immediately, a move that could dramatically reshape the transfer scene and college recruiting as we know it.
A vote on the new transfer rule was supposed to take place in January but it was tabled temporarily. Reports have indicated that, while there is not yet a known date for the new vote, support for the rule remains strong.
Rather focusing their efforts on high school juniors or seniors, knowing they likely will have to wait a year or two for them to get comfortable at the college level, coaches can simply wait for talented, older players to enter the transfer portal and spend their time going after proven players instead of prep gambles.
Walker, who also played a year at New Hampton (N.H.) prep before getting to college, is exactly that.
While his sophomore season at Northeastern was deemed by most to be his breakout year, it's not as if he was a nobody before that.
As a freshman, Walker started 29 games for the Huskies, averaging 10.4 points, 3.3 assists and shooting 35% from 3-point range (35 of 100) in 30 minutes per game.
This season, in fewer games, the sophomore guard started all 19 of his team's games while averaging 35 minutes and shooting 35.4% from 3-point range (40 of 113).
The Huskies went 10-9 overall this season and 8-2 in CAA play, good for second in the final league standings.
Here's a quick look at some of Walker's accomplishments from his freshman season:
• Named CAA Defensive Player of the Year and first team all-CAA
• Walker became the sixth freshman in Northeastern history to record 100 or more assists in a single season
• He led all CAA freshmen with 104 assists and 56 steals while earning a spot on the conference's all-rookie team
• He ranked third in the conference in steals per game (1.8), fifth in assist to turnover ratio (1.5/1) and eighth in assists per game (3.4) and was 28th on the league's scoring list, second among all freshmen
• The then-freshman tallied 18 double-figure scoring nights and scored a career-high 32 points (5th in school history) in a win over Elon