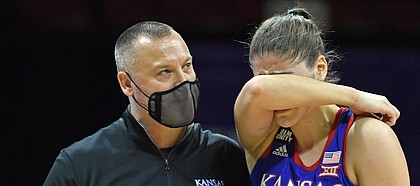 At the conclusion of a challenging season, Kansas women's basketball coach Brandon Schneider left Kansas City, Mo., on Thursday once again disappointed about a defeat, but at least in relatively good spirits about how his team competed.
The Jayhawks lost to TCU in the opening round of the Big 12 tournament, 75-72, giving KU its seventh loss of the year by four or fewer points.
According to Schneider, though, he wasn't upset about the effort in his team's ninth consecutive loss.
"I think that's what's the most encouraging thing about our young team is," Schneider said during his postgame press conference. "We played with a lot of freshmen, sophomores, and a lot of adversity this year as a result of the pandemic. We had a lot of people playing out of position, but I think their constant fight and faith in one another — even being down (10 points with less than six minutes left versus TCU) — they found another gear."
KU (7-18) needed a miraculous run through the Big 12 tournament this week to secure the program's first NCAA Tournament berth since 2013.
And with a NET ranking of 96 entering the weekend, coupled with a .280 winning percentage, the Jayhawks' chances of being invited to the WNIT are close to nonexistent.
KU guard Holly Kersgieter said the circumstances made for an emotional game.
"We don't want to go home," she said.
Schneider praised the "character" of the players who remained on the roster at the end of the season, as well as "their loyalty to one another and to the program."
"I know I'm excited about what the future holds for this bunch," Schneider added.
Six of the team's final nine defeats came by single digits. Once senior forward Tina Stephens opted out, KU played its final seven games with a rotation comprised mostly of underclassmen.
For the stretch run of the schedule, seven rotation players were freshmen — forward Ioanna Chatzileonti, post player Katrine Jessen and guard Mia Vuksic, as well as redshirt freshman guard Chandler Prater — or sophomores — guards Kersgieter and Zakiyah Franklin, and center Chisom Ajekwu.
The Jayhawks project to return all of those players for the 2021-22 season, as well as guards Aniya Thomas, Brooklyn Mitchell and Erica Haynes-Overton, who were juniors.
Previously, Schneider said it would be determined following this season whether Stephens would return for an extra year, with the help of the NCAA's blanket waiver for an extra year of eligibility.
KU reserves Brittany Franklin, Bailey Helgren and Emma Merriweather also opted out earlier in the season. In January, Schneider said he didn't expect any of those three to return.