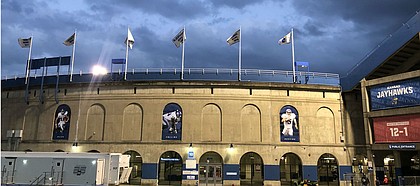 It's been 18 years since the University of Kansas was in pursuit of an athletic director and head coach to fill one of its most high-profile coaching offices at the same time. And that search, in 2003, led to the hiring of future Hall of Fame hoops coach Bill Self in April and Lew Perkins in June.
Things are different today, and it's a football coach and AD that KU is searching for this time around with Les Miles and Jeff Long no longer employed by KU. But there's little doubt that the next several months will be every bit as important for the future of Kansas Athletics as the first six months of 2013 were then.
In all likelihood, the AD position will be filled first. KU Chancellor Douglas Girod said in a statement on Wednesday that he and a group of alumni advisors who will help with the search will move "quickly but judiciously," and that he hoped to have a new athletic director in place in the next few weeks.
For context, KU took eight weeks to hire Long to replace Sheahon Zenger in 2018.
A few weeks is blazing fast speed for any kind of college athletics search. But it's particularly noteworthy given the challenges the new KU AD will inherit. Not only will he or she need to lead the department through the negative financial impact that the pandemic created, but they also will need to fill the football vacancy at some point.
It's possible that KU could elect to name an interim head coach for 2021, therein giving the new AD more time to do a proper search. But without knowing the identity of KU's new athletics boss it's impossible to predict whether a football hire will come sooner or later.
As was the case with the hiring of Long, getting football back on track will be a top priority for the new AD at Kansas. But also high on the list will be repairing some of the things that suffered during the final days of Long and Miles, from donor relations and fan support to Kansas football becoming an even bigger punchline nationwide.
With that in mind, here's a first glance at some of the names KU may consider this time around.
• Danny Manning, former Kansas basketball All-American
Very little about Manning's resume suggests that he's ready for this kind of role, but his personality, character and prestige within the KU community are off the charts. Given his enormous popularity at KU and the fact that he loves the university and has experiences in operations and student-athlete development, he could be an intriguing candidate for KU to consider. Asked by the Journal-World on Wednesday if he had any interest in the job, Manning replied, "Yes sir!" Putting Manning, who is best known as a player and secondarily as a head coach at Tulsa and Wake Forest, in charge of Kansas Athletics would be drastically different from anything KU has done in the past. But with the right people in key roles around him and his enormous potential as a fund-raiser, Manning could be viewed as a good fit for what KU's athletic department needs today.
• Terry Mohajir, University of Central Florida AD
After being a part of Glen Mason's football staff at Kansas in the early 1990s, Mohajir returned to KU in 2011 and spent 13 months filling a number of roles in the athletic department after working at Florida Atlantic as a senior associate athletics director from 2004-11. While at FAU, he oversaw development, marketing, ticket sales, corporate sales and the media relations department. His duties at KU included many of those and expanded to include assisting in the operations for the Williams Educational Fund and directing the efforts of the Marketing and Game-Day Experience staffs. During his time at Arkansas State, his alma mater, Mohajir oversaw facilities renovations with basketball and football and also increased the ASU athletic department revenue from $15 million annually in 2012 to $35 million in 2019. Mohajir hired Gus Malzan at both stops.
• Michael Alford, CEO Seminole Boosters, Inc. at Florida State University
After three years as the AD at Central Michigan, Alford left to oversee Florida State's version of KU's Williams Education Fund. His extensive track record at Oklahoma, where he served under OU AD Joe Castiglione from 2012-17, and in various roles as director of corporate sales and marketing with the Dallas Cowboys and Cincinnati Bengals, at ABC and with Alabama's Crimson Tide Sports Marketing provide an impressive resume. At OU, Alford planned and managed a $160 million end zone facility project and also led the $7 million Blake Griffin Performance Center upgrade for Oklahoma basketball. In 2016, Alford was recognized by College AD's panel of athletic directors as one of 2016's "Next Up," which lists employees identified by senior-level administrators as those ready to take the next step and become an athletic director. He was on a committee that helped hire Nick Saban at Alabama and also hired former Florida head coach Jim McElwain (a former Alabama offensive coordinator) at Central Michigan before leaving for FSU.
• Banks Floodman, Former KU Associate AD, currently serving as the director of business development at Sunflower Development
The former KU linebacker who played five seasons under Mark Mangino, started his full-time career with Kansas Athletics in 2008 and left KU in 2016. At the time, he told the Journal-World that his decision to leave was not easy. "It's the only thing I know and I'm very passionate about it and always will be," he said at the time. The Wichita native who has a degree from KU in sports administration worked in the KU ticket office and marketing departments before rising to the title of Senior Associate AD for Revenue Development. He's been out of college athletics for a while now, but is still very popular in Lawrence.
• Joe Parker, Colorado State University AD
Parker was one of the top candidates during KU's last AD search and has only added strength to his name in the three years since. Although the idea for the project began long before he arrived in Fort Collins, Colo., Parker was the man who brought home CSU's $220 million on-campus football stadium that ushered the Rams into the modern age of college football. Parker also is familiar with the Big 12 Conference from his past stops at Texas Tech (deputy AD), Texas and Oklahoma. He also successfully negotiated an apparel deal with Under Armour and a multimedia rights partnership with Learfield, both of which brought more money into the CSU athletic department. The former Michigan swimmer who worked at his alma mater from 2003-11 was part of a four-man committee responsible for more than $400 million in infrastructure improvements, including the renovation and creation of new revenue opportunities at Michigan's football stadium.
• Brian White, Florida Atlantic AD
From a strong family of college athletics administrators — his father, Kevin White, is the AD at Duke and his sister, Mariah Chappell (associate AD at SMU), brother, Danny White (Tennessee AD), and brother Mike White (head basketball coach at Florida — also work in college athletics — White arrived at FAU in 2018 after a successful stint as a senior associate AD at Missouri, where he was the sport administrator for football and men's basketball. In addition to hiring three new head coaches, White led the charge to increase the giving within FAU's Paradise Club by 275% while also growing its membership by 25% during 2018-19 alone.
• Amy Perko, CEO of the Knight Commission on Intercollegiate Athletics
A former Associate AD at KU in the late 1990s and early 2000s, Perko has been with the Knight Commission since 2005 and served as its executive director until being promoted to CEO in 2016. Perko also worked at the NCAA for more than six years before coming to KU as an Associate AD and Senior Woman Administrator. While at Kansas she served on several Big 12 Conference and NCAA committees. She also oversaw operations for KU women's basketball, soccer, rowing, baseball, volleyball and tennis and was the administrative supervisor for sports medicine, the business office and human resources. She played a major role in the renovation of Hoglund Ballpark around the turn of the century. A former women's basketball standout at Wake Forest, Perko, in 2015, was named a "Game Changer" by Street & Smith's Sports Business Journal.
• Kent McCarthy, Businessman and longtime KU donor
McCarthy's love and contributions to KU are nearly unparalleled, and his business acumen has led to several successful enterprises, including his founding of Jayhawk Capital Management LLP. He already is a member of the KU Business School's Board of Advisers and also serves on the Edwards Campus Advisory Board. Beyond that, his family's name appears on the clubhouse at Hoglund Ballpark, on the dormitory adjacent to Allen Fieldhouse and in the Finance Lab at the business school. He might not be the best candidate for the long term but could be worth considering as a short-term option while KU regains its footing.