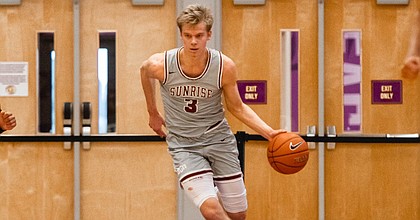 When Gradey Dick was in sixth grade, just starting get serious about basketball, his youth coach, Steve Young, who also coached former Kansas star Perry Ellis, told him that with continued hard work he, too, could play basketball at Kansas.
Today, Dick is one step closer to making Young's vision a reality.
Just after 7 p.m., on Wednesday night, the Sunrise Christian Academy junior and five-star Class of 2022 guard from Wichita announced his plans to attend Kansas on Instagram Live.
The junior who is averaging 9.3 points, 3.8 rebounds, 1.3 assists and 1.4 steals on a Sunrise squad loaded with Division I talent chose KU over Alabama, Baylor, Florida, Illinois, Oklahoma State, Purdue and Texas Tech.
"I think it's just the culture and the tradition there," Dick told the Journal-World during a phone interview about his commitment. "Growing up going to games and seeing a packed house every night, that's just something I want to be a part of."
Kansas was the first major college program to extend a scholarship offer to the 6-foot-7, 200-pound wing. That came the summer before his sophomore year at Wichita Collegiate, and from that moment on countless people connected him to KU whenever his recruitment was discussed.
But that did not keep Dick from considering other programs.
"I just tried to stay mature about the recruiting process," he said. "Obviously I grew up watching KU and when I got that offer from them it was pretty special. That first couple of days, I was still in awe about getting the offer. But after that I just tried to look at the big picture and find the best fit for me."
Ultimately, that was Kansas, which Dick said was always the team to beat.
"It was pretty hard to see another school kind of top them offering me as early as they did," Dick said of KU.
Nonetheless, his father, Bart Dick, said he was proud of the way his son handled the process. And both of Dick's parents constantly encouraged their son to gather as much information as he could about programs from coast to coast.
"That was one of the reasons we tried to make a bunch of (unofficial) visits early on," Bart Dick told the Journal-World. "We always knew he loved KU, and we're Big Eight people and love the Big 12. But we wanted to be sure that he had all of the information he needed to make the best choice for him."
Considered to be one of the more versatile players in the 2022 class, and ranked No. 21 overall by ESPN, Dick's game includes a wide range of well-rounded offensive skills.
His outside jumper is deadly and smooth, but he also has the skills to put the ball on the floor and attack the rim and is comfortable finishing above the rim and in transition.
Dick's development on the other side of the ball has skyrocketed since he made the move to Sunrise.
"His defense got so much better by playing at Sunrise and having to guard top-ranked kids every day," said basketball skills coach Peter Danyliv on a recent BallisLife video featuring Dick's junior season at Sunrise.
Added Dick of the challenges and opportunities he has encountered at Sunrise: "It's been great. I'm really glad I made the decision to go there. It's helped me get a more realistic feel for how I'm going to have to play at the next level."
For all of the wonderful things Dick learned about the other programs he considered, none of them offered the close connection that Kansas did. His two oldest siblings, Kelsey and Brodey, graduated from KU a few years ago. His older brother, Riley, is currently enrolled at Kansas. And the Dick family has attended dozens of KU games throughout Dick's life.
Watching the program that often and seeing it up close and personal for so many years kept Kansas at the forefront of Dick's thoughts throughout his recruitment.
The fact that KU assistant coach Norm Roberts and head coach Bill Self checked in with him every week, if not every day, certainly did not hurt.
"That coaching staff was a huge part of it," Dick told the Journal-World. "Coach Self, there's no other like him. The fact that he just changes with the game is just so rare to see. That's kind of a big reason I made my decision."
Beyond that, Dick said he's been close friends with current KU guard Christian Braun for a few years and he noted that Braun did his part to lure him to Kansas.
"He was big," Dick said of Braun, who occasionally hit him with text messages that read: "You know what to do."
Dick said that Sunrise teammate Zach Clemence, a four-star forward in the 2021 class who signed with the Jayhawks last November and will arrive at KU a year ahead of Dick, also played a role in him picking Kansas.
"Zach was in my ear all the time," Dick said with a laugh.
Like any young basketball player growing up in Kansas, Dick has too many memories of big games and former players to list just one or two as his favorites.
But an encounter with former Jayhawk Wayne Selden Jr., when Dick was real young, solidified his love of all things KU.
"He was working some basketball camp I was at when I was in elementary school," Dick recalled. "And the next time I went to a KU game I saw him and he remembered me and commented on my Instagram post."
He did not realize in the moment, but those types of encounters led to Wednesday night and made Dick want to follow in the former Jayhawks' footsteps.
"I wouldn't really say I ever had any doubts about Kansas, but I also wasn't 100% sure the whole time," Dick said. "But I'm definitely 100% ready now. After I cut it down to my top eight, I just realized that KU was where I wanted to be."