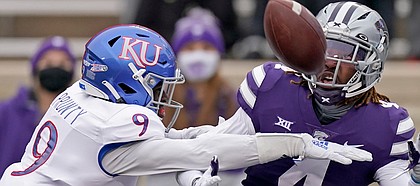 A gaping hole suddenly emerged in the Kansas football secondary on Sunday, as starting cornerback Karon Prunty announced he is leaving the program and entering the transfer portal.
Prunty turned into a breakout performer as a true freshman in 2020, when he was one of just three players on the roster to start every game.
Prunty announced his decision to move on from the Jayhawks in a note he posted to Twitter on Sunday afternoon. He thanked his position coach, Chevis Jackson, as well as KU's former head coach, Les Miles, for "giving me a opportunity to play for (KU football) and earn an education."
According to Prunty, he made lifelong friends during his one year with the program, calling it "a very hard decision" to leave, adding he is doing so for "personal reasons."
In closing, Prunty thanked KU's coaching staff, his teammates, the fans and his academic advisors for supporting him "since the first day I stepped on campus."
One of the few bright spots for the Jayhawks during a winless 2020 season, Prunty was named to 247 Sports' True Freshman All-American team last year.
A 6-foot-1, 185-pound cornerback from Portsmouth, Va., Prunty broke up 10 passes in his first college season, tying him for first among all FBS freshmen in that category.
Prunty played 525 total snaps for KU's defense, recorded one interception and didn't allow a single touchdown on a pass thrown his direction over the course of nine games as a true freshman starter.
Per Pro Football Focus, QBs only completed 38.5% of their passes when they threw at Prunty.
The versatile and stingy cornerback also made 26 total tackles, a tackle for loss and forced a fumble during his impressive year.
Although the Jayhawks have benefited from the transfer portal recently, as a slew of former Buffalo players followed new head coach Lance Leipold to KU, Prunty's decision to leave marks the third time a would-be defensive starter has left since Leipold took over.
Already, KU has lost defensive tackle Da'Jon Terry to Tennessee and defensive end Marcus Harris to Auburn via the portal. Like Prunty, they were sophomores and presumed key contributors for the KU defense for this season and beyond.
With Prunty leaving, KU won't have a returning starting cornerback, as Elijah Jones left to transfer to Oregon State this past winter.
True freshman Jacobee Bryant and sophomore Duece Mayberry are two possible starters at corner for KU in 2021. The Jayhawks also have redshirt freshmen Ra'Mello Dotson and Johnquai Lewis to consider at the position, as well as true freshman DeVonte Wilson.
KU players to leave since Lance Leipold took over
• Karon Prunty, sophomore CB
• Marcus Harris, sophomore DE (Auburn)
• Da'Jon Terry, sophomore DT (Tennessee)
• Valerian Agbaw Jr., sophomore CB (Charlotte)