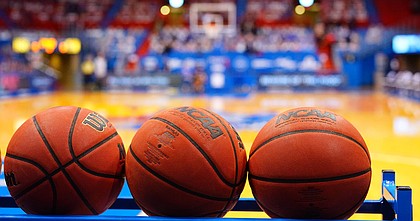 The Athletic on Friday published a report detailing a previously undisclosed phone call involving an unnamed University of Kansas assistant basketball coach expressing support for paying a family member of a recruit, a violation of NCAA rules.
The phone call, which was not introduced into evidence during recent trials that led to the convictions of former Adidas executive Jim Gatto, amateur league director Merl Code and business manager Christian Dawkins, was referenced in a written opinion by Judge Gerard E. Lynch of the 2nd District Court of Appeals.
According to The Athletic's report, Lynch wrote in his opinion that the phone call included the coach admitting "that he knew that paying for a recruit's brother to visit the school violated NCAA rules, yet he planned to ask "Jimmy" for help in routing funds to the family through an amateur team, all in hope of getting the recruit to eventually commit to Kansas because "it's (his) job" to do so."
The Athletic's report noted that the judge, in his dissent, concluded that, "had the jury heard this call, it may have believed that the coach did call Gatto to ask him to provide the money. In turn, that would make it more likely that Gatto genuinely did not intend to defraud Kansas by his actions at issue in the case.''
The Athletic speculated that KU assistant Kurtis Townsend may have been the unnamed coach.
However, in a statement to The Athletic, Townsend's attorney, Stu Brown, said that Townsend "vigorously denies that he discussed breaking NCAA rules."
Townsend's attorney also told The Athletic: "The dissenting opinion has no bearing on the outcome of the appeal or the trial. The dissenting opinion mischaracterizes Kurtis' phone call and provides only selectively edited parts of the call without context. … Kurtis has a record of NCAA compliance throughout his almost thirty years as a college coach. Kurtis has cooperated fully with the NCAA investigation, and he will continue to do so."
KU has aggressively defended Townsend throughout the school's ongoing infractions case.
When reached for comment Friday, a KU spokesperson referred the Journal-World to KU's March 2020 response to the accusations against Townsend.
"To be clear, the voluminous information gathered in this case does not show that Kurtis (Townsend) provided money to, or knew about money being provided to, any Kansas student-athlete or prospective student-athlete or anyone associated with a Kansas student-athlete or prospective student-athlete," the response read.
In a Notice of Allegations sent to KU in September 2019, the NCAA charged KU's men's basketball program with five Level I violations and also levied a lack of institutional control tag and the charge of head coach responsibility against the program. Those accusations carry potentially severe penalties including a postseason ban, coaching suspensions and the vacating of victories.
After a series of responses between KU and the NCAA over the next several months, the case was sent in July 2020 to the newly formed Independent Accountability Resolution Process for a resolution.
There is no known timeline for the IARP's ruling, however, KU Athletic Director Jeff Long said in mid-December that the pandemic had slowed down the process.
"I can't give you a time period that it's been delayed, a week, a month or six months, but it has been delayed," Long said on Dec. 17, 2020. "I think we are closer to getting the next step from the IARP. We'll get a timeline of what's to happen next. We are in that phase. We are waiting to receive that at this point."
All rulings by the IARP are final and are not subject to an appeal.