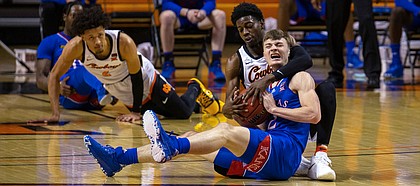 A ferocious second-half rally that brought the Jayhawks back from 16 points down in the final 9:15 ended in fitting fashion, with an Oklahoma State dunk putting an exclamation point on a 75-70 Cowboys victory in Stillwater.
Trailing 65-49 with 9:15 to play, No. 6 Kansas ripped off a 21-2 run to take a three-point lead into the final 1:20 of the game.
But from there, Oklahoma State regrouped, and the Cowboys outplayed the Jayhawks in the final 80 seconds the way they had during the game's first 30 minutes, outscoring Kansas 8-0 to come away with the victory.
"I thought we played a pretty competitive 10 minutes," KU coach Bill Self said after the loss. "But other than that, I didn't think we were very competitive. I thought they controlled everything with their speed and quickness.
"We didn't deserve to win," Self added. "But certainly we put ourselves in a position where we could have won."
Junior David McCormack (24 points, 12 rebounds) and senior Marcus Garrett (12 points on 6-of-12 shooting) were monsters during KU's run.
McCormack, who gave Kansas someone it could throw the ball inside to all night, hit a shot similar to the one he hit late against Oklahoma last weekend to put the Jayhawks up three with 1:20 to play.
After that, Self said the Jayhawks executed the exact defense they wanted on Oklahoma State's next possession, but OSU guard Isaac Likekele drilled a game-tying 3-pointer from the corner with a minute to play that breathed new life into the Cowboys.
"If Likekele doesn't make that shot, we win the game," Self said. "But he did make the shot."
And Kansas never scored again.
For all of the ways OSU freshman Cade Cunningham (18 points, seven rebounds, three assists in 39 minutes) impacted Tuesday's game — his particularly strong first half gave the Cowboys an 11-point lead at the break — it was a sequence on KU's possession after Likekele's 3-pointer that best illustrated why the OSU star is regarded as one of the top players in college basketball and a likely top-two or three NBA draft pick this summer.
With Kansas (10-3 overall, 4-2 Big 12) looking for the lead late, Garrett drove to the rim off of his right hand the way he had done three times during the run that put Kansas in front.
This time, however, Cunningham was waiting. Not only did he block Garrett's shot straight down with two hands, but he also scurried after the ball and saved it with one hand before landing.
That immediately kickstarted another OSU fastbreak and freshman guard Rondel Walker's bucket, with the foul, put OSU up three heading into the final 38 seconds.
Garrett got a chance to tie the score on KU's next possession, but his 3-pointer from the left wing missed. KU quickly fouled OSU guard Bryce Williams, who missed the front end of a one-and-one trip to the free throw line, giving KU one more opportunity to tie the game.
Related document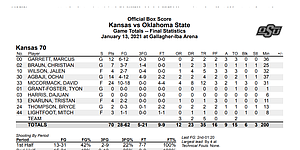 The Jayhawks actually got three cracks at it. Ochai Agbaji missed two triples from the top of the key off of KU's sideline out-of-bounds play. And Garrett's pass intended for Christian Braun with 4.2 seconds to play was intercepted, setting up the Cowboys for one final sprint in transition.
"Marc underthrew him by 10 feet," Self said. "He didn't put anything on it. CB had to catch the ball in order for us to get to the second and third option, but he underthrew him. That was disappointing. It's not a great percentage play to think that you'd make that shot. But it's one where you're disappointed that you didn't at least give yourself a chance."
While the Jayhawks' struggles to execute in the final minute erased the chance for victory, it was their play for much of the game leading up to that that delivered what Self described as a second half that left Kansas "no margin for error."
The Cowboys shot 56% from the floor in the first half — 58% from 3-point range — and finished the game with 37 fastbreak points. That's nine more than No. 1 Gonzaga got against KU in the season opener. And 24 of those came during the first half, when OSU (9-3, 3-3) built a lead of as many as 16 points late.
Kansas crawled back into it on the strength of a combination zone defense it used throughout much of the second half.
"That slowed their pace and game play a lot," Agbaji said.
Added McCormack: "We took some pride in defense."
Outside of Agbaji, who combined for 20 first-half points on 7-of-15 shooting, the rest of the team shot just 6-for-19 from the floor in the opening 20 minutes, making the discrepancy between OSU's easy baskets and KU's tough shots even more glaring.
"Of the 37 points they got in transition, I would bet 20 of them were off of terrible shot selection or us just throwing it to them for layup," Self said. "You can't allow people to do that, and it's frustrating to me because their best offense was our offense there in the first half."
For all of the rough moments, sloppy play and subpar performances put forth by Kansas in this one, the Jayhawks left Stillwater pleased with how hard they competed and fought to give themselves a chance but frustrated that that's what it took for them to play that way.
"I'm not leaving out of here disappointed or mad because we lost to an Oklahoma State team," Self said. "I'm leaving out of here (upset) because of the reasons why we lost."