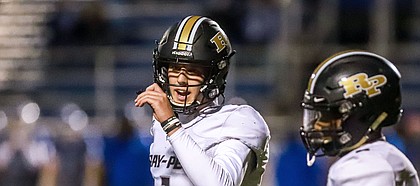 Kansas football coach Les Miles was in the middle of talking up the program's 2021 signing class when unprompted he brought up a particular incoming freshman who already is on campus. "The Missouri lad," Miles would go on to call the young quarterback during a recent phone interview with the Journal-World.
"Conrad Hawley, I just want you to know something," Miles said of the three-star QB from Ray-Pec High who graduated early and enrolled at KU for the spring semester, "he's going to be a tremendous asset to us."
Miles said even though spring practices won't begin for the Jayhawks until March 23, there are many qualities he spotted while watching Hawley's high school footage that impressed him about the QB.
"Big arm. Throws the deep ball well," Miles began. "He's mobile, has good feet."
Hawley helped Ray-Pec win Missouri's Class 6 state title in 2020 and the QB won the Simone Award, given annually to the top prep football player in the greater Kansas City metro area.
Listed at 6-foot-5 and 220 pounds, Hawley hopes joining the program early will help him compete for the starting QB job in 2021.
While attaining the top spot on the depth chart as a true freshman figures to be challenging, Hawley, during a phone interview with the Journal-World before he enrolled, said he hopes his mind, leadership abilities and height (Jalon Daniels is 6 feet tall and Miles Kendrick is 5-foot-10) will give him a shot in the competition.
"We're obviously all Division I quarterbacks, so we can all spin the rock a little bit," Hawley said. "But I think that the best thing I've always been able to do is kind of be the sheriff back there. And make sure everybody's in the right spot and make sure we're in the right play. And I think as long as I do that I'll give myself a chance."
If you were wondering if he used the term "sheriff" because that's what Jon Gruden used to call Peyton Manning on Monday Night Football broadcasts, you would be correct.
"That's my favorite quarterback of all time right there," Hawley said of Manning, the five-time NFL MVP who won the Super Bowl with both Indianapolis and Denver before retiring following the 2015 season.
Hawley said he spends time reading up on great QBs, and also seeks out YouTube videos of interviews with Manning and other standouts in order to get a better sense of how their minds work and how they approach the game.
"Every single one of them, they're able to focus on a task and go in on that task. With Peyton Manning, they always said he just watched more film than anybody. And he always knew what was coming. For me as a quarterback, I've always tried to be smarter than the guy that's across from me," Hawley said. "And I think that as long as I get the playbook down and watch as much film as I can, I can start to do that."
Hawley and the rest of KU's QBs — a group that includes another 2021 signee already on campus, 6-3, 195-pound Ben Easters — will have to learn a new system with offensive coordinator and QBs coach Mike DeBord coming in this offseason to replace Brent Dearmon.
Said Miles of Hawley: "It's going to be fun to watch him improve."
With an entire spring practice schedule and preseason camp to get through before the season finally arrives in September, Hawley hopes to make enough progress to show by the fall that he can handle the QB job as a true freshman.
"I'm just trying to come in and work my butt off," Hawley said, "and let the cards fall where they may."