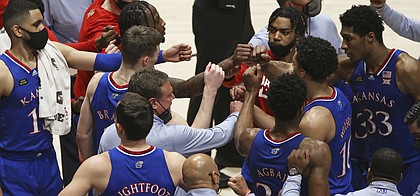 The Kansas men's basketball team never led during its 91-79 road loss at West Virginia on Saturday, trailing for 37 minutes and 51 seconds of the 40-minute game.
KU was able to get it tied a couple of times in the second half after facing a 10-point deficit at halftime. But the Jayhawks (12-7 overall, 6-5 Big 12) never capitalized on the few opportunities they got to go ahead.
"I'm not saying that would have made a big difference by any stretch," Kansas coach Bill Self said after the loss. "But it would have been nice to see (what could've happened) if there was a little bit more game pressure on (the Mountaineers)."
Instead, each time Kansas crawled back into it, WVU (13-5, 6-3) hit the Jayhawks with a mini-run to reclaim control of the game and keep the visitors at arm's length.
"We had an opportunity to take the lead multiple times in the second half," Self said. "And we missed free throws, or whatever it was."
Self said playing from behind all afternoon, like they have done throughout their recent rough stretch, put added pressure on KU's starters and also forced Self to keep those guys on the floor longer, which often leads to fatigue setting in late in the game.
Four of KU's five starters played 33 minutes or more, including Ochai Agbaji, who played 39, and Jalen Wilson, who played all 40.
Grant-Foster ailing
Junior guard Tyon Grant-Foster did not play during Saturday's loss at West Virginia because of an ankle injury.
Self said Grant-Foster injured his ankle in the first minute of practice on Friday and was not able to return.
"It didn't have anything to do with matchups," Self said of Grant-Foster not playing in Saturday's loss. "It had everything to do with health."
Grant-Foster is listed as day-to-day and it remains to be seen if he'll be available on Monday night.
Self gets a 'T'
KU's coach was whistled for a technical foul during Saturday's second half after arguing with officials during a stoppage in play.
Self revealed after the loss that he was actually arguing a call that happened "about five minutes earlier."
As for whether he deserved to get T'd up, Self said he agreed with the whistle.
"I deserved a technical," he said. "I wasn't very happy with the officiating the whole game at all, but that didn't have anything to do with the outcome. But I thought there was inconsistency all across the board. … Trust me, I felt like I deserved it. I probably could have got another one today. I was pretty short-fused with those guys today."
Related document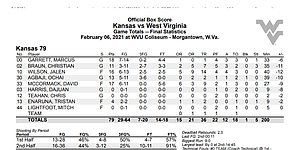 AP streak in jeopardy?
Throughout the first several weeks of the season, when Kansas passed UCLA for the NCAA record of most consecutive weeks ranked in the Associated Press poll, it looked as if yet another impressive KU streak could go on forever.
But KU's struggles in conference play quickly changed that outlook and the Jayhawks now will enter Monday in jeopardy of falling out of the poll for the first time in 231 weeks.
"We won't be ranked on Monday," Self said after the loss to West Virginia. "Nor do we deserve to be ranked."
After falling eight spots to No. 23 in last week's poll, following a close home win over TCU and a double-digit loss at Tennessee, the Jayhawks won by 23 at home against Kansas State on Tuesday night.
But it's unlikely that that will be enough to keep them in the poll next week. Even though Saturday's loss at West Virginia would not be considered a bad loss, the fact that the Jayhawks now have lost six of their last 10 games makes their status as a top-25 team questionable.
Saturday's game was KU's 433rd consecutive game played as a ranked team, a streak that began on Feb. 2, 2009.
NET update
Kansas entered the weekend ranked 22nd in the NCAA Tournament Evaluation Tool rankings, which have been used in recent years to help fill out the tourney field in March.
That ranking, if KU were to stay there through the end of the regular season, would put Kansas in line to be a No. 6 seed in the upcoming NCAA Tournament.
KU still has time to improve upon that, though, and other factors, such as the quality of KU's wins and strength of schedule, could inspire the selection committee to put the Jayhwks slightly higher — or lower — than where their NET ranking would slot them in the upcoming NCAA Tournament.
For instance, ESPN Bracketologist Joe Lunardi had Kansas projected as a No. 5 seed in his most recent update heading into Saturday.
KU entered Saturday ranked fourth in the NET's strength of schedule metric. That's familiar territory for Self's squad. KU led the NET's SOS rankings in each of the last two seasons and has finished with the nation's toughest schedule five times under Self (2005, 2014, 2015, 2019 and 2020).
All seven of KU's losses this season have come against Quadrant 1 opponents and the Jayhawks are undefeated against Quadrant 2, 3 and 4 teams this season.
KU's remaining schedule features four more Quadrant 1 games.
This and that...
Saturday's loss dropped the Jayhawks to 12-7 overall and 6-5 in Big 12 play. You have to go back to the 1987-88 season to find the last time a Kansas team had seven losses by Feb. 6. Beyond that, this season marks the first time since the inception of the Big 12 Conference in 1996-97 that Kansas has reached five conference losses by Feb. 6... KU is now 4-5 this season against ranked opponents... The loss snapped KU's five-game winning streak against West Virginia, and the Jayhawks now lead the all-time series with WVU 15-6.