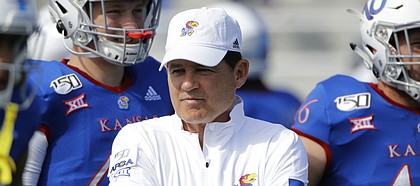 While Kansas football coach Les Miles feels upbeat about the entirety of the Jayhawks' latest signing class, he couldn't downplay the significance of topping it off on National Signing Day with the addition of four-star receiver Quaydarius Davis.
"It's tremendously important," Miles said during a phone interview with the Journal-World of KU signing its highest-rated recruit ever.
"Our players are seeing the fact that we can do things that other schools would like to do," Miles said, "and that we could do things that Kansas hasn't done here before."
Davis, a 6-foot, 195-pound wideout from Dallas Skyline High, received a 6.0 grade from Rivals, giving him the highest score of any recruit to sign with the Jayhawks since Rivals started gauging players' abilities in 1999.
Recruited to KU by receivers coach and Dallas native Emmett Jones, Davis is talented enough, Miles said, that the coaches anticipate him contributing to the offense immediately.
Miles compared Davis to Jarvis Landry, a standout receiver at LSU when Miles led that program.
"This Quay Davis is a guy with toughness. He'll catch balls," Miles predicted.
Committed to USC and Texas earlier in his recruitment, Davis is rated by Rivals as the No. 8 receiver in his recruiting class, the No. 12 prospect in the state of Texas and the No. 59 Class of 2021 recruit in the country.
"He's a playmaker," Miles said. "He's a guy that uses his hands, makes you miss. A guy that will go to the field and do some things."
Miles wouldn't go as far as to say Davis will start for KU in 2021, which was on brand with the coach's typical approach to public discussions on players' roles. But Miles said with receivers, Jones can teach even the youngest players and get them comfortable and ready to get on the field on Saturdays in the fall.
"I think there's a possibility that lad could play as a true freshman," Miles said.
With Davis giving KU one four-star prospect in its 2021 signing class, along with 18 three-star players and three two-star prospects, Rivals' team recruiting rankings currently have the Jayhawks No. 3 in the Big 12 and 40th in the country. Miles brought up both of those rankings while crediting his coaching staff for making sure the program had a strong virtual presence throughout the past year while recruiting during the pandemic.
In Rivals' scoring system for team rankings, KU benefited by having 22 signees, the most in the Big 12. Looking at the rankings by average grade for the prospects, KU, at 2.91, ranks seventh in the Big 12 and 51st nationally.
Per 247 Sports' recruiting rankings, KU ranked No. 6 in the Big 12 and 52nd in the country.
"We're excited as we can be," Miles said of the signing class, "and our players need to be excited."
Class of 2021 recruits already enrolled at KU
(Rivals rankings)
√ O.J. Burroughs — 3-star Florida prep S; 5-10, 167
√ Ben Easters — 3-star Indiana prep QB; 6-3, 195
√ Conrad Hawley — 3-star Missouri prep QB; 6-5, 220
√ De'Kedrick Sterns — 3-star Texas prep OL; 6-4, 272;
√ Larson Workman — 2-star Texas prep OL; 6-5, 265
√ Devonte Wilson — 3-star Florida prep CB, 6-3, 192
√ Jayson Gilliom — 2-star Georgia prep S, 6-2, 190
The rest of KU football's 2021 signees
√ Quaydarius Davis — 4-star Texas prep WR; 6-0, 195
√ Cam'Ron Dabney — 3-star Georgia prep CB; 5-10, 175
√ Corey Robinson II — 3-star Georgia prep OL; 6-5, 270
√ Majik Rector — 3-star Texas prep WR; 5-9, 152
√ Kelan Robinson — 3-star Texas prep WR; 6-2, 183
√ Tommy Dunn Jr. — 3-star Texas prep DL; 6-3, 277
√ Deldrick "D.J." Withers — 2-star Arkansas prep DL; 6-4, 245
√ James Wright — 3-star South Carolina prep S; 6-1, 195
√ D'Marion Alexander — 3-star Texas prep LB; 6-5, 215
√ Trey Staley — 3-star Georgia prep LB; 6-2, 200
√ Mason Brotherton — 3-star Arkansas prep TE; 6-4, 242
√ Devin Neal — 3-star Lawrence prep RB; 5-11, 208
√ Andrew Simpson — 3-star California prep LB; 6-1, 220
√ Tanaka Scott Jr. — 3-star Alabama prep WR; 6-4, 192
√ Edwin White — 3-star Alabama prep S; 6-0, 196