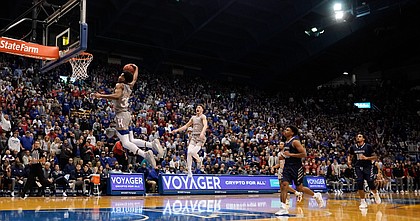 Wednesday's replacement game with Nevada at Allen Fieldhouse went well for the sixth-ranked Kansas Jayhawks, who used a mixture of breakout dunks and disruptive defense to rock the Wolf Pack, 88-61.
But not every Jayhawk received high marks for his performance.
Sure, senior guard Ochai Agbaji scored 16 points on yet another extremely efficient performance that featured 7-of-12 shooting and a series of breakout dunks. But one of those dunks drew failing grades from his teammates and nearly tore the roof off of Allen Fieldhouse.
With the Jayhawks leading 37-25 late in the first half, during a stretch that essentially ended the game, Agbaji caught a run-out near mid-court and floated in for a highlight dunk. He got it. And the windmill slam he delivered is not one that is seen every night at Allen Fieldhouse. But he did not elevate the way his teammates know he can and a few of them made sure to point that out after the victory.
Photo Gallery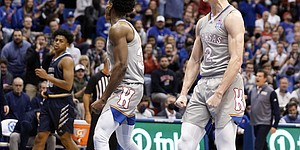 Kansas basketball v. Nevada
View a gallery from Wednesday night's game between the Kansas Jayhawks and Nevada Wolfpack at Allen Fieldhouse.
"You'd think a guy that gets 11 days (off) could jump a little higher than Och did," KU junior Christian Braun said.
For the record, Braun officially gave Agbaji's dunk, "an F."
"From what I've seen in practice, that was horrible," said Braun, who had his own two-handed, highlight hammer dunk early in the game on his way to leading all scorers with 22 points.
Officially scheduled roughly 48 hours before the ball went up for the opening tip, Nevada came to town to take the place of Harvard, which had to back out of its game with the Jayhawks because of COVID-19 issues.
The game was the first in 11 days for KU, which has experienced a series of cancellations and rescheduled contests in the past week. And it was clear from the jump that the Jayhawks were happy to be back on the court.
Related document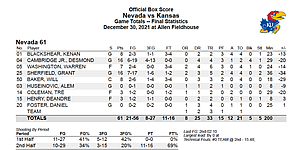 Box Score: KU 88, Nevada 61 ( .PDF )
"We were all kind of itching to get back on the court and we know there's going to be times like that this season where there are breaks," Braun said. "But we were excited to get back on the floor and it felt good."
Kansas (10-1) raced out to an 8-0 lead behind contributions from all five starters on the floor, and they never really retreated from there.
Agbaji hit his lone 3-pointer of the night. Braun finished on a drive to the rim. Dajuan Harris Jr., who scored a career-high 14 points to go along with five assists and two steals, swiped a steal on the game's first possession.
But it was senior guard Remy Martin's early defense that drew the most praise from Kansas coach Bill Self. Fighting over screens and playing with passion on the defensive end instead of just on offense, Martin helped KU suffocate Nevada's offense, which never truly got going. The Wolf Pack (6-5) turned it over 16 times in the first half and 21 times for the game. And they shot 37.5% from the floor and 29.6% from 3-point range.
"I thought Remy's energy, defensively, in the first six minutes was the biggest reason why we got off to a good start," Self said.
As for all of those turnovers, Self said all of the Jayhawks had something to do with that.
"I think there was a lot of activity," Self said. "I think there were a lot of hands, a lot of deflections. I think we did some good things in that area."
Agbaji led Kansas with four steals and many of them led to easy dunks that helped Kansas win the fast break battle 23-8. The Jayhawks also outscored Nevada 46-15 in the paint and put up 49 points in the second half.
"As the game (went) on, we kind of wore them out and threw a lot of guys at them," Braun said. "So I think we got better (throughout the game)."
Sophomore wing Jalen Wilson, who led all players with 10 rebounds in 21 minutes, agreed.
"Throughout the game, we just figured it out a little bit more," Wilson said. "All-around team defense the second half was a big turnaround."
A late 8-2 run by the Jayhawks in the first half gave Kansas a 12-point halftime lead. And a 10-0 run early in the second half turned a 48-36 lead into 58-36. From there, the game was never close again.
KU's starting five finished one point shy from cracking double digits across the board — Martin finished with nine — and Self after the victory lamented the discrepancy that exists between KU's first unit and the bench.
Every bench player but one — K.J. Adams — finished the night with a negative value in the plus/minus category.
"Our bench I don't think is giving us what they can," Self said. "So we may have to shorten it. But the bottom line is (this team) has done pretty well. We've been a fast-starting team so we know we can guard. All in all, I thought there was some progress made."
Next up, the Jayhawks will welcome George Mason to town on Saturday for another replacement game. KU was supposed to host TCU in the Big 12 opener, but COVID-19 issues within the Horned Frogs program left KU looking for another fill-in, and KU on Wednesday announced GMU, led by former Missouri Tiger Kim English, as the latest addition to the Jayhawks' 2021-22 schedule.
Saturday's tipoff is slated for 4 p.m. on ESPN+.