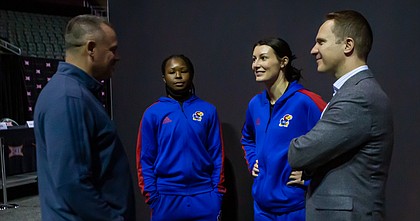 Kansas Athletics recently announced that student-athletes at KU set a school record with a combined 90% Graduation Success Rate for student-athletes who began their full-time collegiate careers in the fall of 2014.
The graduation success rate measures the number of scholarship student-athletes who enter an institution and the number who graduate within six years, taking into account transfers and student-athletes who leave in good academic standing.
The new mark surpassed the old record of 85% set during both the 2015-16 and 2018-19 academic years.
According to recent data released by the NCAA, each athletic program sponsored by Kansas Athletics registered a graduation rate of at least 83%, with four programs posting a 100% success rate — men's golf, women's basketball, women's tennis and volleyball.
"The successful pursuit of a degree from the University of Kansas is at the core of our commitment to our outstanding student-athletes," said KU Athletic Director Travis Goff. "In a college athletics landscape where education is often overshadowed, this outstanding GSR is a testament to the hard work of our student-athletes in the classroom and our staff's commitment to their academic pursuits."
Here's a sport by sport breakdown of the KU programs responsible for the new record.
Men's Sports
Golf: 100
Basketball: 88
Baseball: 86
CC/Track: 84
Football: 83
Women's Sports
Basketball: 100
Tennis: 100
Volleyball: 100
Swimming & Diving: 96
Soccer: 95
Rowing: 94
Softball: 91
Golf: 89
CC/Track: 87