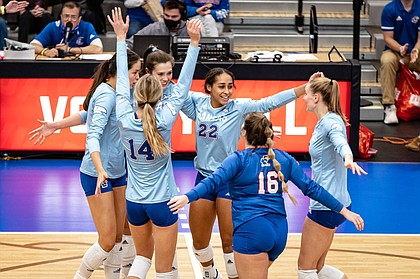 Former Kansas volleyball player Caroline Crawford is headed to Wisconsin, according to a recent report from the Wisconsin State Journal.
Less than a week after informing the Kansas coaching staff of her decision to enter the transfer portal, the 6-foot-3 middle blocker from nearby Lansing landed with the reigning national champions.
Wisconsin knocked off Nebraska in five sets in last weekend's national championship match in Columbus, Ohio, to claim its first ever national title in volleyball.
The report called Crawford "a significant addition" to the Badgers' roster, but also noted that the now-former Jayhawk "will provide depth in the middle for the Badgers."
During her two years with the Jayhawks, Crawford started every match, earning first-team all-Big 12 honors in 2020 and second-team all-Big 12 recognition this season.
She averaged 2.25 kills and 0.81 blocks per set during her sophomore season, which ended with Kansas reaching the Sweet 16 for just the third time in program history.
Because of the potential to get a year of eligibility back because of the pandemic, Crawford heads to Wisconsin with the potential to play three more seasons of college volleyball.
Despite Crawford's departure, the Jayhawks will take some serious momentum into the offseason and figure to open the 2022 season with sky-high expectations.
Ray Bechard's team will return a young core of elite talent that played a huge role in this year's run. And the Jayhawks added four players in the early signing period that all have the potential to contribute immediately. Beyond that, KU, like most programs, also figures to take a peek at the transfer portal to see what options exist for adding strength and depth to the roster.
Kansas (18-12) finished the season ranked No. 19 in the final American Volleyball Coaches Association Coaches Poll. KU was one of two previously unranked teams to make it into the final rankings, joining No. 16 Illinois, which also advanced to the Sweet 16 as an unseeded team.
The Big 12 was well represented in the final rankings, as Kansas was joined by No. 5 Texas and No. 10 Baylor in the final AVCA poll of 2021.