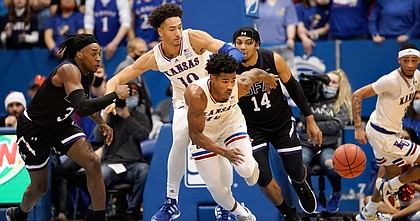 No. 7 Kansas Jayhawks (9-1) at Colorado Buffaloes (9-3)
Time: 8 p.m., Tuesday, Dec. 21, 2021
Location: CU Events Center, Boulder, Colorado
TV: ESPN2
Radio: IMG Jayhawk Radio Network
Keys for Kansas
1. It's all about defense
This may seem pretty predictable, given the fact that this is a Bill Self basketball team we're talking about.
But as the Jayhawks continue to show that they have a highly efficient and effective offense on most nights, it becomes more and more clear that it's defense that will take this team to the next level.
What that means exactly and how far improved defensive efforts can take them remains to be seen. But Self said last week that there is still way too much confusion and way too many mental lapses on the defensive end for this team to be considered elite.
He used a pretty basic defensive principle to illustrate what he meant.
Because there are so many new faces and first-year Jayhawks still trying to figure things out, Self said the coaching staff has simplified its calls on defending ball screens to two words — down or switch. Yet, in recent games, he has continued hear his players yell out, "Left," when opponents utilize ball screens.
That one simple word can throw off the entire rhythm because it forces the Jayhawks to think longer and harder — even if it's just a split-second we're talking about — rather than knowing what's coming next before it happens.
Self's best defensive teams have been such largely because of their ability to force opposing offenses to play the way they want them to play. Self said recently that he still doubts whether this team can consistently make other teams play bad and whether they take enough pride in doing so.
"I don't think we'll ever be a great individual defensive team," Self said. "I think we can be a really, really good team defense. … We're just not quite bought into how we do things yet. We can get there, but we're not there yet."
It's not just ball-screen defense that Self and the Jayhawks are concerned with. The other night, in an 8-point win over Stephen F. Austin, KU gave up 48 points in the paint and allowed the Lumberjacks to shoot 53% from the floor for the game, including 61% in the second half.
"And they didn't get run-outs the second half," Self said of easy buckets in transition. "That means they scored against our five. It was pitiful. I didn't think we guarded very well at all."
So, while part of improvement on defense comes from the X's and O's of it all, Self said being a good defensive team — or individual defender — boiled down to one thing. And he needed just three words to communicate it.
"It's a mindset," he said.
2. Better energy equals better defense
Self was so frustrated with his team's ball-screen defense against Stephen F. Austin that it inspired him to use a word that might as well be on the lists of the foulest four-letter words he can think of — zone.
If opposing offenses are going to continue to attack KU with high ball screens, Self said one solution, if the Jayhawks cannot fix it themselves, would be utilizing "a good zone."
"But I haven't done much of that since I've been here," Self noted.
And there's no reason to think he'll make it a staple of KU's defensive philosophy any time soon.
The way Self sees it, playing good defense is all about intensity, pride and effort. Even the best ball screens by KU's opponents do not have to work to perfection time after time.
"There's no reason why you can't get through a ball screen that you have to switch them all," Self said. "There's no reason you have to do that."
KU's defense in recent years has switched all over the floor throughout the game. But the times when they do it automatically often have to do with what portion of the game they're in and what the specific scouting report for each opponent — and each opposing player — dictates.
In Self's mind, some of his players have become a little too comfortable switching during ball-screen actions, which, Self believes, is both unnecessary and makes things too easy on the offense.
"You don't have to switch if you're turned up," he said. "But when you're not turned up and you're lazy you have to switch because you're late. It's just a mindset. Absolutely we can do better at that. I think that we can tighten it up. It's good in spurts, but it's not good consistently."
3. Win the steals competition, win the game
Colorado enters this one at opposite ends of the spectrum when it comes to forcing turnovers, particularly via steals.
The Buffaloes are one of the best teams in the country at protecting the ball and preventing steals, giving it away in that area on just 8.1% of opponents' defensive possessions.
That ranks 64th nationally per KenPom.com and, generally speaking, is a terrific ingredient for success against anybody on any night.
However, the problem is the Buffs are not nearly as successful at taking the ball away from their opponents. In fact, CU gets steals at roughly the same rate that it gives them up to its opponents — 8.2% of the time, which ranks 269th nationally.
Tad Boyle's club is averaging 5.6 steals per game, more than three per game fewer than Kansas. The issue has really shown up in CU's three losses, where Colorado has been out-performed in the steals department by a total of 14-5 against Southern Illinois, UCLA and Tennessee.
The Jayhawks have been on the right side of the steal count in seven of their 10 games this season.
"They're going to guard you," Boyle said of the Jayhawks after Saturday's win over Cal-State Bakersfield. "Our offense will be tested against Kansas. We're going to have to make shots. We'll have to execute. We'll have to be strong with the ball."
Marquee Matchup
Kansas' 3-point shooting vs. Colorado's 3-point defense
Colorado ranks 243rd nationally in opponent 3-point percentage, allowing its foes to get 40.6% of their points from the 3-point shot.
As if that were not bad enough, the Buffs have shown no real ability to even the playing field by keeping up and knocking in 3-pointers themselves. CU gets 30.3% of its points from 3-point range, which ranks 321st nationally and is nearly 8 full percentage points lower than the national average.
In terms of straight shooting percentage, Colorado's defense allows just 32% 3-point shooting. But the Buffs have watched opponents attempt 77 more 3-point shots and make 27 more 3-point shots in their 12 games this season.
That averages out to nearly 3 extra 3-point makes per game (and seven extra attempts), and that number alone sets the margin that Kansas is favored by according to Ken Pomeroy.
The Jayhawks have fared much better than the Buffaloes in this department, getting 37.6% of their points from 3-point range and giving up just 31.9%. The offensive total ranks 32nd nationally, while KU's defensive effort against the 3-point shot ranks 125th.
In all, more than a third of KU's shot attempts so far this season have been 3-pointers.
As a team, KU is shooting 37.6% from 3-point range, with senior Ochai Agbaji leading the way at 48.4%.
Agbaji has made four or more 3-pointers in three of KU's last four games, including 4 of 9 last Saturday night against Stephen F. Austin and 5 of 7 against Missouri the game before that.
Key rotation players Remy Martin (38.7), Christian Braun (34.5), Jalen Coleman-Lands (42.1) and Zach Clemence (38.5) all enter this one shooting better than the mark that Colorado's defense has allowed opponents to make from behind the 3-point line this season.
That's not to say this one is going to be a shootout or that KU will look to rely solely on its 3-point shooting in this one.
Generally speaking, recording as many easy baskets as possible is a much better recipe for winning away from home. And that's especially true with a Kansas team shooting nearly 60% from 2-point range this season. But several Jayhawks have shown that they can get hot from behind the arc, and if the Buffs allow that to happen, it could be a long night for the home team.
One of the more interesting dynamics in this department comes in the way that the two lineups match up with one another. CU starts three players 6-foot-8 or taller. And while that could give the Buffs and edge on the glass, it also could make it tough for the CU defense to chase around KU's smaller guards and wing players on the perimeter.
Jayhawk Pulse
It's time for Self's annual don't-make-Christmas-miserable speech.
He hinted at it following KU's win over Stephen F. Austin on Saturday night. And he discusses it, in some form or fashion, pretty much every year just before the Jayhawks final game before Christmas.
"Hopefully guys understand that Christmas starts after the Colorado game and not before," Self said last weekend. "Because we've had many times where we've been on the road right before Christmas and it hasn't always worked out great. Remember Temple a few years ago? Whew."
That game — a 77-52 loss on the east coast in December of 2014 — was a classic example of the Jayhawks checking out early. They were flat, struggled to get going and struggled through poor execution on both ends of the floor throughout the game.
Self often puts the team's performance in the late December game on his leaders, but he's not above taking part of the blame for anything that goes south. The goal, of course, is for things to go well and for the Jayhawks to head into the break and their time off with their families feeling good about their last outing.
While KU typically plays on the road in the final game before Christmas to take advantage of the rule that allows the school to pay for travel home for the Kansas players, Self made sure to point out that Colorado also will be faced with trying to stay locked in with the holidays and a little time off right around the corner.
"We can't take the approach we've got to get through it; we've got to attack it," Self said. "It'll be a challenge, but everybody's got to go through it. It sure makes for a nicer Christmas from an attitude standpoint if you play well in the game before it."
KU leads the all-time series with Colorado, 124-40, as their time playing each other dates back to the Big Eight days and earlier. The first ever meeting between the two schools came in 1930.
Colorado left the Big 12 in 2011 to join the Pac-12 and the two former conference foes have met three times since the Buffs bolted for the Pac-12, with Kansas winning two of those three meetings. That includes the most recent game in the series, a 72-58 Kansas win in Lawrence in 2019.
KenPom.com lists KU as a 9-point favorite in this game, with a 79% win probability.
The game will be the Jayhawks' first true road game of the 2021-22 season. Earlier this month, the Jayhawks beat St. John's in New York in what was listed as a home game for the Red Storm. But that one was played off campus at a neutral site venue much like Kansas City's T-Mobile Center.
So far this season, KU is 4-0 at home and 5-1 in neutral-site contests, including three in Orlando, two in New York and one at T-Mobile Center.
Probable Starters
No. 7 Kansas
G – Dajuan Harris, 6-1, 180, Soph.
G – Remy Martin, 6-0, 195, Sr.
G – Ochai Agbaji, 6-5, 210, Sr.
G – Christian Braun, 6-7, 205, Jr.
F – David McCormack, 6-10, 265, Sr.
Colorado
G – Keeshawn Barthelemy, 6-2, 171, Soph.
G – Elijah Parquet, 6-4, 195, Sr.
F – Tristan da Silva, 6-9, 217, Soph.
F – Jabari Walker, 6-9, 215, Soph.
F – Evan Battey, 6-8, 259, Sr.