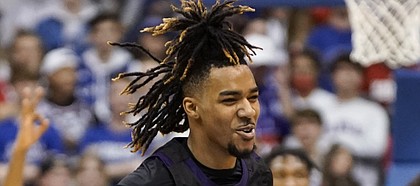 Kansas freshman K.J. Adams missed a game for the first time this season on Saturday, when he didn't suit up for the Jayhawks' home game versus Stephen F. Austin due to an illness.
KU head coach Bill Self said it was a non-COVID illness.
"KJ hasn't felt well in a couple days," Self said.
"I'm not saying we've got a bug going through our team, but it's been a weird couple of days," the coach added.
Assistant coach Kurtis Townsend also missed the game due to a flu. And Self said Dajuan Harris has battled illness, too.
Photo Gallery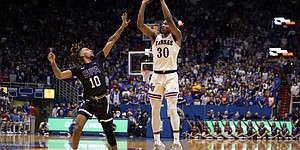 Kansas Basketball v. Stephen F. Austin
View a gallery of images from Saturday night's game between the Kansas Jayhawks and Stephen F. Austin Lumberjacks at Allen Fieldhouse.
A 6-foot-7 forward from Austin, Texas, Adams had played at least five minutes off the bench in each of KU's previous four games. On the year, he's averaging 5.4 minutes a game, 1.6 points and 1.9 rebounds.
So far Adams is shooting 4-for-12 from the floor as a Jayhawk, but his energy and defense have proven valuable off the bench in many of his appearances.
Adams joined fellow freshman Bobby Pettiford on the sideline. Both were involved in KU's rotation. Pettiford has missed three games so far, while recovering from a nagging abdominal strain.
Jossell back at KU — as a foe
Saturday's nonconference game marked the return to Allen Fieldhouse of former Jayhawk Latrell Jossell. After one season at KU, he entered the transfer portal and landed at Stephen F. Austin.
"He's playing well," Self said of Jossell earlier in the week. "I know (SFA coach Kyle Keller's) happy with him. I'm happy for him."
Jossell, a sophomore from Chicago, only played in nine games for KU during the 2020-21 season. He entered Saturday's return to Lawrence averaging 8.4 points per game for SFA.
Playing in the fieldhouse for the first time since this past February, when KU played host to Iowa State, Jossell produced nine points — all on 3-pointers — in 28 minutes as a starter.
"Everybody liked Latrell," Self said on Friday, while previewing the game. "Nobody wanted him to leave. But it was in his best interest to leave to play."
Earlier this week, Jossell put up a career-high 28 points versus Louisiana-Monroe.
Self said Jossell never was completely healthy during his short time at KU, and the guard had surgery to correct an issue with his foot immediately following the 2020-21 season.
Familiar face on the opposing bench
The Lumberjacks are coached by Keller, a former staffer for Self at KU.
Now in his sixth season with SFA, Keller is 112-50 as the head coach.
Keller worked for Self at KU from 2008-11.
Another trip up next
Now 10 games into the 2021-22 season, the Jayhawks have only played four times at Allen Fieldhouse.
Between two trips to New York for games versus Michigan State and St. John's, three games near Orlando for the ESPN Events Invitational and the annual nonconference game in Kansas City, Missouri, KU's players and coaches haven't been on campus for competition much so far.
Related document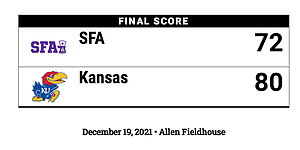 Box score: KU 80, SFA 72 ( .PDF )
And they'll be back on the road again this week, with a Tuesday game at Colorado (9-3) next up on the calendar.
Self said last week he had no problem with the Jayhawks' busy travel schedule of late.
"It's fine. Usually over the course of the season 50 percent of your games are away from home," Self joked earlier this week. "So you've got to go on the road sometimes."
KU's next home game will be Dec. 29 versus Harvard. Three days later the Jayhawks will tip off Big 12 play at the fieldhouse, with a New Year's Day game against TCU.
"We certainly need to catch some momentum going into conference play," Self said.
KU basketball goes holiday shopping
With the holiday season in full swing, the KU basketball team earlier this week went shopping to pick out gifts for area families in need.
Players, staffers, student managers and family members and friends gathered at a Wal-Mart to find items that were on local families' wish lists.
The annual event, which teams up with the Salvation Army of Douglas County, has been a part of the KU basketball program since the 1990s, when Roger and Linda Morningstar (the parents of current KU video coordinator Brady Morningstar), got the tradition started.
KU assistant coach Norm Roberts said it's a great tradition, and last year was the only time KU didn't get to do it, because of the pandemic.
"It's a time where our guys can go out and do something for the community and help some families that are in need," Roberts stated in a KU release. "They enjoy it. They take a lot of pride in helping these families get what they need and want for Christmas."
Jayhawks celebrate Native American culture
The KU basketball program has participated lately in a celebration of Native American heritage, leading up to Saturday's home game at the fieldhouse.
Activities got started on Monday, when assistant coach Jeremy Case received a Star Quilt from the Native American community during a pre-practice ceremony. Case is a member of the Choctaw tribe. His mother, Rita Newton, and son, Malachi, were on hand for the presentation. Native Americans from KU, Haskell Indian Nations University and the community attended. Both Case and Self received handmade Jayhawk medallions.
Before Saturday's game, HINU's color guard presented colors for the national anthem. At halftime, Native American powwow dancers performed. Throughout the fieldhouse, assorted stations were set up with educational materials for fans to learn about Native American culture and traditions.
KU also had a canned food drive for organizations that host food distribution programs for the Native American community in Lawrence, students at HINU and reservations in the state of Kansas.
KU's women's basketball program also recently celebrated Native American culture, and recognized and honored Native Americans at its Nov. 14 home game against Tennessee State.
As part of the celebration Saturday, KU recognized current and former athletes who are members of Native American tribes.
The current athletes are: KU football's Gavin Potter (Mvskoke), track and field's Joshua "Justice" Dick (Cherokee), rowing's Savanah Shack (Oneida) and Izzy Estes (Apache/Cherokee), and the spirit squad's Abby Kallam (Cherokee) and Myltin Bighorn (Fort Peck Assiniboine and Sioux).