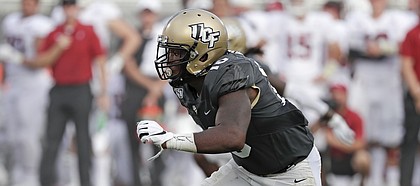 When head coach Lance Leipold and his staff took over the Kansas football program this past May, they knew recruiting for the 2022 class would be slow-going at first, given the timing of the transition and only a handful of months left before the early signing period arrived.
It didn't take long for them to adapt and embrace the possibilities that the NCAA's transfer portal had to offer.
Especially once the 2021 season began, Leipold said, and the coaches were able to better evaluate areas of need within the roster, KU's interest and involvement with players who had their names in the portal began to pick up.
"What today's transfer portal and other things are doing," Leipold said, "is people can recruit for depth and get more experience within that two deep that gets handed to you every week. And stay as an older, veteran football team."
By the time December's early signing period arrived this week, KU had invested enough man hours into recruiting the portal to bring back one of the best transfer hauls in the country. As of Friday, the Jayhawks ranked No. 5 nationally in 247 Sports' new transfer portal rankings for the 2022 class. The only programs ahead of KU are No. 1 South Florida, No. 2 Michigan State, No. 3 Indiana and No. 4 Louisville.
All five of KU's incoming Class of 2022 transfers — cornerback Kalon Gervin (Michigan State), running back Sevion Morrison (Nebraska), linebacker/safety Craig Young (Ohio State), offensive lineman Nolan Gorczyca (Buffalo) and linebacker Eriq Gilyard (Central Florida) — are graded as three-star transfer prospects by 247 Sports. When they were high school prospects, Rivals graded Gilyard, Morrison and Gervin as four-star talents.
Transfers from four-year programs don't sign national letters of intent the way high school and junior college players do, so Leipold didn't discuss any of the transfers during his early signing period press conference on Wednesday. Transfers coming out of the portal sign athletic grand-in-aid documents when they arrive on campus. KU's incoming transfers are expected to do that and become official members of the team in January, with the start of the 2022 spring semester.
"This is a different way of college football than when I stood in front of you on May 3 and talked about recruiting," Leipold said this week, referencing his introductory press conference a little more than seven months earlier. "It is vastly changed. And we have to be able to adapt in many different ways with it."
This past season, KU had 68 players on its roster who were in their first or second years, making the Jayhawks the fourth-youngest college football team in the country and the youngest among Power Five programs.
As a result, Leipold and his staff didn't want to exclusively add high school players to that mix with the 2022 recruiting class. That was one of the factors in KU signing just six new scholarship players in December.
Speaking generally about the benefits of finding impactful players in the portal for next season, Leipold said he always tries to be cautious with expectations for incoming recruits, especially before they arrive on campus.
"But from what we expect, what we want them to do, yeah, I'm excited about where where we're heading, just like I've always been. And hopefully I can be more specific in a month or so," Leipold said, referencing the expected arrivals of KU's transfers.
All five of the transfers who have committed to the Jayhawks so far will have at least two years of eligibility remaining when they get to Lawrence.
In Leipold's opinion, players in the portal, depending on how long they've been in college, tend to be more mature when it comes to figuring out where they want to play football next. He said many times those players have different criteria than a high school recruit for making a decision on their landing spot.
"It's not always the biggest stadium and the most uniform combinations and what kind of photoshoot they get," Leipold said. "It's more about, I guess I'd use the word substance. Where do I fit in? Who am I fitting in with? What's it more about? And is it going to help me get to my next goal?"
Added Leipold: "I think the substance and genuineness and thoroughness and the integrity part, I think we'll be able to hold up just well with that. And I'm excited about that part."
KU football's 2022 transfer portal commitments
• Kalon Gervin, RS-jr. CB (Michigan State)
• Sevion Morrison, fr. RB (Nebraska)
• Craig Young, soph. LB/S (Ohio State)
• Nolan Gorczyca, fr. OL (Buffalo)
• Eriq Gilyard, sr. LB (Central Florida)